Abstract
Population characteristics of Osteomugil cunnesius (Longarm mullet) are significant in Indian Sundarbans as the species has high commercial demand in local market. But research work on population dynamics and stock assessment of this mullet species is very limited. The present work aims to determine some of the key management parameters of growth, mortalities, recruitment pattern and exploitation for Osteomugil cunnesius in Sundarbans, India, a world heritage site. The sampling was performed between 2015 and 2017 from the Sundarbans estuary. The parameters of growth, mortalities, exploitation, recruitment pattern, probability of survival, probability of capture, virtual population analysis were recorded. The population dynamics were analysed by FiSAT II (Version 1.2.2) software. The recruitment patterns occurred more or less continuously with one major pulse between May and July. We observed that natural mortality was higher than fishing mortality in 2015 and 2016, whereas, the fishing mortality was higher than the natural mortality in 2017. The result indicated that the fishing pressure increased gradually, which reflected overexploitation of O. cunnesius in 2017. Fishing pressure was increasing over the available stock in the particular Sundarbans area, necessitating appropriate steps to control the fishing pressure. The overall rising impulse of fishing mortality in respective years would be highly alarming to the fish stocks in near future. The present study may be further explored to establish a better fisheries management.
This is a preview of subscription content, log in to check access.
Access options
Buy single article
Instant access to the full article PDF.
US$ 39.95
Price includes VAT for USA
Subscribe to journal
Immediate online access to all issues from 2019. Subscription will auto renew annually.
US$ 99
This is the net price. Taxes to be calculated in checkout.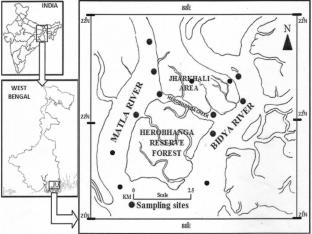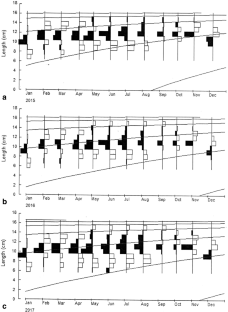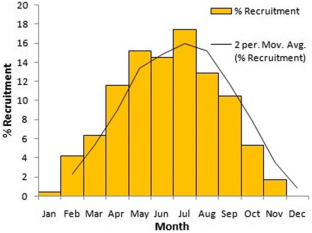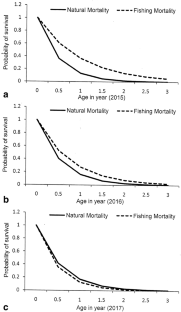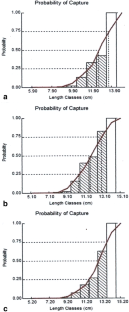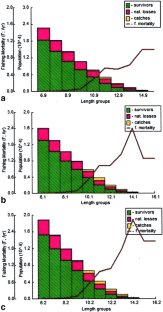 References
Amin, S.M.N., M.A. Rahman, G.C. Haldar, and M.A. Mazid. 2001. Studies on age and growth and exploitation level of Tenualosa ilisha in the coastal region of Chittagong, Bangladesh. The Inland Fisheries Society of India 33: 1–5.

Anderson, Richard O., Newmann, R. M. 1996. Length, weight, and associated structural indices. In Fisheries techniques, ed. B. R. Murphy, Willis, D. W. Bethesda, Maryland: American Fisheries Society.

Banerji, S. K., and T. S. Krishnan. 1973. Acceleration of assessment of fish populations and comparative studies of similar taxonomic groups. In Proceedings of the symposium on living resources of the seas around India 158–175.

Beverton, Raymond J. H., and Sidney J. Holt. 1957. On the dynamics of exploited fish populations, Fishery Investigations Series II, Vol. XIX, Ministry of Agriculture. Fisheries and Food 1:957.

Beverton, Raymond J. H., and Sidney J. Holt. 1966. Manual of methods for fish stock assessment-Part 2-Tables of yield functions.

Gallardo-Cabello, Manuel, Esther Cabral-Solís, Elaine Espino-Barr, and Ana Laura Ibáñez-Aguirr. 2005. Growth analysis of white mullet Mugil curema (Valenciennes, 1836) (Pisces: Mugilidae) in the Cuyutlán Lagoon, Colima México. Hidrobiológica 15(3): 321–325.

Cabral-Solis, Esther, Elaine Espino-Barr, Manuel Gallardo-Cabello, and AnaLaura Ibanez-Aguirre. 2007. Fishing impact on Mugil curema stock of multi-species gill net fishery in a tropical lagoon, Colima, México. Journal of Fisheries and Aquatic Science 2(3): 235–242.

Chang, C.W. 1997. Daily age and growth of juvenile Grey Mullets Mugil cephalus L. in the Tanshui estuary as revealed from otolith microstructure. Taipei: National Taiwan University.

Chen, W.Y. 1982. Catches of the mullet (Mugil cephalus L.) and the climatic factors of the coastal waters of Taiwan. Journal of the Fisheries Society 9: 48–54.

Chen, Wen-Yei, Su Wei-Cheng, Kwang-Tsao Shao, and Chieh-Pin Lin. 1989. Morphometric studies of the Grey Mullet (Mugil cephalus) from the waters around Taiwan. Journal of the Fisheries Society 16(3): 153–163.

Coleman, Felicia C., and Susan L. Williams. 2002. Overexploiting marine ecosystem engineers: Potential consequences for biodiversity. Trends in Ecology & Evolution 17(1): 40–44.

Crosetti, Donatella, and Stephen J.M. Blaber. 2015. Biology, ecology and culture of grey mullets (Mugilidae). Boca Raton: CRC Press.

Durand, J.D., W.J. Chen, K.N. Shen, C. Fu, and P. Borsa. 2012a. Genus-level taxonomic changes implied by the mitochondrial phylogeny of Grey Mullets (Teleostei: Mugilidae). Comptes Rendus Biologies 335(10–11): 687–697.

Durand, J.D., K.N. Shen, W.J. Chen, B.W. Jamandre, H. Blel, K. Diop, M. Nirchio, F.J. García De León, A.K. Whitfield, and C.W. Chang. 2012b. Systematics of the grey mullets (Teleostei: Mugiliformes: Mugilidae): molecular phylogenetic evidence challenges two centuries of morphology-based taxonomy. Molecular Phylogenetics and Evolution 64(1): 73–92. https://doi.org/10.1016/j.ympev.2012.03.006.

Dutta, Sachinandan, Kunal Chakraborty, and Sugata Hazra. 2016. The status of the marine fisheries of West Bengal coast of the northern Bay of Bengal and its management options: a review. In Proceedings of the zoological society. Berlin: Springer.

Espino-Barr, E., M. Gallardo-Cabello, A. Garcia-Boa, and M. Puente-Gómez. 2015. Growth analysis of Mugil cephalus (Percoidei: Mugilidae) in Mexican Central Pacific. Global Journal of Fisheries and Aquaculture 3: 238–246.

Foster, S.J., and A.C.J. Vincent. 2004. Life history and ecology of seahorses: Implications for conservation and management. Journal of Fish Biology 65(1): 1–61.

Gayanilo, F.C. 1997. Fisat: FAO-ICLARM stock assessment tools, reference manuals, vol. 8. Rome: Food & Agriculture Organization.

Gopalakrishnan, V., and A. Ghosh. 1976. The mullet resources of the Hooghly-Matlah estuarine system in West Bengal, India-A case study. In Indo-Pacific Fisheries Council. Symposium on the development and utilization of inland fishery resources, Colombo (Sri Lanka), 27 Oct 1976.

Gulland, J. A. 1979. Report of the FAO/UNDP workshop on the fishery resources of the Western Indian Ocean–South Equator. FAO, Rome, 10FC/DEV/79 45:1–37.

Gulland, John Alan. 1971. The Fish Resources of the Ocean. England: Fishing News (Books) Ltd.

Hand Book of Fisheries Statistics 2015–2016. 2016. ed. Department of Fisheries Directorate of Fisheries, Government of West Bengal.

Huang, C.S. 1986. Analysis on the fishing condition of grey mullet in Taiwan, 1984–1985. Bulletin of Taiwan Fisheries Research Institute 42: 89–104.

Jones, R., and N.P. Van Zalinge. 1981. Estimates of mortality rate and population size for shrimp in Kuwait waters. Kuwait Bulletin of Marine Science 2: 273–288.

Kuriakose, S., K.G. Mini, and T.V. Sathianandan. 2017. Course Manual ICAR funded Summer School on Advanced Methods for Fish Stock Assessment and Fisheries Management. Kochi: CMFRI.

Lee, C.Y., and C.L. Kuo. 1990. Kinds, local names and seasonal appearance of the fingerlings of grey mullet, Mugil cephalus L., in coastal waters of west Taiwan. China Fish Monthly 448: 13–18.

Liu, C. H. 1986. Survey of the spawning grounds of grey mullet. In Study on the Resource of Grey Mullet in Taiwan 1983–1985. Keelung Taiwan Fisheries Research Institute.

Liu, C.H., and S.C. Shen. 1991. A revision of the mugilid fishes from Taiwan. Bulletin of the Institute of Zoology, Academia Sinica 30: 273–288.

Marriott, R.J., B.D. Mapstone, and G.A. Begg. 2007. Age-specific demographic parameters, and their implications for management of the red bass, Lutjanus bohar (Forsskal 1775): A large, long-lived reef fish. Fisheries Research 83(2–3): 204–215.

Moorthy, K., S. Venkatesha, H.R.V. Reddy, and T.S. Annappaswamy. 2003. Age and growth of blue spot mullet, Valamugil seheli (Forskal) from Mangalore. Indian Journal of Fisheries 50(1): 73–79.

Moreau, J., and F.X. Cuende. 1991. On improving the resolution of the recruitment patterns of fishes. Fishbyte 9(1): 45–46.

Murugan, S., S. Ajmal Khan, P.S. Lyla, C. Prasanna Kumar, K.C. Jalal, B.Y. Kamaruzzaman, and B. Akbar John. 2012. Length–weight relationship of Mugil cephalus (Linnaeus 1758) in Vellar estuary, southeast coast of India. Pakistan Journal of Biological Sciences: PJBS 15(12): 595–599.

Nelson, J.S. 2006. Fishes of the World. Hoboken, NJ: Wiley.

Pauly, D. 1984a. Fish population dynamics in tropical waters: A manual for use with programmable calculators. ICLARM Fishbyte 8: 325.

Pauly, D. 1984b. Length-converted catch curves: A powerful tool for fisheries research in the tropics (Part II). ICLARM Fishbyte 2(1): 17–19.

Pauly, D. 1986. On improving operation and use of the Elefan programs. Part 3, correcting length-frequency data for the effects of gear selection and/or incomplete recruitment. Fishbyte 4(2): 11–13.

Pauly, D., and N. David. 1981. ELEFAN I, a BASIC program for the objective extraction of growth parameters from length-frequency data. Meeresforschung 28(4): 205–211.

Pauly, D., and J.L. Munro. 1984. Once more on the comparison of growth in fish and invertebrates. ICLARM Fishbyte 2(1): 21.

Pauly, Daniel. 1980. On the interrelationships between natural mortality, growth parameters, and mean environmental temperature in 175 fish stocks. ICES Journal of Marine Science 39(2): 175–192.

Pauly, Daniel. 1990. Length-converted catch curves and the seasonal growth of fishes. Fishbyte 8(3): 33–38.

Rahman, M.Ashiq Ur, P. Mohanchander, P. Lyla, and S. Ajmal Khan. 2016. Growth and Stock Estimation of Greenback Mullet, Liza subviridis (Valenciennes, 1836) from Parangipettai Waters (Southeast Coast of India). Thalassas: An International Journal of Marine Sciences 32(1): 43–50.

Ricker, W.E. 1975. Computation and interpretation of biological statistics of fish populations. Department of the Environment. Bulletin of the Fisheries Research Board of Canada 191: 1–382.

Saeger, Jürgen, and Felimon C. Gayanilo. 1986. A Revised and Graphics-orientated Version of ELEFAN 0, I and II Basic Programs for Use on HP 86/87 Microcomputers. Miagao: Department of Marine Fisheries, College of Fisheries, University of the Philippines in the Visayas.

Sahoo, D.K., S.K. Karna, and S. Panda. 2012. Length weight relationship and growth estimation of Mugil cephalus (Linnaeus, 1758) in the Chilika Lagoon, Orissa, India. Journal of Experimental Biological Sciences 3(4): 700–705.

Sarojini, K.K. 1958. Biology and fisheries of the grey mullets of Bengal. II. Biology of Mugil cunnesius Valenciennes. Indian Journal of Fisheries 5(1): 56–76.

Sarr, S.M., T.J.A. Kabre, and P. Cecchi. 2013. Recruitment, mortality and exploitation rates estimate and stock assessment of Mugil cephalus (Linnaeus, 1758 Mugilidea) in the estuary of the Senegal River. International Journal of Agricultural Policy and Research 1(1): 1–10.

Shaw, G.E., and E.O. Shebbeare. 1937. The fishes of northern Bengal. Journal of the Royal Asiatic Society of Bengal 3: 1–137.

Su, Wei Cheng, and Tsuyoshi Kawasaki. 1995. Characteristics of the life history of grey mullet from Taiwanese waters. Fisheries Science 61(3): 377–381.

Talwar, Purnesh K., and Arun G. Jhingram. 1991. Inland fishes of India and adjacent countries. Boca Raton: CRC Press.

Turan, Cemal, Mevlüt Gürlek, Deniz Ergüden, Deniz Yağlıoğlu, and Bayram Öztürk. 2011. Systematic status of nine mullet species (Mugilidae) in the Mediterranean Sea. Turkish Journal of Fisheries and Aquatic Sciences 11(2): 315–321.

Vivekanandan, E. 2017. Concept and objectives of stock assessment. In Summer School on Advanced Methods for Fish Stock Assessment and Fisheries Management. Chennai: CMFRI.

Wijeyaratne, M.J.S., and H.H. Costa. 1987. The biology of grey mullets in a tropical lagoon in Sri Lanka. 1. Age and growth. Mahasagar 20(3): 163–170.

Zubia, M., Y. Rehana, S.H. Muhammad, M.T. Omer, and S.O. Lakht-e-Zehra Adeyemi. 2014. Length-weight relationship, condition and relative condition factor of four Mugilid species (family mugildae) from the Karachi Coast of Pakistan. Journal of Coastal Development 17: 1–6.
Acknowledgements
The authors are thankful to the Head of the Department of Zoology, University of Calcutta, India for the facilities provided and the Science and Engineering Research Board, Department of Science and Technology, Govt. of India (File number: PDF/2016/000640) for financial support. The local villagers and fishermen of Jharkhali, Sundarbans and the lab members are gratefully acknowledged for their immense help and support.
Ethics declarations
Conflict of interest
None declared.
Additional information
Publisher's Note
Springer Nature remains neutral with regard to jurisdictional claims in published maps and institutional affiliations.
Electronic supplementary material
Below is the link to the electronic supplementary material.
About this article
Cite this article
Roy, A., Dutta, S., Podder, A. et al. Variation in Population Characteristics and Harvesting Pressure Influencing Recruitment Pattern of an Economically Important Fish, Osteomugil cunnesius of Indian Sundarbans. Proc Zool Soc 73, 5–15 (2020). https://doi.org/10.1007/s12595-019-00291-9
Received:

Revised:

Accepted:

Published:

Issue Date:
Keywords
Grey Mullet

Population dynamics

Length-growth

Mortality

Exploitation

Indian Sundarbans