Abstract
Introduction
Takayasu arteritis is an important differential diagnosis in young female patients presenting with fever, fatigue, hypertension, and/or neck pain.
Echocardiographic features
Aortic arch branch vessels are frequently affected and the carotid artery can have diffuse, homogeneous wall thickening, known as the 'macaroni sign'. The descending aorta can be stenotic with 'pseudo-coarctation'.
Conclusion
Cardiovascular echo plays an important role in the screening and characterization of arterial lesions in patients with Takayasu arteritis.
This is a preview of subscription content, log in to check access.
Access options
Buy single article
Instant unlimited access to the full article PDF.
US$ 39.95
Price includes VAT for USA
Subscribe to journal
Immediate online access to all issues from 2019. Subscription will auto renew annually.
US$ 99
This is the net price. Taxes to be calculated in checkout.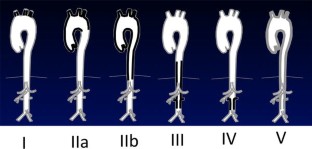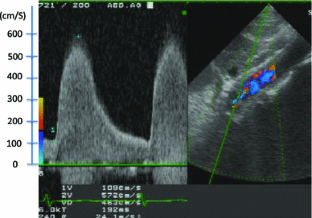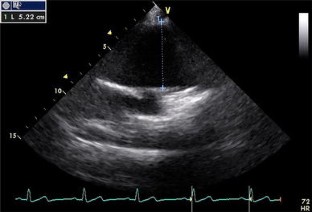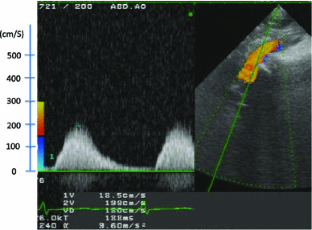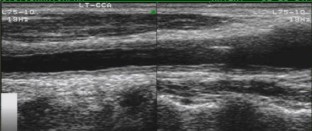 References
1.

Weyand CM, Goronzy JJ. Medium- and large-vessel vasculitis. N Engl J Med. 2003;349:160–9.

2.

Liang P, Hoffman GS. Advances in the medical and surgical treatment of Takayasu arteritis. Curr Opin Rheumatol. 2005;17:16–24.

3.

Takayasu M. Kii naru moumakuchuushinkekkan henka no ichirei. Nippon Gankagakkai Zasshi. 1908;12:554–5.

4.

Numano F. The story of Takayasu arteritis. Rheumatology (Oxford). 2002;41:103–6.

5.

Mishima Y. Leriche Memorial Lecture at 24th World Congress 'Takayasu's arteritis in Asia'. Cardiovasc Surg. 2001;9:3–10.

6.

Moriwaki R, Noda M, Yajima M, et al. Clinical manifestations of Takayasu arteritis in India and Japan—new classification of angiographic findings. Angiology. 1997;48:369–79.

7.

Nakabayashi K, Kurata N, Nangi N, et al. Pulmonary artery involvement as first manifestation in three cases of Takayasu arteritis. Int J Cardiol. 1996;54(Suppl):S177–83.

8.

Kerr GS, Hallahan CW, Giordano J, et al. Takayasu arteritis. Ann Intern Med. 1994;120:919–29.

9.

Johnston SL, Lock RJ, Gompels MM. Takayasu arteritis: a review. J Clin Pathol. 2002;55:481–6.

10.

Maeda H, Handa N, Matsumoto M, et al. Carotid lesions detected by B-mode ultrasonography in Takayasu's arteritis: "macaroni sign" as an indicator of the disease. Ultrasound Med Biol. 1991;17:695–701.

11.

Konishi Y, Oyama K, Nasu M, et al. Left coronary artery ostial stenosis from Takayasu's arteritis diagnosed using transthoracic color flow and pulsed Doppler echocardiography. J Echocardiogr. 2011;9:142–4.
Conflict of interest
Kazuhiro Nishigami has received honoraria of $1000 or less as a lecture fee from the following companies: Astellas Pharma Inc., AstraZeneca K.K., Bayer Yakuhin Ltd., Boehringer Ingelheim Japan Inc., Kowa Pharmaceutical Co., Ltd., MSD K.K., Shionogi & Co., Ltd., Novartis Pharma K.K., Tanabemitsubishi Pharmaceutical Co., Ltd. and Takeda Pharmaceutical Co., Ltd.
Electronic Supplementary Material
Below are the links to the electronic supplementary material.
Supplementary material 1 (AVI 1140 kb). Movie A. Long-axis 2-dimensional image of the descending aorta showing diffuse stenosis of the aorta dorsal to the heart
Supplementary material 1 (AVI 4001 kb). Movie C. Longitudinal image of the common carotid artery showing that the thickened wall shuffles forward
Supplementary material 1 (AVI 774 kb). Movie D. Color Doppler image in the long-axis of the left ventricle showing aortic regurgitation
About this article
Cite this article
Nishigami, K. Role of cardiovascular echo in patients with Takayasu arteritis. J Echocardiogr 12, 138–141 (2014) doi:10.1007/s12574-014-0232-2
Received:

Revised:

Accepted:

Published:

Issue Date:
Keywords
Cardiovascular echo

Takayasu arteritis

Aorta

Carotid artery