Abstract
Systemic lupus erythematosus (SLE) with or without accompanying antiphospholipid antibody syndrome (APLS) is known to cause myocardial ischemia via multiple mechanisms, including accelerated coronary atherosclerosis, impaired coronary vasomotor function, spontaneous intracoronary thrombus formation, or endothelial dysfunction in the context of cardiac syndrome X (CSX). We present the case of a young woman with SLE and APLS who presented with myocardial ischemia and peculiar echocardiographic evidence of multiple small septal perforator infarcts despite a normal coronary angiogram, a rare combination.
This is a preview of subscription content, log in to check access.
Access options
Buy single article
Instant unlimited access to the full article PDF.
US$ 39.95
Price includes VAT for USA
Subscribe to journal
Immediate online access to all issues from 2019. Subscription will auto renew annually.
US$ 99
This is the net price. Taxes to be calculated in checkout.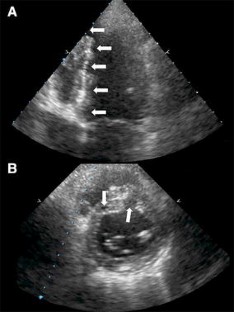 References
1.

Manzi S, Meilahn EN, Rairie JE, et al. Age-specific incidence rates of myocardial infarction and angina in women with systemic lupus erythematosus: comparison with the Framingham study. Am J Epidemiol. 1997;145:408–15.

2.

Alarcon-Segovia D. Antiphospholipid syndrome within systemic lupus erythematosus. Lupus. 1994;3:289–91.

3.

Crea F, Lanza GA. Angina pectoris and normal coronary arteries: cardiac syndrome X. Heart. 2004;90:457–63.

4.

Recio-Mayoral A, Mason JC, Kaski JC, et al. Chronic inflammation and coronary microvascular dysfunction in patients without risk factors for coronary artery disease. Eur Heart J. 2009;30:1837–43.

5.

Pierangeli SS, Colden-Stanfield M, Liu X, et al. Antiphospholipid antibodies from antiphospholipid syndrome patients activate endothelial cells in vitro and in vivo. Circulation. 1999;99:1997–2002.

6.

Veves A, Akbari CM, Primavera J, et al. Endothelial dysfunction and the expression of endothelial nitric oxide synthetase in diabetic neuropathy, vascular disease, and foot ulceration. Diabetes. 1998;47:457–63.
Conflict of interest
There are no financial or other relations that could lead to a conflict of interest.
Electronic supplementary material
Below is the link to the electronic supplementary material.
Supplementary material 1 (AVI 7339 kb)
About this article
Cite this article
Tatavarty, S., Buchholz, S. Systemic lupus erythematosus and small vessel coronary infarction: who's to blame?. J Echocardiogr 11, 150–151 (2013). https://doi.org/10.1007/s12574-013-0185-x
Received:

Revised:

Accepted:

Published:

Issue Date:
Keywords
Systemic lupus erythematosus

Antiphospholipid antibody syndrome

Myocardial infarction

Normal coronary angiogram