Abstract
A 75-year-old male with persistent atrial fibrillation underwent implantation of a left atrial occlusion device. After 6 weeks, a scheduled trans-esophageal echocardiogram showed a 1.1-cm × 1.1-cm mass within the occluded left atrial appendage, suspected to be thrombus. He was continued on warfarin for an additional 6 weeks and a repeat trans-esophageal echocardiogram showed obliteration of the left atrial appendage. This report describes an uncommon observation detected at scheduled follow up by trans-esophageal echocardiogram, which sheds some light on the mechanism by which this device "matures" after it is implanted inside the left atrial appendage.
This is a preview of subscription content, log in to check access.
Access options
Buy single article
Instant unlimited access to the full article PDF.
US$ 39.95
Price includes VAT for USA
Subscribe to journal
Immediate online access to all issues from 2019. Subscription will auto renew annually.
US$ 99
This is the net price. Taxes to be calculated in checkout.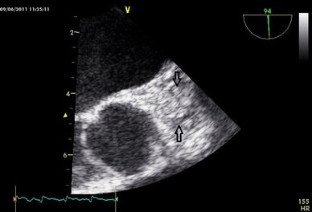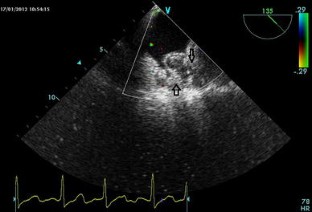 Abbreviations
TEE:

Trans-esophageal echocardiogram

LAA:

Left atrial appendage

TIA:

Transient ischaemic attack
References
1.

Go AS, Hylek EM, Phillips KA, et al. Prevalence of diagnosed atrial fibrillation in adults: national implications for rhythm management and stroke prevention: the AnTicoagulation and Risk Factors in Atrial Fibrillation (ATRIA) Study. JAMA. 2001;285:2370–5. doi:10.1001/jama.285.18.2370.

2.

Fuster V, Rydén LE, Asinger RW, et al. ACC/AHA/ESC guidelines for the management of patients with atrial fibrillation: executive summary a report of the American College of Cardiology/American Heart Association Task Force on practice guidelines and the European Society of Cardiology Committee for practice guidelines and policy conferences (committee to develop guidelines for the management of patients with atrial fibrillation) developed in collaboration with the North American Society of Pacing and Electrophysiology. Circulation. 2001;104:2118–50.

3.

Stoddard MF, Dawkins PR, Prince CR, et al. Left atrial appendage thrombus is not uncommon in patients with acute atrial fibrillation and a recent embolic event: a transesophageal echocardiographic study. J Am Coll Cardiol. 1995;25:452–9.

4.

Fountain RB, Holmes DR, Chandrasekaran K, et al. The PROTECT AF (WATCHMAN Left Atrial Appendage System for Embolic PROTECTion in Patients with Atrial Fibrillation) trial. Am Heart J. 2006;151:956–61.

5.

Reddy VY, Holmes D, Doshi SK, et al. Safety of percutaneous left atrial appendage closure: results from the Watchman Left Atrial Appendage System for Embolic Protection in Patients with AF (PROTECT AF) clinical trial and the Continued Access Registry. Circulation. 2011;123(4):417–24. doi:10.1161/CIRCULATIONAHA.110.976449.

6.

Sick PB, Schuler G, Hauptmann KE, et al. Initial worldwide experience with the WATCHMAN left atrial appendage system for stroke prevention in atrial fibrillation. J Am Coll Cardiol. 2007;49:1490–5.
Conflict of interest
We report no conflict of interest for the physicians involved in preparing this manuscript.
Electronic supplementary material
Below are the links to the electronic supplementary material.
Video 1. Zoom at 94°. Space-occupying mass behind the barbs of the WATCHMAN device implanted inside the left atrial appendage (AVI 9204 kb)
Video 2. Modified left atrial view showing the left ventricular outflow tract, aortic valve and part of the left atrial appendage with the clot sealed inside (AVI 10328 kb)
About this article
Cite this article
Chowdhury, M.A., Elabbassi, W. & Al Nooryani, A. Left atrial appendage occlusion device-related thrombus: a case report and review of the literature. J Echocardiogr 10, 65–66 (2012). https://doi.org/10.1007/s12574-012-0115-3
Received:

Revised:

Accepted:

Published:

Issue Date:
Keywords
Watchman

Left atrial appendage occlusion

Device-related thrombus

Atrial fibrillation