Abstract
Background
Arterial thromboembolism (ATE) leading to acute arterial occlusion can involve life-threatening complications, including limb loss and death, without prompt thrombectomy. Several ATEs are hard to differentiate from acute aggravation of atherosclerotic peripheral artery disease (PAD). We determined four characteristics of vascular echos suggesting ATE for the differentiation from PAD and validated their use.
Methods and results
Twenty patients (11 men and 9 women; mean age, 74 years) with ATE confirmed by therapeutic findings and 19 patients with PAD including occlusive lesions (14 men and 5 women; mean age, 78 years) were enrolled. Four hallmarks of vascular echo suggesting ATE were defined as the manifestation of the intima–media complex next to the adventitia (M1), mild to moderate echolucency of the intravascular structure (M2), mobility of the intravascular structure (M3), and the pulsatile movement of the arterial wall (M4) in occlusive arterial lesions. In the ATE group, 6 patients had three positive items, and 14 patients had four positive items. In the PAD group, ten patients had no positive items, and nine patients had one positive item. Using a cutoff score of more than 3 for ATE, the sensitivity was 100%, the specificity was 100%, the positive predictive value was 100%, and the negative predictive value was 100%.
Conclusions
The presented characteristics of vascular echo suggesting ATE could be useful for making the differential diagnosis against PAD.
This is a preview of subscription content, log in to check access.
Access options
Buy single article
Instant unlimited access to the full article PDF.
US$ 39.95
Price includes VAT for USA
Subscribe to journal
Immediate online access to all issues from 2019. Subscription will auto renew annually.
US$ 99
This is the net price. Taxes to be calculated in checkout.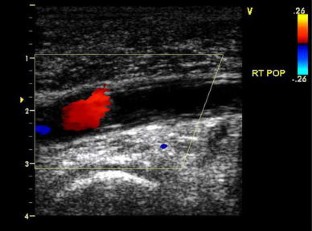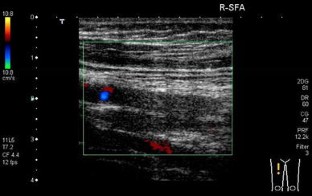 References
1.

Tawes RL Jr, Harris EJ, Brown WH, Shoor PM, Zimmerman JJ, Sydorak GR, et al. Acute limb ischemia: thromboembolism. J Vasc Surg. 1987;5(6):901–3.

2.

Brewster DC. Acute peripheral arterial occlusion. Cardiol Clin. 1991;9(3):497–513.

3.

Blaisdell FW, Steele M, Allen RE. Management of acute lower extremity arterial ischemia due to embolism and thrombosis. Surgery. 1978;84(6):822–34.

4.

Nakamura K, Onitsuka T, Kuwahara M, Yamamoto A, Matsuzaki Y, Sekiya R, et al. Acute arterial occlusion of the lower extremities. Nippon Geka Gakkai Zasshi. 1994;95(2):116–22.

5.

Lavanier GL, Sacks D, Robinson ML. Acute limb ischemia. Emerg Med Clin North Am. 1992;10(1):103–19.

6.

Kasirajan K, Ouriel K. Management of acute lower extremity ischemia: treatment strategies and outcome. Curr Interv Cardiol Rep. 2000;2(2):119–29.
Acknowledgment
We thank Naoko Takahashi for her assistance with the preparation of this manuscript.
Conflict of interest statement
None.
Electronic supplementary material
Below is the link to the electronic supplementary material.
Supplementary material 1 (MPG 625 kb)
Supplementary material 2 (MPG 296 kb)
About this article
Cite this article
Nishigami, K., Imada, Y., Hirayama, T. et al. Four characteristics of vascular echo suggesting arterial thromboembolism: differentiation from aggravation of atherosclerotic peripheral artery disease. J Echocardiogr 7, 70 (2009) doi:10.1007/s12574-009-0016-2
Received:

Revised:

Accepted:

Published:
Keywords
Thromboembolism

Vascular echo

Arterial occlusion

Acute limb ischemia

Peripheral arterial disease