Abstract
This article focuses on the effects of segmentation on cerebral aneurysm's morphological parameters and on blood flow patterns computed using computational fluid dynamics. Segmentation is a non-negligible source of uncertainty that may have a consequent impact on the morphological assessment and the resulting hemodynamical simulations, the latter potentially being a key element in the decision-making therapeutic armamentarium for neuroradiologists and neurosurgeons. From the three patient-specific cases investigated, medical imaging data sets were collected, and four different three-dimensional segmentations were generated by the same senior technician. Morphological parameters were measured, and the aspect ratio was derived. Numerical simulations were performed; flow pattern changes, their impact on wall shear stress (WSS) and their sensitivity within the four reconstructed geometries were analyzed. Aneurysm velocity, vorticity and shear magnitudes were computed and compared. The morphological parameters having the highest variability were the aneurysm lobe dimensions (20 %). The neck length was the second parameter presenting the highest variability (21 %). The neck width variability reached 13.8 %, and the aspect ratio variability reached 14.2 %. The artery height and the artery width presented a variability of 13.7 and 10.8 %, respectively. Finally, the aneurysm depth, aneurysm height and aneurysm width presented variabilities of 12.8, 9.4 and 7.3 %, respectively. Differences in the flow path lines, velocity magnitude, wall shear stress and vorticity are also reported and discussed. The average variability reached 15.6 % for velocity, 25.2 % for vorticity and 25.2 % for shear, these parameters being computed inside the aneurysm. The maximum variability reached 31.0 % for velocity, 54.8 % for vorticity and 58.1 % for shear. A segmentation process reconstructing anatomies that is less sensitive to human intervention would be a future goal worth pursuing.
This is a preview of subscription content, log in to check access.
Access options
Buy single article
Instant unlimited access to the full article PDF.
US$ 39.95
Price includes VAT for USA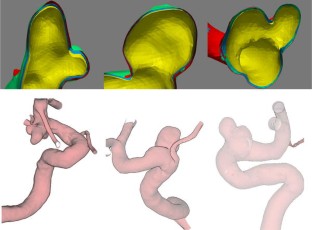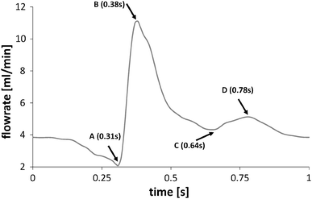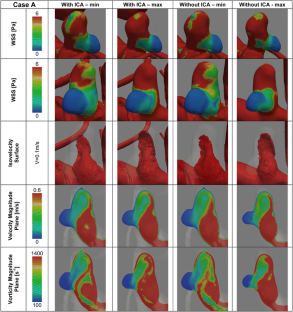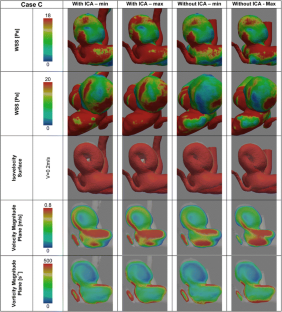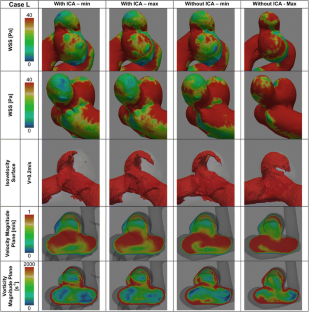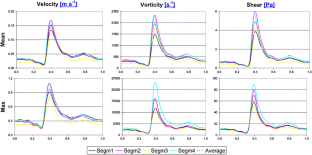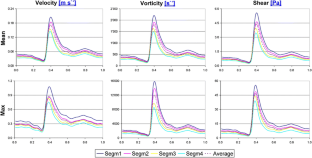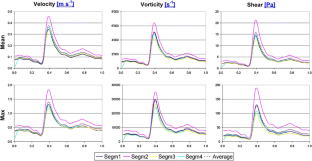 References
1.

Humphrey JD. Cardiovascular solid mechanics: cells, tissues, and organs. New York: Springer; 2002. p. 757.

2.

Vernooij MW, et al. Incidental findings on brain MRI in the general population. N Engl J Med. 2007;357(18):1821–8.

3.

de Rooij NK, et al. Incidence of subarachnoid haemorrhage: a systematic review with emphasis on region, age, gender and time trends. J Neurol Neurosurg Psychiatry. 2007;78(12):1365–72.

4.

Tomasello F, et al. Asymptomatic aneurysms. Literature meta-analysis and indications for treatment. J Neurosurg Sci. 1998;42(1 Suppl 1):47–51.

5.

Wardlaw JM, White PM. The detection and management of unruptured intracranial aneurysms. Brain. 2000;123(Pt 2):205–21.

6.

Wiebers DO, et al. Unruptured intracranial aneurysms: natural history, clinical outcome, and risks of surgical and endovascular treatment. Lancet. 2003;362(9378):103–10.

7.

Ma B, Harbaugh RE, Raghavan ML. Three-dimensional geometrical characterization of cerebral aneurysms. Ann Biomed Eng. 2004;32(2):264–73.

8.

Sorteberg A, Farhoudi D. The influence of aneurysm configuration on intra-aneurysmal pressure and flow. Interv Neuroradiol. 2006;12:203–14.

9.

Nader-Sepahi A, et al. Is aspect ratio a reliable predictor of intracranial aneurysm rupture? Neurosurgery 2004. 54(6):1343–7 (discussion 1347–8).

10.

Ujiie H, et al. Effects of size and shape (aspect ratio) on the hemodynamics of saccular aneurysms: a possible index for surgical treatment of intracranial aneurysms. Neurosurgery 1999;45(1):119–29 (discussion 129–30).

11.

Ujiie H, et al. Is the aspect ratio a reliable index for predicting the rupture of a saccular aneurysm? Neurosurgery 2001; 48(3):495–502 (discussion 502–3).

12.

Weir B, et al. The aspect ratio (dome/neck) of ruptured and unruptured aneurysms. J Neurosurg. 2003;99(3):447–51.

13.

Cebral J, et al. Pilot clinical study of aneurysm rupture using image-based computational fluid dynamics models. In: SPIE Medical Imaging Conference, San Diego; 2005.

14.

Ortega HV. Computer simulation helps predict cerebral aneurysms. J Med Eng Technol. 1998;22(4):179–81.

15.

Cebral JR, et al. Characterization of cerebral aneurysms for assessing risk of rupture by using patient-specific computational hemodynamics models. AJNR Am J Neuroradiol. 2005;26(10):2550–9.

16.

Cebral JR, et al. Cerebral aneurysm hemodynamics modeling from 3D rotational angiography. In: Proceedings of the 2004 IEEE International Symposium on Biomedical Imaging: From Nano to Macro, 2004. pp. 944–7.

17.

Cebral JR, Hernandez M, Frangi AF. Computational analysis of blood flow dynamics in cerebral aneurysms from CTA and 3D rotational angiography image data. In: Doblaré M, Cerrolaza M Rodrigues H (eds) International Congress On Computational Bioengineering, vol. I3A, 2003.

18.

Cebral JR, et al. Subject-specific modeling of intracranial aneurysms. Medical imaging 2004: physiology, function, and structure from medical images. In: Proceedings of SPIE, vol. 5369, 2004. pp. 319–27.

19.

Hoi Y, et al. Effects of arterial geometry on aneurysm growth: three-dimensional computational fluid dynamics study. J Neurosurg. 2004;101(4):676–81.

20.

Shojima M, et al. Magnitude and role of wall shear stress on cerebral aneurysm: computational fluid dynamic study of 20 middle cerebral artery aneurysms. Stroke. 2004;35(11):2500–5.

21.

Marzo A, et al. Influence of inlet boundary conditions on the local haemodynamics of intracranial aneurysms. Comput Methods Biomech Biomed Eng. 2009;12(4):431–44.

22.

Westerhof N, Stergiopulos N, Noble MIM Snapshots of Hemodynamics. Dordrecht: Springer Science, Business Media; 2005. p. 192.

23.

Dempere-Marco L, et al. CFD analysis incorporating the influence of wall motion: application to intracranial aneurysms. Med Image Comput Comput Assist Interv Int Conf. 2006;9(Pt 2):438–45.

24.

Cebral JR, et al. Realistic cerebral circulation models from medical image data. In: Summer Bioengineering Conference, Sonesta Beach Resort in Key Biscayne, Florida, 25–29 June 2003.

25.

Raghavan ML, Ma B, Harbaugh RE. Quantified aneurysm shape and rupture risk. J Neurosurg. 2005;102(2):355–62.
Acknowledgments
This work was generated in the framework of the @neurIST Project, which is co-financed by the European Commission through contract no. IST-027703. This work has also been partially supported by StrokeLab Inc., Geneva, Switzerland.
Electronic supplementary material
Below is the link to the electronic supplementary material.
Supplementary material 1 (AVI 5075 kb)
Supplementary material 2 (AVI 5170 kb)
Supplementary material 3 (AVI 5075 kb)
Supplementary material 4 (AVI 6422 kb)
Supplementary material 5 (AVI 6425 kb)
Supplementary material 6 (AVI 6426 kb)
Supplementary material 7 (AVI 6427 kb)
Supplementary material 8 (AVI 6419 kb)
Supplementary material 9 (AVI 6429 kb)
About this article
Cite this article
Augsburger, L., Reymond, P., Ouared, R. et al. Influence of segmentation on morphological parameters and computed hemodynamics in cerebral aneurysms. J Biorheol 26, 44–57 (2013). https://doi.org/10.1007/s12573-012-0046-7
Received:

Accepted:

Published:

Issue Date:
Keywords
Intracranial aneurysms

Segmentation

Three-dimensional reconstruction

Flow simulation

Computational fluid dynamics