Priority research questions for the UK food system
Open Access
Original Paper
Abstract
The rise of food security up international political, societal and academic agendas has led to increasing interest in novel means of improving primary food production and reducing waste. There are however, also many 'post-farm gate' activities that are critical to food security, including processing, packaging, distributing, retailing, cooking and consuming. These activities all affect a range of important food security elements, notably availability, affordability and other aspects of access, nutrition and safety. Addressing the challenge of universal food security, in the context of a number of other policy goals (e.g. social, economic and environmental sustainability), is of keen interest to a range of UK stakeholders but requires an up-to-date evidence base and continuous innovation. An exercise was therefore conducted, under the auspices of the UK Global Food Security Programme, to identify priority research questions with a focus on the UK food system (though the outcomes may be broadly applicable to other developed nations). Emphasis was placed on incorporating a wide range of perspectives ('world views') from different stakeholder groups: policy, private sector, non-governmental organisations, advocacy groups and academia. A total of 456 individuals submitted 820 questions from which 100 were selected by a process of online voting and a three-stage workshop voting exercise. These 100 final questions were sorted into 10 themes and the 'top' question for each theme identified by a further voting exercise. This step also allowed four different stakeholder groups to select the top 7–8 questions from their perspectives. Results of these voting exercises are presented. It is clear from the wide range of questions prioritised in this exercise that the different stakeholder groups identified specific research needs on a range of post-farm gate activities and food security outcomes. Evidence needs related to food affordability, nutrition and food safety (all key elements of food security) featured highly in the exercise. While there were some questions relating to climate impacts on production, other important topics for food security (e.g. trade, transport, preference and cultural needs) were not viewed as strongly by the participants.
Keywords
Food security 
UK food system 
Post-farm gate activities 
Stakeholder world views 
Priority setting 
Evidence gaps 
Introduction
Food is a fundamental human need and access to food is a universal human right (UN General Assembly 1966). The UK Government's Foresight report (2011) on 'The Future of Food and Farming: Challenges and Choices for Global Sustainability' recognises the importance of food security and highlights five key challenges: balancing future supply and demand; ensuring adequate stability in food supplies; achieving global access to food and ending hunger; managing the contribution of the food system to the mitigation of climate change; and maintaining biodiversity and ecosystem services while feeding the world.
Driven by the requirement to feed ever increasing human demand, major scientific and technical advances have been made in crop production, most notably, the 'green revolution'. This was based on a series of research, development, and technology transfer initiatives that occurred between 1966 and 1985, bringing about crop yield increases of 208 % for wheat, 109 % for rice, 157 % for maize, 78 % for potatoes and 36 % for cassava in developing countries in the period 1960–2000 (Pingali 2012). In industrialised countries, wheat and maize yield increases of c. 250 % and >500 %, respectively, have been seen over a similar period, although there have been marked regional differences (Ray et al. 2012). This, coupled with the many innovations in animal sciences, fisheries and more recently aquaculture, has meant that overall global food production has kept ahead of overall demand for many years (Lang and Ingram 2013).
Despite this productivity growth, about 1 billion people had insufficient calories and about a further billion were undernourished in 2010–2012 (FAO et al. 2012); huge inequalities with regard to access to food mean that hunger and poor nutrition are a continuing problem around the world, violating the human right to food of many. In contrast, the access to highly calorific food has been so easy for many others that the levels of overeating and obesity have become another global problem (Dyson 1996). Around a quarter of UK adults were classified as obese in 2011 (Gray and Leyland 2012; Health & Social Care Information Centre 2013) although, in addition to increasing accessibility of supply, the problem also relates to many interacting factors including differential changes in energy expenditure, sources of energy intake and types of food consumed (Butler and Dixon 2012; Dixon and Broom 2007; Institute of Medicine 2011). Nutritional quality is as important for food security as calorific content and FAO estimates of undernourishment overlook some aspects of food insecurity such as micro- and macronutrient deficiencies (Pinstrup-Andersen 2009).
The last few years have seen a growing realisation of the scale of future requirements: without substantial changes to dietary patterns and significant reductions in food waste, it has been estimated that 70 to 100 % more food will be needed by 2050 (Godfray et al. 2010). To achieve this, greater yields of crops, vegetables and products from livestock species will be required, with predicted increases in per capita meat consumption (kg/person/year) from 37 kg at present to around 52 kg in 2050 (26–44 kg in developing countries; Bruinsma 2009). However, climate change and decline of natural resources alongside population growth suggest that supply will not cope with growing demand, and innovative ways to manage food security more effectively are required (Schellnhuber et al. 2013; HM Government 2013). The recognition of future need, coupled with the 2007–2008 food price spike which sharply increased the number of hungry between 2006 and 2009 (FAO 2010), drove renewed concerns about hunger; the notion of food security rapidly ascended science, policy and societal agendas in many countries, as noted by Ingram (2011).
Despite the high-level political agreement at the 1996 World Food Summit that food security is essentially about stability of access to food rather than production per se (it is a condition whereby "all people, at all times, have physical and economic access to sufficient, safe, and nutritious food to meet their dietary needs and food preferences for an active and healthy life" (FAO 1996)), scientific and policy attention has again mainly focussed on increasing total production through increases in yield. This arguably risks ignoring people's anxieties about sustaining access to food (Maxwell 1996) and the other nutritional, social and economic aspects of food security emphasised by the FAO definition.
The notion of food systems
Food security is underpinned by food systems. These include complex sets of activities from producing to consuming food (often referred to as the food chain), which involve multiple interconnections. They have been modelled as food cycles, food webs and food contexts, but Sobal et al. (1998) noted that few existing models broadly describe the system, with most focussing on one disciplinary perspective or one segment.
Traditional food system and food security literatures have been somewhat separated, so recognising the need to consider not only the food chain, but also the food security outcomes defined by the FAO (
1996
) and the context of global environmental change, Ericksen (
2008
) drew together the extensive (yet relatively distinct) literatures in these areas. This approach provides a checklist of factors and issues that need to be considered in food security discussions (Fig. 
1
) and has proved valuable as a framework in a wide range of analyses (Ingram
2011
). It is particularly useful in explaining how food insecurity arises when biophysical, economic and social stresses act – either singly, or in combination – on different aspects of the food system.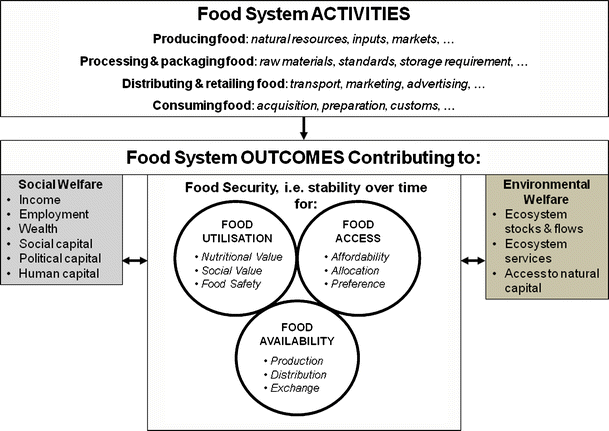 The methods by which food is produced, processed, packaged, marketed and consumed (food system activities in Fig. 1) affect all nine elements of the food security outcomes (bullets within circles, Fig. 1). In addition to health and wellbeing, food system activities also have outcomes related to, and are impacted upon by, socioeconomic (e.g. livelihoods of those working in the food system), and environmental sustainability goals (Fig. 1). Increasingly, these outcomes are related to the consumer preference aspect of food security (e.g. certification schemes such as fair trade or Marine Stewardship Council), which also brings in moral, religious and ethical aspects (e.g. animal welfare). A general research goal is therefore to understand how food system activities (and changes in the way they are undertaken) affect their outcomes on this diverse range of goals.
A focus on the UK food system
The recent emergence of food security as a priority in many policy forums is noticeable not just internationally but also within the UK specifically; several major government documents have been published in recent years (Defra 2009; 2008; HM Government 2010; Foresight 2011; Scottish Government 2009a, b). In critiquing these documents, MacMillan and Dowler (2012) acknowledge the shifts in UK policy discourse in the context of international research, policy and initiatives to promote food security. Food safety, consumer choice, nutrition, and authenticity are particularly prominent within policy and media (with the press devoting considerable space to recent food scares and diet), as are reducing waste and increasing productivity whilst reducing environmental impacts. There has also been increasing attention towards affordability (i.e. food cost in relation to the amount of disposable income available to spend on food) and inequality (Unwin 2012; Institute for Fiscal Studies 2013; Centre for Economics and Business Research 2013; Padley and Hirsch 2013).
While most attention about food insecurity is focussed on the developing world (where high food insecurity is widespread), the problem – albeit often to a considerably lesser degree – also exists in the UK. In 2007 the Food Standards Agency found that 29 % of materially deprived people sampled were mildly, moderately or severely food insecure, with 36 % of this group unable to maintain a balanced, nutritionally adequate diet (Nelson et al. 2007). More recently, Cooper and Dumpleton (2013) estimated that at least 500,000 people in the UK are food-insecure. Inequality is an increasing issue for the UK: while there is a high prevalence of overweight and obese children, up to 21 % of children admitted into hospitals nevertheless suffer from under-nutrition (Carey et al. 2012). This situation is accentuated due to the 'financial downturn' and related social welfare reforms and the UK has recently seen a rapid rise in the demand for food aid via food banks: the year to April 2013 saw c. 350,000 people (37 % of whom were children) receiving a minimum of three days emergency food from Trussell Trust foodbanks alone, 170 % more than in the preceding year and considerably more than the 26,000 people in 2008–2009 (Lambie-Mumford 2013; Trussell Trust 2013).
Setting research priorities
There have been several research prioritisation exercises addressing the primary production aspects of food security. Pretty et al. (2010) presented a set of questions which, if addressed, would have "a significant impact on global agriculture worldwide, while improving the synergy between agricultural policy, practise and research". The paper addressed the food system from an agriculture viewpoint, set within a complex landscape of production, rural development, environmental and social justice outcomes, and was not specific for the UK. More recently, Dicks et al. (2013) presented a set of priority research questions for enhancing the environmental sustainability of UK agriculture.
With a view to addressing the broader UK food security challenge, while in the context of other policy goals (e.g. social, economic and environmental sustainability) of keen interest to a range of UK stakeholders, an exercise was conducted to identify priority research questions for the UK food system as a whole. This encompassed all food chain activities, plus the food security outcomes relating to availability, access and utilisation of food. So as to complement earlier prioritisation studies, we emphasised 'post-farm gate' activities, but included food production (from land and water) as needed in relation to other food system activities and outcomes. The exercise, conducted under the auspices of the UK Global Food Security Programme, considered food consumed within the UK (whatever the origin), with a time horizon of 10–15 years. Particular emphasis was placed on incorporating a wide range of 'world views' from different stakeholder communities: governmental policy, private sector, non-governmental organisations, advocacy groups and academia.
Methods
The method for identifying priority research questions followed an iterative voting process previously applied in agricultural (Pretty et al.
2010
), conservation (Sutherland et al.
2009
), ecological (Sutherland et al.
2013
) and science-policy (Sutherland et al.
2012
) settings, and described by Sutherland et al. (
2011
). An initial long list of suggested research questions was reduced to 100 top priorities in four voting stages, and subsequently further refined to select the top priorities by theme and major stakeholder group (Table 
1
).
Table 1
The five voting stages used for narrowing down the initial suggested questions into a refined list of research priorities. Right-hand column gives the stage's format. Stages 2–4 also included removing duplicate questions, rephrasing questions and highlighting important subject areas that had been overlooked in the process thus far
1.

Voting on 811 questions to provide an initial ranking within 12 themes.

9 additional questions included.

Email survey

2.

Removing c. 75 % of the 820 initial questions in 12 sessions (one theme per session) by discussion and voting.

Ranking remaining questions as 'gold' (35 %), 'silver' (33 %) or 'bronze' (30 %).

Four rounds of three parallel workshop sessions (each 2–2.5 h)

3.

Removing c. 30 % of 202 remaining questions in 4 sessions (three themes per session) by discussion and voting.

Ranking remaining questions as 'gold' (59 %), 'silver' (14 %), 'bronze' (14 %) or 'nickel' (14 %).

Two rounds of two parallel workshop sessions (each 1.75 h)

4.

Selecting the top 100 from the 140 remaining questions by discussion, championing of lower-ranked questions and voting.

One plenary workshop session (2 h)

5.

Voting on the top 100 questions to identify the top priorities per stakeholder group (four shortlists of 7–8 questions).

Online survey
Results
Overview
Of the original 820 questions submitted by participants, over half related to food system activities, with a quarter going to whole systems questions, and less than a fifth on food security outcomes (Table 2). This might be due to the recent re-emergence of food security as a UK priority and the likelihood that research and practitioner communities may not yet be thinking in terms of the complete set of elements involved in food security outcomes.
Within the questions on food systems activities, over a third related to producing food, while a quarter related to consuming food. Reference to "producing" and "farming" refers to both land-based and aquatic production, unless otherwise specified. Other food system activities received relatively few questions. Questions regarding food security outcomes were unevenly distributed across the nine elements (bullet points, Fig. 1), with the majority relating to nutrition, safety receiving over a third and affordability receiving a fifth. Issues regarding waste and the environmental and policy contexts of the whole food system (food system management questions), drew approximately equal proportions of questions (Table 2).
The top 100 questions are here presented grouped within 10 major themes (A–J), but are not presented in a rank order. Asterisks (*) indicate the highest priority questions in each theme (across stakeholders). Emboldened acronyms indicate the top questions identified by stakeholder groups, combining practitioners' and academics' priorities (see also supplementary material, Table S
1
–S
4
):
PP

primary production

IR

food industry and retail

GP

governmental policy

OA

NGOs and advocacy
Discussion
Food security is undoubtedly amongst the most pressing of challenges confronting the world in the twenty-first century. As discussed above, the FAO definition (FAO
1996
) highlights the importance of ensuring that all people have
access
to
safe
,
nutritious, preferred
food, rather than simply ensuring that sufficient food is produced. So as to complement similar exercises focussing on producing food (e.g. Pretty et al.
2010
; Feeding the Future
2013
), this exercise therefore aimed to cover the entire food system, i.e. all the activities encompassed by the food chain, plus the food security outcomes relating to availability, access and utilisation (Fig. 
1
). To this end, the effort to generate a large, broad-ranging list of initial questions was largely successful for food system activities, but considerably less successful regarding the nine elements of the food security outcomes (see Fig. 
1
), which attracted only 18 % of initial questions. This echoes the analysis by Wood et al. (
2010
) which shows how international assessments of food security are heavily biased towards food production (Fig. 
2
). One solution to this, and an important lesson for subsequent exercises aiming at a more balanced approach, is to ensure more participants with expertise and interests in food security outcomes are engaged, even if they represent a smaller part of the research or stakeholder community (relative to participants with interests in food system activities) at the time.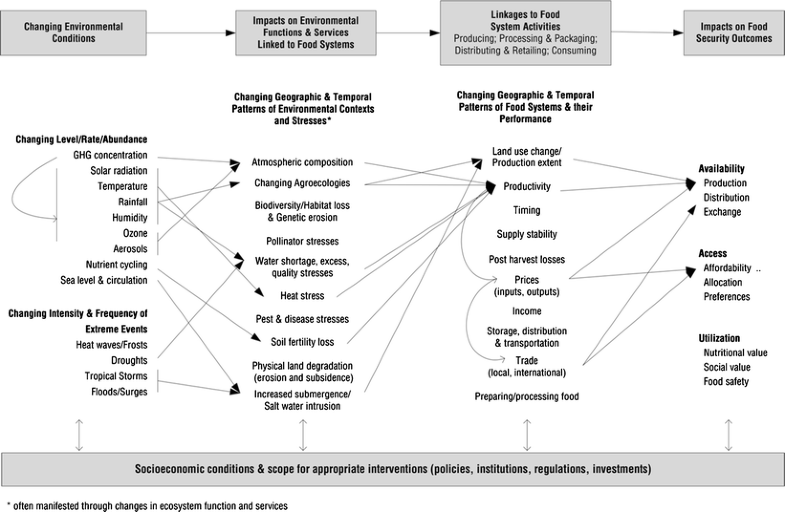 Nonetheless, there are several post-farm gate activities which are of clear interest to many UK stakeholders, with processing, packaging, retailing and consuming collectively drawing 64 % of food system activity questions in the initial list of questions (Table 2). Regarding food security outcomes, about half of these questions related to nutrition while affordability (arguably the main factor in access to food in the UK) drew only a fifth. Other key food security elements were covered to an even lesser extent (e.g. social value, preference, transport and trade). The imbalance between activity and outcome questions, and the uneven coverage of the nine food security elements, to a large extent reflected the individual interest areas of the participants. It is also possible that many of the elements considered important for food security (e.g. the social function of food) are not yet high enough on the policy and academic agendas to attract sufficient research investment or visibility.
The final selection of 'top' questions by stakeholder groups not surprisingly revealed significant differences. All five questions identified by the primary production (PP) group addressed issues of sustainability of the production base, with an important reference to also maintaining or enhancing the nutritional value of primary food products (Q11). The industry and retail (IR) group's selections ranged from reducing nutritionally-poor aspects of food, to food hygiene, safety, packaging and labelling. The NGOs and advocacy (OA) group were most interested in dietary choices, consumption patterns and reducing food waste. The governmental policy (GP) group was similarly interested in resilience and overall supplies given a changing climate; food consumption and accessibility to food. Academics and practitioners had a shared interest in many issues, with 61 % of the top questions per theme chosen by both these groups. Not surprisingly, however, academics also championed questions tackling 'bigger picture' issues relating, for example, to climate change, resilience and public perceptions.
Evidently, the questions identified by this type of prioritisation process will be shaped by the interests of the particular participants involved (Sutherland et al. 2011), so the fact that some elements of the food security outcomes were less prominent does not necessarily suggest these are not also important. Furthermore, while the exercise could arguably have been enhanced with greater participation from people directly involved in food retailing, consumer-focused charities and food anthropologists, the concerted effort to engage a wide variety of stakeholders and large number of consultees helped to define an extensive initial list of questions. Our list of 100 top priorities is therefore likely to represent a suitably broad representation of food system perspectives.
Conclusions
Taking a systems-based approach in addressing questions related to the UK's food security is important as the UK's food system is becoming increasingly globalised and has inherent complexities and multiple feedbacks among a range of activities and outcomes. This exercise has therefore proved useful in engaging the wide range of stakeholders involved, and has helped to establish a relatively well-balanced discussion across the complete set of food system activities and many key aspects of the food security outcomes. Our 100 questions can inform the UK research agenda both from public funders' and applied industry viewpoints, as well as mapping research needs onto international food security agendas. It is clear, from the wide range of questions, that individual stakeholder communities see the need for more research on a range of post-farm gate activities, thereby complementing many investments in food production research. New research can build on on-going efforts to improve food production and, as policy interest develops and researchers respond to stakeholders' information needs, this research can help to make comparatively overlooked elements of the food security agenda become more mainstream.
From the perspective of the food system activities, the need to take into account optimal allocation of natural resources to increase the efficiency with which inputs are used is emerging as a critical area for further research. This is not only important in production but also more generally along the whole food chain. Key elements of the food security outcomes (including nutrition, food safety and affordability) also emerged as priorities. By encompassing the whole food system, our list of priorities can help to identify opportunities for cross-sectoral collaboration between food system disciplines. It is important to integrate research on food system activities and food security outcomes more effectively, and to develop this with closer collaboration between different research communities, as well as between academics and practitioners. UK food system policy, governance, food-related economies and health will all be significantly enhanced when these key questions are answered and the UK's collaborative Global Food Security programme provides a useful vehicle to help take this agenda forward.
Notes
Acknowledgments
We wish to thank the large number of additional participants who suggested questions and took part in surveys; and Andrew Opie, Director of Food and Sustainability, British Retail Consortium. We acknowledge the UK Global Food Security programme for sponsoring the project; BBSRC, Defra and NERC for co-funding the activities. The work was also supported by the NERC Knowledge Exchange Programme on Sustainable Food Production (grant no. NE/K001191/1).
Copyright information
© Springer Science+Business Media Dordrecht and International Society for Plant Pathology 2013