Abstract
This study investigated variability in the growth, length, and age compositions and the rates of mortality of Flinders' sillago Sillago flindersi exploited in a demersal trawl fishery in eastern Australia. Sampling was done over 2 years across three depth strata at two locations approximately 400 km apart. Ageing of sectioned sagittal otoliths indicated that the observed maximum age of females was 6 years and that of males 5 years, that growth was variable and that the von Bertalanffy growth parameters significantly differed according to gender and location. Females attained a greater L ∞ than males, but males displayed greater k values. The L ∞ values of both sexes and the mean length-at-age for fish aged 3–5 years were greater at the location of highest latitude. Length and age compositions differed according to depth, with smaller (<15 cm FL) and younger (<2 years) fish generally more predominant in the shallow (<30 m) strata than in the deeper (>31 m) strata. S. flindersi appear to use the shallow strata as a juvenile habitat, moving to deeper waters as they grow. This depth stratification between cohorts may reduce intraspecific competition and could potentially be used as a spatial management tool to reduce any fishing-associated impacts on juveniles. Fish between 1 and 3 years old dominated the age compositions of populations combined across all depths, with estimated total mortality ranging between 2.24 and 2.40. Fishing mortality ranged between 1.54 and 1.70 and was more than twice the derived natural mortality. Exploitation rates were approximately 0.70, indicating that the species was heavily fished.
Access options
Buy single article
Instant access to the full article PDF.
US$ 39.95
Tax calculation will be finalised during checkout.
Subscribe to journal
Immediate online access to all issues from 2019. Subscription will auto renew annually.
US$ 79
Tax calculation will be finalised during checkout.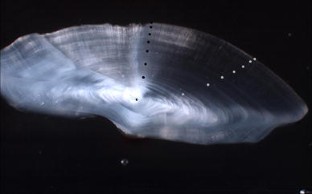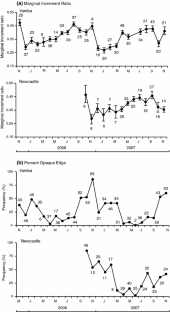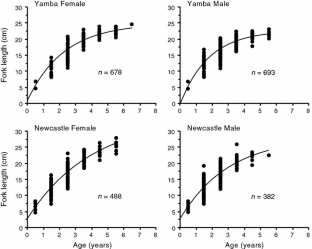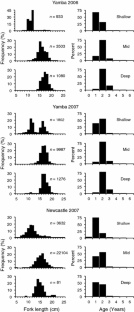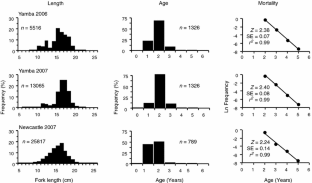 References
1.

McKay RJ (1992) FAO species catalogue, vol. 14. Sillaginid fishes of the world (family Sillaginidae). An annotated and illustrated catalogue of the Sillago, smelt or Indo-Pacific whiting species known to date. FAO Fish Synopsis 125. FAO, Rome

2.

Gray CA, Kennelly SJ (2003) Catch characteristics of the commercial beach-seine fisheries in two Australian barrier estuaries. Fish Res 63:405–422

3.

Henry GW, Lyle JM (2003) The national recreational and indigenous fishing survey. Final report to the Fisheries Research and Development Corporation, Project 99/158. Final Rep Ser No. 40. NSW Fisheries, Cronulla

4.

Reddy CR, Neelakantan N (1992) Age and growth of Indian whiting, Sillago sihama (Forskal) from Karwar waters. Mahasagar 25:61–64

5.

Shamsan EF, Ansari ZA (2010) Studies on the reproductive biology of the Indian sand whiting Sillago sihama (Forsskal). Ind J Mar Sci 39:280–284

6.

Rahman MH, Tachihara K (2005) Reproductive biology of Sillago aeolus in Okinawa Island, Japan. Fish Sci 71:122–132

7.

Rahman MH, Tachihara K (2005) Age and growth of Sillago aeolus in Okinawa Island, Japan. J Oceanog 61:569–573

8.

Hyndes GA, Potter IC (1996) Comparisons between the age structures, growth and reproductive biology of two co-occurring sillaginids, Sillago robusta and S. bassensis, in temperate coastal waters of Australia. J Fish Biol 49:14–32

9.

Gray CA, Barnes LM, van der Meulen DE, Kendall BW, Ochwada-Doyle FA, Robbins WD (2014) Depth interactions and reproductive ecology of sympatric Sillaginidae: Sillago robusta and S. flindersi. Aquat Biol 21:127–142

10.

Kendall BW, Gray CA (2009) Reproduction, age and growth of Sillago maculata (Sillaginidae) in south-eastern Australia. J App Ichthyol 25:529–536

11.

Hyndes GA, Platell ME, Potter IC, Lenanton RCJ (1998) Age composition, growth, reproductive biology, and recruitment of King George whiting, Sillaginodes punctata, in coastal waters of south-western Australia. Fish Bull 96:258–270

12.

Fowler AJ, McLeay L, Short DA (2000) Spatial variation in size and age structures and reproductive characteristics of the King George whiting (Percoidei: Sillaginidae) in South Australian waters. Mar Freshw Res 51:11–22

13.

Kemp J, Lyle J, Rowling K, Ward P (2012) Eastern school whiting Sillago flindersi. In: Flood M et al (eds) Status of key Australian fish stocks reports 2012. Fisheries Research and Development Corporation, Canberra, pp 391–395

14.

Tuck GN (ed)(2011) Stock assessment for the Southern and Eastern Scalefish and Shark Fishery 2010. Part 1. Australian Fisheries Management Authority and CSIRO Marine and Atmospheric Research, Hobart

15.

Ricker WE (1975) Computation and interpretation of biological statistics of fish populations. Bull Fish Res Bd Can 191:382

16.

Lai H, Gallucci VF, Gunderson DR, Donnelly RF (1996) Age determination in fisheries: methods and applications to stock assessment. In: Gallucci VF et al (eds) Stock assessment: quantitative methods and applications for small-scale fisheries. CRC Lewis, New York, pp 82–178

17.

Patterson K, Cook R, Darby C, Gavaris S, Kell L, Lewy P, Mesnil B, Punt A, Restrepo V, Skagen DW, Stefansson G (2001) Estimating uncertainty in fish stock assessment and forecasting. Fish Fisher 2:125–157

18.

Marriott RJ, Adams DJ, Jarvis NDC, Moran MJ, Newman SJ, Craine M (2011) Age-based demographic assessment of fished stocks of Lethrinus nebulosus in the Gascoyne Bioregion of Western Australia. Fish Mang Ecol 18:89–103

19.

Kennelly SJ, Liggins GW, Broadhurst MK (1998) Retained and discarded bycatch from oceanic prawn trawling in New South Wales, Australia. Fish Res 36:217–236

20.

Rowling K, Hegarty A, Ives M (eds) (2010) Status of fisheries resources in NSW 2008/09. Industry and Investment NSW, Cronulla

21.

Broadhurst MK, Young DJ, Gray CA, Wooden MEL (2005) Improving selection in south eastern Australian whiting (Sillago spp.) trawls: effects of modifying the body, extension and codend. Sci Mar 69:301–311

22.

Macbeth WG, Millar RB, Johnson DD, Gray CA, Keech RS, Collins D (2012) Assessment of the relative performance of a square-mesh codend design across multiple vessels in a demersal trawl fishery. Fish Res 134:29–41

23.

Chen Y, Jackson DA, Harvey HH (1992) A comparison of von Bertalanffy and polynomial functions in modelling fish growth data. Can J Fish Aquat Sci 49:1228–1235

24.

Hoenig JM (1983) Empirical use of longevity data to estimate mortality rates. Fish Bull 81:898–903

25.

Campana SE (2001) Accuracy, precision and quality control in age determination, including a review of the use and abuse of age validation methods. J Fish Biol 59:197–242

26.

Beckman DW, Wilson CA (1995) Seasonal timing of opaque zone formation in fish otoliths. In: Secor DH et al (eds) Recent developments in fish otolith research. University of South Carolina Press, Columbia, pp 27–44

27.

Høie H, Millner RS, McCully S, Nedreaas KH, Pilling GM, Skadal J (2009) Latitudinal differences in the timing of otolith growth: a comparison between the Barents Sea and southern North Sea. Fish Res 96:319–322

28.

Williams AJ, Davies CR, Mapstone BD (2005) Variations in the periodicity and timing of increment formation in red throat emperor (Lethrinus miniatus) otoliths. Mar Freshw Res 56:529–538

29.

Ochwada-Doyle FA, Stocks J, Barnes LM, Gray CA (2014) Reproduction, growth and mortality of the exploited sillaginid, Sillago ciliata. J App Ichthyol. doi:10.1111/jai.12478

30.

Smith KA, Deguara K (2003) Formation and annual periodicity of opaque zones in sagittal otoliths of Mugil cephalus (Pisces: Mugilidae). Mar Freshw Res 54:57–67

31.

Gray CA, Haddy JA, Fearman J, Barnes LM, Macbeth WG, Kendall BW (2012) Reproduction, growth and connectivity among populations of Girella tricuspidata (Pisces: Girellidae). Aquat Biol 16:53–68

32.

Stewart J, Hughes JM (2010) Life-history traits of the southern hemisphere eastern red scorpionfish, Scorpaena cardinalis (Scorpaenidae: Scorpaeninae). Mar Freshw Res 61:1290–1297

33.

Barnes LM, Gray CA, Williamson JE (2011) Divergence of the growth characteristics and longevity of coexisting Platycephalidae (Pisces). Mar Freshw Res 62:1308–1317

34.

Sulistiono M, Yokota S, Kitada S, Watanabe S (1999) A revision of the Japanese sillaginid fishes. Jpn J Ichthyol 31:136–149

35.

Coulson PG, Hesp AS, Potter IC, Hall NG (2005) Comparisons between the biology of two co-occurring species of whiting (Sillaginidae) in a large marine embayment. Environ Biol Fish 73:125–139

36.

Parker GA (1992) The evolution of sexual dimorphism in fish. J Fish Biol 41:1–20

37.

Hyndes GA, Potter IC, Hesp SA (1996) Relationships between the movements, growth, age structures, and reproductive biology of the teleosts Sillago burrus and S. vittata in temperate marine waters. Mar Biol 126:549–558

38.

Gust N, Choat JH, Ackerman JL (2002) Demographic plasticity in tropical reef fishes. Mar Biol 140:1039–1051

39.

Lombardi-Carlson L, Fitzhugh G, Palmer C, Gardner C, Farsky R, Ortiz M (2008) Regional size, age and growth differences of red grouper (Epinephelus morio) along the west coast of Florida. Fish Res 91:239–251

40.

Stocks J, Gray CA, Taylor MD (2014) Synchrony and variation across latitudinal gradients: the role of climate and oceanographic processes in the growth of a herbivorous fish. J Sea Res 90:23–32

41.

Vila-Gispert A, Moreno-Amich R, Garcia-Berthou E (2002) Gradients of life-history variation: an intercontinental comparison of fishes. Rev Fish Biol Fish 12:417–427

42.

Williams AJ, Mapstone BD, Davies CR (2007) Spatial and interannual patterns in growth of an exploited coral-reef fish. J Fish Biol 71:970–992

43.

Lappalainen J, Tarkan AS, Harrod C (2008) A meta-analysis of latitudinal variations in life-history traits of roach, Rutilus rutilus, over its geographical range: linear or non-linear relationships? Freshwater Biol 53:1491–1501

44.

Sharpe DMT, Hendry AP (2009) Life history change in commercially exploited fish stocks: an analysis of trends across studies. Evol App 2:260–275

45.

Stewart J (2011) Evidence of age-class truncation in some exploited marine fish populations in New South Wales, Australia. Fish Res 108:209–213

46.

Macpherson E, Duarte CM (1991) Bathymetric trends in demersal fish size: is there a general relationship? Mar Ecol Prog Ser 71:103–112

47.

Hyndes GA, Platell ME, Potter IC, Lenanton RCJ (1999) Does the composition of the demersal fish assemblages in temperate coastal waters change with depth and undergo consistent seasonal changes? Mar Biol 134:335–352

48.

Methratta ET, Link JS (2007) Ontogenetic variation in habitat associations for four flatfish species in the Gulf of Maine–Georges Bank region. J Fish Biol 70:1669–1688

49.

Werner EE, Hall DJ, Laughlin DR, Wagner DJ, Wilsmann LA, Funk FC (1977) Habitat partitioning in a freshwater fish community. J Fish Res Brd Can 34:360–370

50.

Ross ST (1986) Resource partitioning in fish assemblages: a review. Copeia 1986:352–388
Acknowledgments
This research was funded by the NSW Government and done in accordance with the NSW DPI Animal Care and Ethics Permit 2005/05 whilst the authors were employed by the NSW Government and based at the (now closed) Cronulla Fisheries Research Centre of Excellence. We thank Don Anderson (El Margo) and Bruce Korner (Little John) for their fishing expertise and assistance with sampling. Damian Young assisted with fieldwork and Caitlin Young, Justin McKinnon, Martin Jackson and Adam Welfare helped process samples in the laboratory. Jim Craig provided database management and Kevin Rowling, Ken Graham, Matt Broadhurst, Geoff Liggins, John Stewart and Steve Kennelly provided discussions and/or reviews of the study. The journal referees provided constructive comments on the manuscript.
About this article
Cite this article
Gray, C.A., Barnes, L.M., Ochwada-Doyle, F.A. et al. Age, growth and demographic characteristics of Sillago flindersi exploited in a multi-species trawl fishery. Fish Sci 80, 915–924 (2014). https://doi.org/10.1007/s12562-014-0793-z
Received:

Accepted:

Published:

Issue Date:
Keywords
Australia

Commercial harvest

Demography

Fishery assessment

Mortality

Otolith

Sillaginidae