Epigenetic influences on genetically triggered thoracic aortic aneurysm
Abstract
Genetically triggered thoracic aortic aneurysms (TAAs) account for 30% of all TAAs and can result in early morbidity and mortality in affected individuals. Epigenetic factors are now recognised to influence the phenotype of many genetically triggered conditions and have become an area of interest because of the potential for therapeutic manipulation. Major epigenetic modulators include DNA methylation, histone modification and non-coding RNA. This review examines epigenetic modulators that have been significantly associated with genetically triggered TAAs and their potential utility for translation to clinical practice.
Keywords
Thoracic aortic aneurysm 
Aortic dilatation 
Epigenetics 
Non-coding RNA 
MicroRNA 
Introduction
Thoracic aortic aneurysm (TAA) is a genetically and phenotypically diverse condition characterised by the progressive permanent dilatation of the thoracic aorta, predisposing to aortic rupture and dissection (Goldfinger et al. 2014). TAA is predominantly clinically silent and develops on a background of adverse remodelling of the aortic wall, which may be inherited or acquired.
Genetically triggered TAAs account for up to 30% of all TAAs (Clouse et al. 1998; Albornoz et al. 2006) and are often consequent upon pathological variants in genes encoding key proteins in either vascular smooth muscle cells (VSMCs), the extracellular matrix (ECM) or transforming growth factor-beta (TGF-β) signalling. Non-genetic TAA is usually observed in older patients with comorbidities including hypertension and atherosclerosis (Goldfinger et al. 2014). Genetically triggered TAA is observed in the clinical syndromes of Marfan (MFS), Loeys-Dietz (LDS) and vascular Ehlers-Danlos (vEDS), and also in association with a bicuspid aortic valve (BAV). In other individuals, TAA may occur in the absence of other clinically discernible features (non-syndromal Thoracic Aortic Aneurysm and Dissection (nsTAAD)). Current medical therapy is variably effective at slowing the rate of dilatation, with increasing dimensions conferring an increase in the risk of dissection, which carries a mortality rate of up to 50% (Melvinsdottir et al. 2016). Most patients will ultimately require surgical repair of the aneurysm, with mortality risk ranging from 1 to 5% for elective repair (Kallenbach et al. 2013) and up to 12% for emergency intervention (Goldfinger et al. 2014).
Phenotype variability is well-documented in all forms of genetically triggered TAA and is particularly highlighted in cases where an identical pathogenic gene variant results in different clinical manifestations (De Backer et al. 2007; Loeys 2016). This phenotype variability significantly impacts the ability to predict clinical outcomes, resulting in uncertainty for both clinicians and patients. Therefore, there is a need to develop more sophisticated risk profiling that aims to provide a precision-medicine model for patient management.
Epigenetics: regulators of phenotype
The emerging characterisation of the "epigenome", comprising endogenous mediators that regulate gene expression independent of the DNA sequence, has revolutionised our understanding of health and disease beyond traditional Mendelian genetics. "Epigenetics" refers to mechanisms of gene expression regulation by DNA methylation, histone modification and non-coding RNA, such as microRNA (miRNA) and long non-coding RNA (lncRNA) (Tollefsbol 2018). The activity of these mediators is dynamically influenced by environmental stimuli, leading to stable changes in gene expression that are maintained during cell division and can be passed through generations. Accordingly, aberrant epigenetic changes are associated with many disease states (Esteller 2011; Tollefsbol 2018). Characterisation of these changes has resulted in improved understanding of pathological disease mechanisms, as well as the development of disease-specific biological profiles. Importantly, epigenetic mediators have been demonstrated to be modifiable therapeutic targets (Conway et al. 2016), thus providing enormous clinical potential, with the capacity to improve diagnosis, monitoring and treatment of a wide range of diseases.
With epigenetics increasingly recognised in other genetic conditions as modulators of penetrance and expressivity (Feinberg 2007), there is a strong theoretical basis for these mechanisms also occurring in genetically triggered TAA. Detection of aberrant epigenetic changes in TAA will enable a deeper understanding of pathogenesis and may provide explanation for the observed phenotype variation among individuals. In turn, such knowledge may also assist the clinical decision-making process with regard to the optimal time to undertake surgical repair and also provide a stronger mechanistic basis for new drug design towards slowing progression and mitigate the need for surgery. This review provides an update on epigenetic changes found to be associated with genetically triggered TAA, with a summary of progress in translation to clinical practice.
Pathogenesis of thoracic aortic aneurysm
Normal aortic wall architecture
The aortic wall consists of three distinct layers: the outermost adventitia, which contains connective tissue and ECM for tensile support, in addition to local blood and neural supply; the media, which consists of contractile lamellar units comprised of concentric layers of contractile VSMCs interspersed between elastic fibres and surrounded by ECM; and the intima, containing the endothelial surface and subendothelial connective tissue. Collectively, these components enable the aortic wall to tolerate the large changes in pressure that are associated with ventricular contraction, with graded contraction of the VSMCs responsible for reducing the highly pulsatile ventricular flow to a steady, continuous propagation through the vasculature (Belz and Belz 1995). The mechanical properties of the aorta are also maintained through diverse signalling processes within and between the three aortic wall layers, including cell-cell and cell-ECM interactions, mechanotransduction complexes that sense and communicate aortic stretch and responses to external signals, such as neural and hormonal stimuli (Humphrey et al. 2015).
Gene variants
Thoracic aortic aneurysm formation has been linked to variants in a number of genes that are involved in homeostasis of the aortic wall. These include genes that encode proteins responsible for (a) ECM regulation (FBN1, COL3A1, LOX, MFAP5, BGN), (b) the VSMC contractile apparatus (MYH11, ACTA2, MYLK, FLNA, PRKG1) or (c) TGF-β signalling (TGFB2, TGFB3, TGFBR1, TGFBR2, SMAD3) (Verhagen et al. 2018).
Histopathology
Regardless of the gene affected, there is a unifying histopathological change in the aortic wall in genetically triggered TAAs, defined as medial degeneration (Fig. 
1
) (Halushka et al.
2016
). The most prominent feature is the fragmentation, disorganisation and loss of elastic fibres. This has been associated with a pathological imbalance of the molecules that regulate the ECM, primarily the induction of matrix metalloproteinases (MMPs) or reduction of their endogenous regulators, tissue inhibitors of metalloproteinases (TIMPs) (Rabkin
2014
). The fragmentation of elastic fibres, along with increased collagen deposition decreases the compliant nature of the aorta, reducing its recoiling ability and increasing wall stiffness (Emmott et al.
2016
). In addition, there is loss of VSMCs due to apoptosis or necrosis and focal accumulation of mucoid ECM material, resulting in the loss and/or disruption of aortic contractile units. Together, the loss of structural integrity and mechanical strength in the aortic wall reduces its ability to manage normal haemodynamic loads, consequently predisposing to aortic dissection (Humphrey et al.
2015
).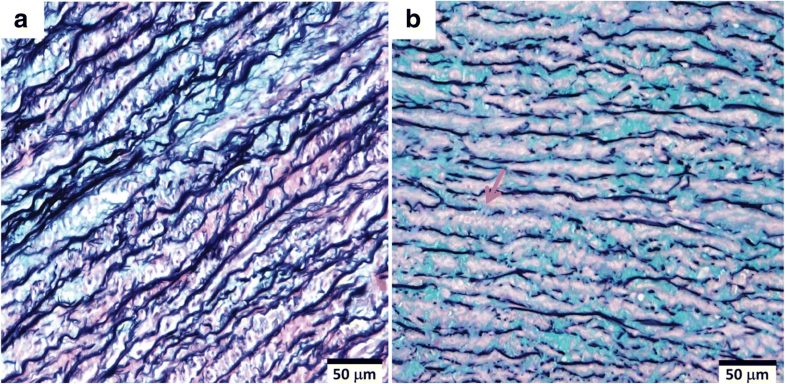 Conditions associated with genetically triggered TAA
Epigenetics as a therapeutic target
The use of non-coding RNAs as therapeutic molecules is in the early stages of development, with many currently in preclinical stages but few having reached clinical trials. Miravirsen, a miR-122 inhibitor for the treatment of chronic hepatitis C infection, has progressed to phase 2a studies and has demonstrated efficacy with few moderate-severe adverse events (Janssen et al. 2013). A small number of miRNA therapeutics are in phase 1 studies, mostly for the treatment of various cancers (Mellis and Caporali 2018); however, one trial was suspended due to multiple immune-related severe adverse events (Beg et al. 2017; Chakraborty et al. 2017).
An injectable hyaluronan-based hydrogel enabling targeted miRNA delivery to the heart has demonstrated preclinical efficacy in a murine model of myocardial infarction (MI). miR-29b that had been incorporated into the hydrogel and injected into the MI border zone demonstrated beneficial ECM changes and maintenance of cardiac function compared to control, decreasing the area of myocardial fibrosis (Monaghan et al. 2018). Similarly, administration of miR-302 to promote cardiomyocyte proliferation post-MI demonstrated local and sustained proliferation for two weeks after a single injection, indicating this method may have long-acting therapeutic potential (Wang et al. 2017).
In AAA, preclinical efficacy has been established for miR-126 in suppressing inflammation associated with aneurysm development. Using a dual-targeted approach in a murine Ang-II model, miR-126 conjugated with a VCAM-1-specific antibody was incorporated into ultrasound-guided microbubbles, which were subsequently delivered to inflamed endothelial cells of the AAA in weekly intravenous injections (Wang et al. 2018). VCAM-1 adhesion molecules are upregulated in AAA, thus binding allowed the targeted release of miR-126 to the affected endothelium to exert its anti-inflammatory effects. Amelioration of aneurysmal growth was observed after a period of four weeks.
Delivery of miRNA therapeutics to the aortic tissue in genetically triggered TAA may be more challenging than in AAA, given that the pathology in TAA predominantly occurs in the media, as opposed to the intima in AAA, in which intravenous agents benefit from having direct access. This may be resolved with novel techniques, such as a hydrogel-based injection, that will undoubtedly continue to emerge over the coming years.
Therapeutics aimed at methylation and histone-based modifications is complicated by their non-specific effects, which typically result in broad changes in gene expression (Yang et al. 2014). A number of DNA methyltransferase inhibitors (DNMTs) and histone deacetylase inhibitors (HDACi) are either in use or in clinical trials for cancer treatment (Jones et al. 2016) and are being explored for the treatment of various cardiovascular diseases; however, this has not progressed beyond preclinical studies (Schiattarella et al. 2018).
Future directions
Our understanding of the role of epigenetics in the pathophysiology of complex genetic diseases continues to expand at a rapid pace. With respect to genetically triggered TAA, epigenetics may provide insights into the observed phenotypic variation and, importantly, may assist in the development of personalised clinical management. Epigenetic mediators, such as miRNAs, are effector biological molecules whose expression can be altered through targeted mechanisms, presenting new opportunities for therapeutic strategies. However, large cohort studies capable of yielding robust clinical correlates to identify potential targets are still required. The mechanisms by which epigenetic mediators are regulated remain poorly understood and warrant further investigation. This would subsequently enable better understanding of the possible causative role of epigenetics in pathogenesis and strengthen the basis for exploring epigenetics-based therapeutics. These future research aims would significantly benefit from international multi-site collaborations and the establishment of a large international database and biobank.
Conclusion
Genetically triggered TAA is a complex condition with phenotypic heterogeneity that results in early morbidity and mortality in affected individuals. Epigenetic changes appear to play an important role in the pathogenesis and phenotypic heterogeneity of TAA and may represent feasible targets for future therapy.
Notes
Acknowledgements
The authors would like to thank Morvarid Emami for providing the histology images.
Compliance with ethical standards
Conflict of interest
Stefanie Portelli declares that she has no conflict of interest. Elizabeth Robertson declares that she has no conflict of interest. Cassandra Malecki declares that she has no conflict of interest. Kiersten Liddy declares that she has no conflict of interest. Brett Hambly declares that he has no conflict of interest. Richmond Jeremy declares that he has no conflict of interest.
Ethical approval
This article does not contain any studies with human participants or animals performed by any of the authors.
Copyright information
© International Union for Pure and Applied Biophysics (IUPAB) and Springer-Verlag GmbH Germany, part of Springer Nature 2018