Physical Behavior Profiles in Chronic Cancer-Related Fatigue
Abstract
Purpose
Increasing physical activity level is a generally effective intervention goal for patients who suffer from chronic cancer-related fatigue (CCRF). However, patients are unlikely to benefit equally from these interventions, as their behavioral starting points might vary substantially. Therefore, we explored patterns of physical behavior of participants who suffer from CCRF.
Methods
Baseline data of a randomized controlled trial were used for a latent profile analysis on nine accelerometer-derived physical behavior measures, describing levels and patterns of physical activity, moderate-to-vigorous intensity physical activity (MVPA), and sedentary behavior. The relation between participant characteristics and the latent profiles was analyzed.
Results
Accelerometer data of 172 participants from the Netherlands was analyzed. Three latent profiles were distinguished that differed most on physical activity level and total time spent in MVPA. Eighty-eight percent of all participants were assigned to a profile with a probability higher than 8. Age and perceiving limitations by comorbid conditions and pain were significant covariates of profile membership.
Conclusions
We distinguished three physical behavior profiles. The differences between the patterns indicate that the heterogeneity of this sample requires patients to have substantially different treatment goals. Further research should test the applicability of these profiles in clinical practice.
Keywords
Cancer 
Oncology 
Latent profiles analysis 
Fatigue 
Accelerometry 
Physical behavior 
Introduction
Fatigue is a common and debilitating side effect of cancer and its treatment that often persists well beyond active cancer treatment [1, 2]. Chronic cancer-related fatigue (CCRF) prevents patients to have "a normal life" [3] and hampers in performing daily activities [4].
The role of physical activity in the context of chronic cancer-related fatigue is neither straightforward nor evident. For example, inactivity has been proposed as a result as well as a cause of fatigue. Lower physical activity was associated with fatigue before initiation of treatment [5] and with persistence of fatigue [1]. However, a large cohort study of Neil et al. [6] showed no difference in inactivity between cancer survivors and individuals with no history of cancer, and another study showed that self-reported physical activity was no predictor for fatigue before and after chemotherapy [7].
Behavioral interventions that try to reduce fatigue usually aim at increasing level of physical activity by means of exercise or graded activity [8, 9, 10, 11]. These interventions are generally effective in reducing fatigue [8, 9, 10, 11, 12]. Such interventions should be adapted to individual physiological differences [13] to be fully appreciated. Presumably, effective interventions correspondingly depend on the individual's starting point in terms of physical behavior. Therefore, it is needed to consider the heterogeneity of patients' physical behavior and to explore what patient characteristics relate to these behaviors.
In fact, heterogeneity in physical behavior has been scarcely considered in behavioral intervention studies. One example is a study by Van der Werf et al. who aimed to reveal heterogeneity of physical behavior in non-cancer patients who suffer from chronic fatigue syndrome [14]. Patients were labeled pervasively passive, active, or moderately active based on their total amounts of physical activity. Such "sub-typing" can help to personalize interventions and define helpful and realistic treatment goals.
Other, more specific physical behavior measures than total amounts of physical activity are increasingly acknowledged as important and clinically relevant. Firstly, benefits of exercising or performing higher intensity activities are substantiated for cancer survivors [10]. Secondly, deteriorating effects of high amounts of sedentary behavior are increasingly acknowledged [15, 16] and addressed in many guidelines for cancer survivors [13]. Thirdly, measures that quantify distributions of these behaviors over time [17, 18, 19] were able to differentiate patients with chronic health conditions comparable to CCRF from healthy subjects independently of the total amounts of these physical behaviors. Consequently, focusing solely on total amounts of physical activity is probably too generic.
To acknowledge the relevance of different measures of physical behavior, Thompson et al. advocate to use profiles to describe physical activity of individuals [20]. This inherently leads to the research question in the current paper: What physical behavior profiles are prominent in persons who suffer from CCRF? This paper explicitly focusses on the interrelatedness of a range of physical behavior measures, which is novel in this field.
Secondly, this paper explores if the physical behavior profiles are related to participant characteristics. Therefore, demographic and clinical factors (age, sex, education, body mass index (BMI), working hours, cancer treatment types, time since last cancer treatment, and limitations due to pain or comorbidities), as well as fatigue, distress, and perceived work ability are studied for their relation with the physical behavior profiles.
Results
Model Checking
Not all models converged convincingly. Models A4 and A5 had no stable solutions, even when running 200.000 starts, and resulted in multiple errors and small profiles. Only one model (B2) from the B series and none from the C series resulted in stable solutions. The log transformation was not sufficient to specify pMVPA correctly in models Bk, and models Ck were too complex for the amount of data. Therefore, we proceeded with the model Ak series, which converged adequately up to three classes.
Latent Profiles Analysis
The results for the model A
k
series are presented in Table
1
. Model A
3
was selected because that model had a lower BIC than the two-profile model. The A
3
model resulted in profiles of 28, 71, and 73 participants in each profile, and most participants were allocated convincingly; 88% of the participants were allocated to a profile with probability higher than 0.8.
Table 1
Model results of the Ak series
K

BIC

Entropy

LMR

(p value)

BLRT

(p-value)

Profile proportions (N)

1

3435.299

Not applicable

Not applicable

Not applicable

172

2

3269.204

0.804

261.23 (.02)

<.001

72; 100

3

3218.251

0.848

147.25 (.23)

<.001

28; 71; 73

4a

Not available

0.869

Not performed

Not performed

7; 49; 55; 61

5a

Not available

0.901

Not performed

Not performed

4; 19; 40; 46; 63
The profile means for model A
3
(and for completeness also A
2
), standardized to
z
-scores of the total sample, are shown in Fig.
1
. Raw profile means, standard deviations, and posterior probabilities are presented in Table
2
. To improve readability, the A
3
profiles are labeled "active", "average", and "sedentary".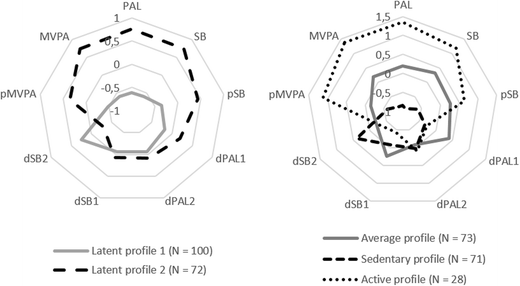 Table 2
Model results of the A3 model
 

Total samplec

Sedentary

Average

Active

N (%)

 

71 (41%)

73 (42%)

28 (16%)

Profile posterior probabilitiesb, mean (lowest)

0.936

0.926 (.50)

0.944 (.59)

0.943 (.66)

Profile posterior probabilities <0.8, N (%)

20 (12%)

11 (15%)

7 (10%)

2 (7%)

 

mean

stdev

mean

stdev

mean

stdev

mean

stdev

Physical activity level (cpm) (N = 165)

790.3

217.0

609.7

71.0

834.1

43.6

1081.5

103.7

MVPA (%) (N = 165)

6.22

3.47

0.10

0.62

13.06

1.38

27.94

2.43

Prolonged bouts of MVPA (min) (N = 165)a

10.64 a

12.62

3.14

5.36

8.87

8.77

24.82

28.35

Sedentary behavior time (%) (N = 165)

78.36

7.21

84.84

2.09

76.02

2.39

69.85

4.18

Prolonged bouts of SB (min) (N = 165)

325.6

110.6

391.3

88.7

295.8

84.7

254.5

56.8

dPAL1 (%-pt) (N = 148)

−17.47

35.07

−28.83

41.70

−3.72

17.7

−27.15

30.5

dPAL2 (%-pt) (N = 166)

−28.80

22.49

−28.21

26.36

30.30

20.0

−26.32

21.60

dSB1 (%-pt) (N = 148)

2.1

8.4

2.8

5.0

0.1

9.4

5.7

10.1

dSB2 (%-pt) (N = 166)

10.2

7.1

7.5

4.38

11.8

6.7

12.3

8.3
The right panel of Fig. 1 shows that the mean scores of the average profile are similar to the sample mean scores (z < |0.5|) for all indicators. The sedentary and active profile can be distinguished best from the average profile by PAL and MVPA. However, differences between profiles are also captured in the mean scores of other measures. For example, decline of physical activity from morning to afternoon was lowest (so high dPAL1) in the average profile. By contrast, dPAL2 was not distinctive at all. The Supplementary Materials (F3) show histograms of the sample profile distributions, which provide further insight into the distinctive character of all indicator measures.
Covariates
Exploration of the relation between the physical behavior profiles and participant characteristics showed that participants in the sedentary profile were older and less likely to report limitations by comorbid conditions compared to the average profile and were more likely to have limitations by pain compared to participants in the active profile. The results are presented in Table
3
.
Table 3
Predictive value of participant characteristics of the three-profile model
 

Total sample

Eliminated in step

(lowest

p value)

Average compared to sedentarya

Active compared to sedentarya

Active compared to averagea

Age (years)

55.8 (10.2)

 

−0.070 (.001)

−.047 (.105)

−0.024 (.372)

Sex (male)

28%

2 (.698)

 
 
 

Education (≥ college degree)

52.9%

3 (.581)

 
 
 

Work status (> 8 h/week)

53.8%

6 (.423)

 
 
 

Body mass index (kg/m2) (N = 154)

26.4 (5.1)

9 (.061)

 
 
 

Weeks since last treatmentb

206 (236)

7 (.248)

 
 
 

Comorbid conditions (≥ 2)

14.0%

4 (.465)

 
 
 

Limitations by comorbid condition (≥ 3/4)

37.8%

 

1.496 (.002)

1.48 (.011)

0.015 (.977)

Limitations by pain (≥ 4/7)

32.8%

 

−0.923 (.046)

−1.959 (.006)

1.035 (.136)

Treatment: chemo

69.6%

8 (.27)

 
 
 

Treatment: radiotherapy

59.7%

1 (.717)

 
 
 

Treatment: stem cell transplant

6.4%

0c

 
 
 

Fatigue (8–56)

42.0 (8.0)

11 (.010)

 
 
 

Distress (0–42)

14.3 (6.8)

5 (.474)

 
 
 

Work ability (0–10)

3.2 (1.7)

10 (.035)

 
 
 
Discussion
In this study, multiple physical behavior measures were collected to exhibit heterogeneity of patients who suffer from CCRF by means of physical behavior profiles. Three profiles were distinguished: a sedentary, active, and average profile. Furthermore, we investigated participant characteristics as covariates of these profiles, to increase knowledge on and enhance personalization of interventions that somehow target physical behavior in this population.
The three profiles were mostly distinguished by the measures PAL and MVPA time. Compared to the sedentary profile, participants in the active profile were roughly twice as active in terms of PAL and spent almost seven times longer on prolonged MVPA. Time spent in prolonged bouts of SB also differed between profiles: means were 4 h and 15 min in the active profile, compared to 6 h and 31 min in the sedentary profile. The average profile had the lowest (almost no) decline of PAL between morning and afternoon. These results show that persons who suffer from CCRF form a very heterogeneous group in terms of physical behaviors, who require diverse intervention goals when focusing on physical behavior.
All three profiles provide potential focus for intervening on physical behavior in clinical practice. Obvious goals—and currently widely accepted [13]—are increasing PAL and prolonged MVPA time, which apply to participants in the sedentary and average profile. However, in the active profile, increasing PAL is expected to be less effective compared to the other profiles. Patients who have an active profile might benefit from reducing the time of pronged SB or from better dividing physical activities throughout the day by energy conservation strategies [38]. Indeed, a patient in the active profile may actually be helped by reducing PAL before increasing it gradually in order to match the patient's physical behavior to his or her capacity. This assumption is supported by a study in breast cancer survivors in which self-reported physical activity measures showed that psychological outcomes were poor for the quartile of patients with the highest durations of physical activity [39].
Boundaries between the physical behavior profiles are not strict, which hampers direct transfer to clinical practice; 88% of the participants were assigned to a profile with a probability above 80%. The distinct profiles can provide a direction for defining an effective physical behavior goal, but encourage to match the intervention goals to the patient's perspective and individual wishes as well.
The second research question focused on covariates of these physical behavior profiles. Participants who reported stronger limitations by pain were more likely to have a sedentary profile compared to an active profile. This result highlights the relevance of pain management in the context of physical activity interventions as it could be a barrier for becoming more physically active and for staying physically active when professional guidance in the context of rehabilitation stops.
Additionally, older participants and participants who reported no or only weak limitations due to comorbid conditions were more likely to have a sedentary profile compared to an average profile. Studies on—not necessarily fatigued—breast cancer survivors support the results on the associations with age [40]. The result on the association with limitations by comorbid conditions seems contradictory to the findings on limitations by pain. An explanation might be that comorbid conditions are perceived as less limiting for those who are engaged in a sedentary lifestyle, although it should be noted that the question that assesses limitations due to comorbid conditions do not explicitly mention physical activities.
Our sample is comparable to a sample of long-term colon cancer survivors [25], in terms of prolonged MVPA. Fourteen percent compared to 15% in the current sample meets clinical guidelines, operationalized as spending 150 min per week on MVPA in bouts of 10 min or longer. However, MVPA time (6.2%) differed greatly from samples of breast cancer survivors: 1.9% [16] and 1.1% [15]. Also, SB time (78.4% in our sample) differed from breast cancer survivors (61.3% [41], 66.3% [15], and 78.2% [16]) and from colon cancer survivors (60.7% [25]). Prolonged SB differed even more: 152.9 min of prolonged SB [25] versus 325.6 min in the current sample. Differences could relate to choices for cutoff values, as well as to clinical status; the comparison samples were not necessarily fatigued and homogeneous groups in terms of cancer diagnoses.
Our study has a number of limitations. Firstly, all participants were willing to follow an intervention in a trial called "Fitter after cancer" and were aware that physical activity was measured. Both properties could provide bias by overestimating PAL compared to the general population of CCRF. Secondly, generalizability might be hampered because our sample was diagnosed with various cancer types and received different treatments. Thirdly, evaluating 1-minute measurement intervals, although generally used [42], causes real life data points to represent a mixture of behaviors. Therefore, absolute values of SB and MVPA measures should be interpreted cautiously. Finally, in order to come to the set of physical behavior measures, some measures and cutoff values for time or cpm lack evidence or were chosen arbitrarily. However, by describing these choices transparently, we presume that the results of this study are valuable nevertheless.
Conclusions
Three profiles of physical behavior were distinguished in a sample of severely fatigued cancer survivors, showing the heterogeneous character of the sample. The results indicate that optimal support might require substantially different treatment goals for different patients. These profiles demonstrate an opportunity for personalizing physical behavior oriented treatment goals, but further research should test the applicability of these profiles in clinical practice.
Notes
Author Contributions
MW contributed to the study design and collection of data, analyzed the data, and drafted the manuscript as the lead writer. MV and JB contributed to the study design. SB contributed to accelerometer data processing. RS contributed to the statistical methods. FZBE contributed to the collection of data. All authors critically reviewed drafts of the paper.
Compliance with Ethical Standards
Funding
This study, more specifically the authors MW, MV, and FZBE, was funded by the Alpe d'HuZes/KWF grant: HDI 2011–5264. RvdS was supported by a grant from the Netherlands organization for scientific research: NWO-VIDI-452-14-006.
Conflicts of Interest
The authors declare that they have no conflict of interest.
Ethical Approval
All procedures performed in studies involving human participants were in accordance with the ethical standards of the institutional and/or national research committee and with the 1964 Helsinki declaration and its later amendments or comparable ethical standards.
Informed Consent
Informed consent was obtained from all individual participants included in the study.
Copyright information
© The Author(s) 2017
Open Access This article is distributed under the terms of the Creative Commons Attribution 4.0 International License (http://creativecommons.org/licenses/by/4.0/), which permits unrestricted use, distribution, and reproduction in any medium, provided you give appropriate credit to the original author(s) and the source, provide a link to the Creative Commons license, and indicate if changes were made.