Abstract
Background
Nonadherence to treatment recommendations is a leading preventable cause of rehospitalization and premature mortality in chronic heart failure (HF) patients.
Purpose
This study examined whether self-efficacy mediates the contributions of social support and depression to treatment adherence.
Methods
A sample of 252 HF outpatients with a mean age of 54 years completed self-report questionnaires assessing depression, perceived social support, self-efficacy, and treatment adherence.
Results
Self-efficacy mediated the associations of social support and depression with treatment adherence after adjusting for demographic (age, gender, marital status, education, and ethnicity) and medical (New York Heart Association Classification and comorbidity) covariates.
Conclusion
Self-efficacy explains the influence of social support and depression on treatment adherence and may be a key target for interventions to improve disease management and self-care behaviors in HF patients.
This is a preview of subscription content, log in to check access.
Access options
Buy single article
Instant access to the full article PDF.
US$ 39.95
Price includes VAT for USA
Subscribe to journal
Immediate online access to all issues from 2019. Subscription will auto renew annually.
US$ 99
This is the net price. Taxes to be calculated in checkout.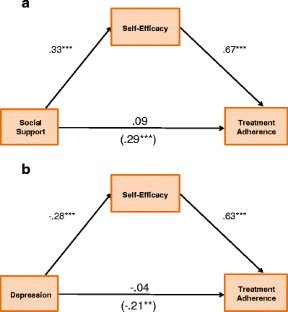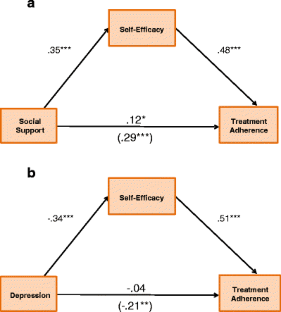 References
1.

Jessup M, Brozena S. Heart failure. N Engl J Med. 2003;348(20):2007–18. Epub 2003/05/16.

2.

Murray MD, Tu W, Wu J, Morrow D, Smith F, Brater DC. Factors associated with exacerbation of heart failure include treatment adherence and health literacy skills. Clin Pharmacol Ther. 2009;85(6):651–8. Epub 2009/03/06.

3.

van der Wal MH, Jaarsma T, van Veldhuisen DJ. Non-compliance in patients with heart failure; how can we manage it? Eur J Heart Fail. 2005;7(1):5–17. Epub 2005/01/12.

4.

Michalsen A, Konig G, Thimme W. Preventable causative factors leading to hospital admission with decompensated heart failure. Heart. 1998;80(5):437–41. Epub 1999/02/04.

5.

Opasich C, Febo O, Riccardi PG, Traversi E, Forni G, Pinna G, et al. Concomitant factors of decompensation in chronic heart failure. Am J Cardiol. 1996;78(3):354–7. Epub 1996/08/01.

6.

Tsuyuki RT, McKelvie RS, Arnold JM, Avezum Jr A, Barretto AC, Carvalho AC, et al. Acute precipitants of congestive heart failure exacerbations. Arch Intern Med. 2001;161(19):2337–42. Epub 2001/11/09.

7.

Sokol MC, McGuigan KA, Verbrugge RR, Epstein RS. Impact of medication adherence on hospitalization risk and healthcare cost. Med Care. 2005;43(6):521–30. Epub 2005/05/24.

8.

Bandura A. Social foundations of thought and action: a social–cognitive theory. Eaglewood Cliffs: Prentice-Hall; 1986.

9.

O'Leary A. Self-efficacy and health. Behav Res Ther. 1985;23(4):437–51. Epub 1985/01/01.

10.

Strecher VJ, DeVellis BM, Becker MH, Rosenstock IM. The role of self-efficacy in achieving health behavior change. Health Educ Q. 1986;13(1):73–92. Epub 1986/01/01.

11.

Sarkar U, Ali S, Whooley MA. Self-efficacy as a marker of cardiac function and predictor of heart failure hospitalization and mortality in patients with stable coronary heart disease: findings from the Heart and Soul Study. Health Psychol. 2009;28(2):166–73. Epub 2009/03/18.

12.

Robertson D, Keller C. Relationships among health beliefs, self-efficacy, and exercise adherence in patients with coronary artery disease. Heart Lung. 1992;21(1):56–63. Epub 1992/01/01.

13.

Schweitzer RD, Head K, Dwyer JW. Psychological factors and treatment adherence behavior in patients with chronic heart failure. J Cardiovasc Nurs. 2007;22(1):76–83. Epub 2007/01/17.

14.

Joekes K, Van Elderen T, Schreurs K. Self-efficacy and overprotection are related to quality of life, psychological well-being and self-management in cardiac patients. J Health Psychol. 2007;12(1):4–16. Epub 2006/12/13.

15.

Gilroy MBR. Multiple factors affect dietitians counseling practices for high blood cholesterol. J Am Diet Assoc. 1990;94:1278–83.

16.

Ewart CK, Stewart KJ, Gillilan RE, Kelemen MH, Valenti SA, Manley JD, et al. Usefulness of self-efficacy in predicting overexertion during programmed exercise in coronary artery disease. Am J Cardiol. 1986;57(8):557–61. Epub 1986/03/01.

17.

Sullivan MD, LaCroix AZ, Russo J, Katon WJ. Self-efficacy and self-reported functional status in coronary heart disease: a six-month prospective study. Psychosom Med. 1998;60(4):473–8. Epub 1998/08/26.

18.

Clark NM, Dodge JA. Exploring self-efficacy as a predictor of disease management. Health Educ Behav. 1999;26(1):72–89. Epub 1999/02/10.

19.

Ni H, Nauman D, Burgess D, Wise K, Crispell K, Hershberger RE. Factors influencing knowledge of and adherence to self-care among patients with heart failure. Arch Intern Med. 1999;159(14):1613–9. Epub 1999/07/27.

20.

Luttik ML, Jaarsma T, Moser D, Sanderman R, van Veldhuisen DJ. The importance and impact of social support on outcomes in patients with heart failure: an overview of the literature. J Cardiovasc Nurs. 2005;20(3):162–9. Epub 2005/05/05.

21.

Murberg TA. Long-term effect of social relationships on mortality in patients with congestive heart failure. Int J Psychiatry Med. 2004;34(3):207–17. Epub 2005/01/26.

22.

Bennett SJ, Perkins SM, Lane KA, Deer M, Brater DC, Murray MD. Social support and health-related quality of life in chronic heart failure patients. Qual Life Res. 2001;10(8):671–82. Epub 2002/03/02.

23.

Sayers SL, Riegel B, Pawlowski S, Coyne JC, Samaha FF. Social support and self-care of patients with heart failure. Ann Behav Med. 2008;35(1):70–9. Epub 2008/03/19.

24.

DiMatteo MR. Social support and patient adherence to medical treatment: a meta-analysis. Health Psychol. 2004;23(2):207–18. Epub 2004/03/11.

25.

Cohen S. Psychosocial models of the role of social support in the etiology of physical disease. Health Psychol. 1988;7(3):269–97. Epub 1988/01/01.

26.

Norra C, Skobel EC, Arndt M, Schauerte P. High impact of depression in heart failure: early diagnosis and treatment options. Int J Cardiol. 2008;125(2):220–31. Epub 2007/07/31.

27.

Sherwood A, Blumenthal JA, Trivedi R, Johnson KS, O'Connor CM, Adams Jr KF, et al. Relationship of depression to death or hospitalization in patients with heart failure. Arch Intern Med. 2007;167(4):367–73. Epub 2007/02/28.

28.

Rutledge T, Reis VA, Linke SE, Greenberg BH, Mills PJ. Depression in heart failure a meta-analytic review of prevalence, intervention effects, and associations with clinical outcomes. J Am Coll Cardiol. 2006;48(8):1527–37. Epub 2006/10/19.

29.

Gottlieb SS, Khatta M, Friedmann E, Einbinder L, Katzen S, Baker B, et al. The influence of age, gender, and race on the prevalence of depression in heart failure patients. J Am Coll Cardiol. 2004;43(9):1542–9. Epub 2004/05/04.

30.

Freedland KE, Rich MW, Skala JA, Carney RM, Davila-Roman VG, Jaffe AS. Prevalence of depression in hospitalized patients with congestive heart failure. Psychosom Med. 2003;65(1):119–28. Epub 2003/01/30.

31.

Jiang W, Alexander J, Christopher E, Kuchibhatla M, Gaulden LH, Cuffe MS, et al. Relationship of depression to increased risk of mortality and rehospitalization in patients with congestive heart failure. Arch Intern Med. 2001;161(15):1849–56. Epub 2001/08/30.

32.

Jiang W, Kuchibhatla M, Cuffe MS, Christopher EJ, Alexander JD, Clary GL, et al. Prognostic value of anxiety and depression in patients with chronic heart failure. Circulation. 2004;110(22):3452–6. Epub 2004/11/24.

33.

Luyster FS, Hughes JW, Gunstad J. Depression and anxiety symptoms are associated with reduced dietary adherence in heart failure patients treated with an implantable cardioverter defibrillator. J Cardiovasc Nurs. 2009;24(1):10–7. Epub 2008/12/31.

34.

Barbour KA, Miller NH. Adherence to exercise training in heart failure: a review. Heart Fail Rev. 2008;13(1):81–9. Epub 2007/11/17.

35.

Kronish IM, Rieckmann N, Halm EA, Shimbo D, Vorchheimer D, Haas DC, et al. Persistent depression affects adherence to secondary prevention behaviors after acute coronary syndromes. J Gen Intern Med. 2006;21(11):1178–83. Epub 2006/08/11.

36.

Glazer KM, Emery CF, Frid DJ, Banyasz RE. Psychological predictors of adherence and outcomes among patients in cardiac rehabilitation. J Cardiopulm Rehabil. 2002;22(1):40–6. Epub 2002/02/13.

37.

DiMatteo MR, Lepper HS, Croghan TW. Depression is a risk factor for noncompliance with medical treatment: meta-analysis of the effects of anxiety and depression on patient adherence. Arch Intern Med. 2000;160(14):2101–7. Epub 2000/07/25.

38.

Charlson ME, Pompei P, Ales KL, MacKenzie CR. A new method of classifying prognostic comorbidity in longitudinal studies: development and validation. J Chronic Dis. 1987;40(5):373–83. Epub 1987/01/01.

39.

Gortner SR, Jenkins LS. Self-efficacy and activity level following cardiac surgery. J Adv Nurs. 1990;15(10):1132–8. Epub 1990/10/01.

40.

Sherbourne CD, Stewart AL. The MOS social support survey. Soc Sci Med. 1991;32(6):705–14. Epub 1991/01/01.

41.

Uchino BN. Understanding the links between social support and physical health. Perspect Psychol Sci. 2009;4:236–55.

42.

Eaton WW, Muntaner C, Smith C, Tien A, Ybarra M. Center for Epidemiologic Studies Depression Scale: review and revision (CESD and CESD-R). In: Maruish ME, editor. The use of psychological testing for treatment planning and outcomes assessment. 3rd ed. Mahwah: Lawrence Erlbaum Associates; 2004. p. 363–77.

43.

Callahan CM, Wolinsky FD. The effect of gender and race on the measurement properties of the CES-D in older adults. Med Care. 1994;32(4):341–56. Epub 1994/04/01.

44.

Sherbourne CD, Hays RD, Ordway L, DiMatteo MR, Kravitz RL. Antecedents of adherence to medical recommendations: results from the Medical Outcomes Study. J Behav Med. 1992;15(5):447–68. Epub 1992/10/01.

45.

Baron RM, Kenny DA. The moderator–mediator variable distinction in social psychological research: conceptual, strategic, and statistical considerations. J Pers Soc Psychol. 1986;51(6):1173–82. Epub 1986/12/01.

46.

Hayes AF. Beyond Baron and Kenny: statistical mediation analysis in the new millenium. Commun Monogr. 2009;76(4):408–20.

47.

Preacher KJ, Hayes AF. Asymptotic and resampling strategies for assessing and comparing indirect effects in multiple mediator models. Behav Res Methods. 2008;40(3):879–91. Epub 2008/08/14.

48.

Subramanian U, Hopp F, Mitchinson A, Lowery J. Impact of provider self-management education, patient self-efficacy, and health status on patient adherence in heart failure in a Veterans Administration population. Congest Heart Fail. 2008;14(1):6–11. Epub 2008/02/08.

49.

Sacco WP, Wells KJ, Vaughan CA, Friedman A, Perez S, Matthew R. Depression in adults with type 2 diabetes: the role of adherence, body mass index, and self-efficacy. Health Psychol. 2005;24(6):630–4. Epub 2005/11/17.

50.

Schoenthaler A, Ogedegbe G, Allegrante JP. Self-efficacy mediates the relationship between depressive symptoms and medication adherence among hypertensive African Americans. Health Educ Behav. 2009;36(1):127–37. Epub 2007/12/14.

51.

Maxwell SE, Cole DA. Bias in cross-sectional analyses of longitudinal mediation. Psychol Methods. 2007;12(1):23–44. Epub 2007/04/04.

52.

Garber MC, Nau DP, Erickson SR, Aikens JE, Lawrence JB. The concordance of self-report with other measures of medication adherence: a summary of the literature. Med Care. 2004;42(7):649–52. Epub 2004/06/24.

53.

Kravitz RL, Hays RD, Sherbourne CD, DiMatteo MR, Rogers WH, Ordway L, et al. Recall of recommendations and adherence to advice among patients with chronic medical conditions. Arch Intern Med. 1993;153(16):1869–78. Epub 1993/08/23.

54.

Bellg AJ. Clinical cardiac psychology. In: Camic SK, editor. Clinical handbook of health psychology: a practical guide to effective interventions. 2nd ed. Sunnyvale: Hogrefe and Huber; 2004. p. 29–57.
Acknowledgements
This research was supported by a grant from the American Heart Association.
Appendix 1: Heart Failure Self-Efficacy Scale
Appendix 1: Heart Failure Self-Efficacy Scale
Instructions:
Below is a list of things your doctor, a nurse, or other health care professional may have recommended that you do as a part of your treatment. If these things do not apply to you, circle N/A. Please indicate how confident you were that you know or can do these things in the past 2 weeks. Circle one number on each line.
NA = Does not apply
1 = Not at all
2 = A little
3 = Somewhat
4 = A good bit of the time
5 = Most of the time
6 = All of the time
How
confident
I was in my ability to:
1. Take my medication
2. Stop or cut down on smoking
3. Cut down on alcohol I drink
4. Do appropriate exercise regularly (not too much and not too little)
5. Cut down water or other fluids (e.g., soft drink) that I drink
6. Follow a low salt diet (avoid food with a lot of salt, e.g., bacon, canned soup, crackers, etc.)
7. Follow a low fat or weight loss or healthy diet
8. Maintain a healthy weight
9. Cut down the stress in my life
10. Maintain my usual social activities
11. Maintain my usual activities at home with my family
12. Maintain my usual activities at work
13. Control my chest discomfort
14. Control my shortness of breath
15. When I should call or visit my doctor about my heart disease
16. Make my doctor understand my concerns about my heart
17. Use relaxation techniques to relax (breathing, biofeedback, yoga, etc.)
About this article
Cite this article
Maeda, U., Shen, B., Schwarz, E.R. et al. Self-Efficacy Mediates the Associations of Social Support and Depression with Treatment Adherence in Heart Failure Patients. Int.J. Behav. Med. 20, 88–96 (2013). https://doi.org/10.1007/s12529-011-9215-0
Keywords
Heart failure

Social support

Depression

Self-efficacy

Adherence