Abstract
Despite the importance of preparing students to write successfully in their academic and professional careers, instructors often struggle to sustain student focus on the complex and demanding nature of the writing process. In response, we conducted a pilot project at a university located in urban Los Angeles using a wiki-enhanced and blended writing course designed to sustain appropriate learner engagement. This exploratory project (a) introduced the hybrid writing course, (b) tracked changes in student engagement levels (i.e., behavioral, affective, and cognitive) over the period of the wiki-enhanced writing course, and (c) measured the impact of engagement on writing performance. Multiple data sources (i.e., wiki log data, student surveys, and writing performance scores) collected from 56 students in three sections of the writing course were used to examine student experiences in the wiki-enhanced writing course. The findings showed that wiki-based online discussion improved behavioral, affective, and cognitive engagement. The relationships between the learner engagement domains were reciprocal, temporal, and changeable. Based on the findings of this study and our review of the literature, we proposed a theoretical model to describe possible relationships between behavioral, affective, and cognitive engagement and academic achievement.
This is a preview of subscription content, log in to check access.
Access options
Buy single article
Instant access to the full article PDF.
US$ 39.95
Price includes VAT for USA
Subscribe to journal
Immediate online access to all issues from 2019. Subscription will auto renew annually.
US$ 99
This is the net price. Taxes to be calculated in checkout.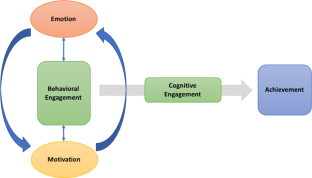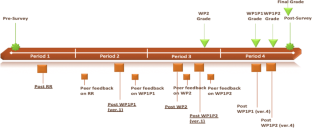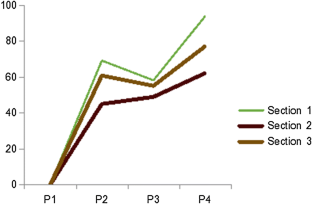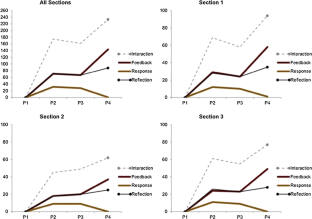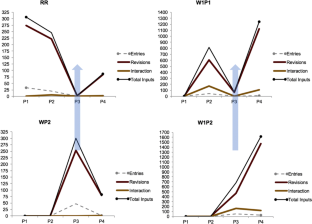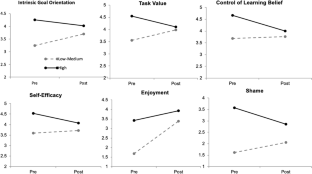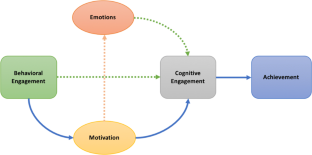 References
Agudo-Peregrina, A. F., Iglesias-Pradas, S., Conde-Gonzalez, M. A., & Hernandez-García, A. (2014). Can we predict success from log data in VLEs? Classification of interactions for learning analytics and their relation with performance in VLE-supported F2F and online learning. Computers in Human Behavior,31, 542–550.

Appleton, J. J., Christenson, S. L., Kim, D., & Reschly, A. L. (2006). Measuring cognitive and psychological engagement: Validation of the student engagement instrument. Journal of School Psychology,44, 427–445.

Artino, A. R. (2005). Review of the Motivated Strategies for Learning Questionnaire. Online Submission. Retrieved from http://www.eric.ed.gov/ERICWebPortal/detail?accno=ED499083.

Artino, A. R. (2012). Emotions in online learning environments: Introduction to the special issue. The Internet and Higher Education,15, 137–140.

Artino, A. R., Jr., & Jones, K. D., II. (2012). Exploring the complex relations between achievement emotions and self-regulated learning behaviors in online learning. The Internet and Higher Education,15(3), 170–175. https://doi.org/10.1016/j.iheduc.2012.01.006.

Artino, A. R., La Rochelle, J. S., & Durning, S. J. (2010). Second-year medical students' motivational beliefs, emotions, and achievement. Medical Education,44, 1203–1212.

Ashton, J., & Elliott, R. (2007). Juggling the balls — Study, work, family and play: Student perspectives on flexible and blended heutagogy. European Early Childhood Education Research Journal,15(2), 167–181.

Bailey, S. (2014). Academic writing: A handbook for international students. New York: Routledge.

Bandura, A. (1991). Social cognitive theory of self-regulation. Organizational Behavior and Human Decision Processes,50(2), 248–287.

Bandura, A. (1997). Self-efficacy: The exercise of control. New York: Freeman.

Bereiter, C., & Scardamalia, M. (1987). The psychology of written composition. Hillsdale, NJ: Lawrence Erlbaum Associates.

Bernard, R. M., Abrami, P. C., Borokhovski, E., Wade, C. A., Tamim, R. M., Surkes, M. A., et al. (2009). A meta-analysis of three types of interaction treatments in distance education. Review of Educational Research,79(3), 1243–1289.

Blessing, R. H. (1997). Outlier treatment in data merging. Journal of Applied Crystallography,30(4), 421–426.

Bliuc, A. M., Ellis, R. A., Goodyear, P., & Hendres, D. M. (2011). The role of social identification as university student in learning: Relationships between students′ social identity, approaches to learning, and academic achievement. Educational Psychology,31(5), 559–574.

Bromley, K. (1999). Key components of sound writing instruction. In L. B. Gambrell, L. M. Morrow, S. B. Neuman, & M. Pressley (Eds.), Best practices in literacy instruction (pp. 152–174). New York: Guilford Press.

Brooks, C., Thompson, C., & Teasley, S. (2015). A time series interaction analysis method for building predictive models of learners using log data. In Proceedings of the fifth international conference on learning analytics and knowledge (pp. 126–135). New York, NY: ACM.

Bruning, R., & Horn, C. (2000). Developing motivation to write. Educational Psychologist,35, 25–38.

Çakır, M. P., Zemel, A., & Stahl, G. (2009). The joint organization of interaction within a multimodal CSCL medium. International Journal of Computer-Supported Collaborative Learning,4(2), 115–149.

Chauncey, A., & Azevedo, R. (2010). Emotions and Motivation on Performance during Multimedia Learning: How Do I Feel and Why Do I Care? In V. Aleven, J. Kay, & J. Mostow (Eds.), Intelligent Tutoring Systems (Vol. 6094, pp. 369–378). Berlin/Heidelberg: Springer.

Chi, M. T. H., Glaser, R., & Farr, P. J. (1993). The nature of expertise. Hillsdale, NJ: Erlbaum.

De Wever, B., Van Keer, H., Schellens, T., & Valcke, M. (2010). Roles as a structuring tool in online discussion groups: The differential impact of different roles on social knowledge construction. Computers in Human Behavior,26(4), 516–523.

Dillenbourg, P., Jarvela, S., & Fischer, F. (2009). The evolution of research on computers-supported collaborative learning: from design to orchestration. Technology-Enhanced Learning, Springer Science + Business Media, pp. 3–19.

Eccles, J. S., O'Neill, S. A., & Wigfield, A. (2005). Ability self-perceptions and subjective task values in adolescents and children. In K. A. Moore & L. Lippman (Eds.), What do children need to flourish: Conceptualizing and measuring indicators of positive development (pp. 237–249). New York: Springer.

Eck, A., Soh, L. K., & Shell, D. F. (2016, February). Investigating differences in wiki-based collaborative activities between student engagement profiles in CS1. In Proceedings of the 47th ACM technical symposium on computing science education (pp. 36-41). New York: ACM.

Faigley, L. (1986). Competing theories of process: A critique and a proposal. College English,48(6), 527–542.

Field, A., Miles, J., & Field, Z. (2012). Discovering statistics using R. London: Sage publications.

Fredricks, J. A., Blumenfeld, P. C., & Paris, A. H. (2004). School engagement: potential of the concept, state of the evidence. Review of Educational Research,74(1), 59–109.

Goetz, T., Cronjaeger, H., Frenzel, A. C., Ludtke, O., & Hall, N. C. (2010). Academic self-concept and emotion relations: Domain specificity and age effects. Contemporary Educational Psychology,35, 44–58.

Grabe, W., & Kaplan, R. B. (1996). Theory and practice of writing: An applied linguistic perspective. New York: Longman.

Greene, B. A. (2015). Measuring cognitive engagement with self-report scales: Reflections from over 20 years of research. Educational Psychologist,50(1), 14–30.

Hadjerrouit, S. (2014). Wiki as a collaborative writing tool in teacher education: Evaluation and suggestions for effective use. Computers in Human Behavior,32, 301–312.

Harper, S. R., & Quaye, S. J. (Eds.). (2009). Student engagement in higher education. New York and London: Routledge.

Heddy, B. C., & Sinatra, G. M. (2013). Transforming misconceptions: Using transformative experience to promote positive affect and conceptual change in students learning about biological evolution. Science Education,97(5), 723–744.

Jamaludin, A., Chee, Y. S., & Ho, C. M. L. (2009). Fostering argumentative knowledge construction through enactive role play in Second Life. Computers & Education,53, 317–329.

Jordan, K. (2014). Initial trends in enrollment and completion of massive open online courses. The International Review of Research in Open and Distance Learning,15(1), 133–159.

Judd, T., Kennedy, G., & Cropper, S. (2010). Using wikis for collaborative learning: Assessing collaboration through contribution. Australasian Journal of Educational Technology,26(3), 341–354.

Karakaya, I., & Ulper, H. (2011). Developing a writing anxiety scale and examining writing anxiety based on various variables. Educational Sciences: Theory and Practice,11(2), 703–707.

Kim, M., & Ayer, T. (2019). Learner participation profiles in an asynchronous online collaboration context. Internet and Higher Education,41, 62–76. https://doi.org/10.1016/j.iheduc.2019.02.002.

Kim, C., Park, S. W., & Cozart, J. (2014). Affective and motivational factors of learning in online mathematics courses. British Journal of Educational Technology,45(1), 171–185.

Kim, M., Zouaq, A., & Kim, S. (2016). Automatic detection of expert models: The exploration of expert modeling methods applicable to technology-based assessment and instruction. Computers & Education,101, 55–69. http://www.sciencedirect.com/science/article/pii/S0360131516301178.

Kouznetsov, A., & Zouaq, A. (2014). A comparison of graph-based and statistical metrics for learning domain keywords. In Y. S. Kim, B. H. Kang, & D. Richards (Eds.), Knowledge management and acquisition for smart systems and services (pp. 260–268). Berlin: Springer.

Kovanović, V., Gašević, D., Joksimović, S., Hatala, M., & Adesope, O. (2015). Analytics of communities of inquiry: Effects of learning technology use on cognitive presence in asynchronous online discussions. The Internet and Higher Education,27, 74–89.

Krosnick, J. A. (1999). Survey research. Annual Review of Psychology,50(1), 537–567.

Lam, S.-F., & Law, Y.-K. (2007). The roles of instructional practices and motivation in writing performance. The Journal of Experimental Education,75(2), 145–164.

Lam, S. F, Pak, T. S., & Ma, W. Y K. (2002, July). The motivating instructional contexts inventory. Paper presented at the 25th international congress of applied psychology, Singapore.

Lehman, B., D'Mello, S., & Graesser, A. (2012). Confusion and complex learning during interactions with computer learning environments. The Internet and Higher Education,15(3), 184–194.

Li, X., Chu, S. K. W., Ki, W. W., & Woo, M. (2012). Using a wiki-based collaborative process writing pedagogy to facilitate collaborative writing among Chinese primary school students. Australasian Journal of Educational Technology,28(1), 159–181.

Lin, G. H. C., & Chien, P. S. C. (2009). An investigation into effectiveness of peer feedback. Online Submission,3, 79–87.

Lin, W. C., & Yang, S. C. (2011). Exploring students' perceptions of integrating wiki technology and peer feedback into English writing courses. English Teaching,10(2), 88–103.

Marchand, G. C., & Gutierrez, A. P. (2012). The role of emotion in the learning process: Comparisons between online and face-to-face learning settings. The Internet and Higher Education,15(3), 150–160. https://doi.org/10.1016/j.iheduc.2011.10.001.

Marsden, E., & Torgerson, C. J. (2012). Single group, pre- and post-test research designs: Some methodological concerns. Oxford Review of Education,38(5), 583–616.

Mendonça, C. O., & Johnson, K. E. (1994). Peer review negotiations: Revision activities in ESL writing instruction. TESOL Quarterly,28(4), 745–769.

Moore, M. G. (1989). Editorial: three types of interaction. American Journal of Distance Education,3(2), 1–7.

Neumann, D. L., & Hood, M. (2009). The effects of using a wiki on student engagement and learning of report writing skills in a university statistics course. Australasian Journal of Educational Technology,25(3), 382–398.

Oeberst, A., Halatchliyski, I., Kimmerle, J., & Cress, U. (2014). Knowledge construction in Wikipedia: A systemic-constructivist analysis. Journal of the Learning Sciences,23(2), 149–176.

Pajares, F. (2003). Self-efficacy beliefs, motivation, and achievement in writing: A review of the literature. Reading & Writing Quarterly,19(2), 139–158.

Pekrun, R. (1992). The impact of emotions on learning and achievement: Towards a theory of cognitive/motivational mediators. Applied Psychology,41, 359–376.

Pekrun, R. (2006). The control-value theory of achievement emotions: Assumptions, corollaries, and implications for educational research and practice. Educational Psychology Review,18, 315–341.

Pekrun, R., Goetz, T., Frenzel, A. C., Barchfeld, P., & Perry, R. P. (2011). Measuring emotions in students' learning and performance: The Achievement Emotions Questionnaire (AEQ). Contemporary Educational Psychology,36(1), 36–48.

Pekrun, R., Goetz, T., Titz, W., & Perry, R. P. (2002). Academic emotions in students' self-regulated learning and achievement: A program of quantitative and qualitative research. Educational Psychologist,37, 91–106.

Piezon, S. L., & Donaldson, R. L. (2005). Online groups and social loafing: Understanding student-group interactions. Online Journal of Distance Learning Administration,3(4), 1–13.

Pintrich, P. (2004). A conceptual framework for assessing motivation and self-regulated learning in college students. Educational Psychology Review,16(4), 385–407.

Ravid, G., Kalman, Y. M., & Rafaeli, S. (2008). Wikibooks in higher education: Empowerment through online distributed collaboration. Computers in Human Behavior,24(5), 1913–1928.

Ravindran, B., Greene, B. A., & DeBacker, T. B. (2005). The role of goals and beliefs in the prediction of pre-service teachers' cognitive engagement and knowledge integration. Journal of Educational Research,98, 222–232.

Ruecker, T., Shepherd, D., Estrem, H., & Brunk-Chavez, B. (Eds.). (2017). Retention, persistence, and writing programs. Boulder: University Press of Colorado.

Ryan, R. M., & Deci, E. L. (2000). Intrinsic and extrinsic motivations: Classic definitions and new directions. Contemporary Educational Psychology,25, 54–67.

Stahl, G., Koschmann, T., & Suthers, D. (2006). Computer-supported collaborative learning: An historical perspective. In R. K. Sawyer (Ed.), Cambridge handbook of the learning sciences (pp. 409–426). Cambridge: Cambridge University Press.

Tabachnick, B. G., Fidell, L. S., & Osterlind, S. J. (2001). Using multivariate statistics. Boston: Allyn & Bacon.

Tempelaar, D. T., Niculescu, A., Rienties, B., Gijselaers, W. H., & Giesbers, B. (2012). How achievement emotions impact students' decisions for online learning, and what precedes those emotions. The Internet and Higher Education,15(3), 161–169. https://doi.org/10.1016/j.iheduc.2011.10.003.

Thomas, J. (2013). Exploring the use of asynchronous online discussion in health care education: A literature review. Computers & Education,69, 199–215.

Trueck, S., Weron, R., & Wolff, R. (2007). Outlier treatment and robust approaches for modeling electricity spot prices [MPRA Paper]. Retrieved from University Library of Munich, Germany website: https://EconPapers.repec.org/RePEc:pra:mprapa:4711.

Vygotsky, L. (1930/1978). Mind in society. Cambridge, MA: Harvard University Press.

Wenger, E. (2000). Communities of practice and social learning systems. Organization,7(2), 225–246.

Wichmann, A., & Rummel, N. (2013). Improving revision in wiki-based writing: Coordination pays off. Computers & Education,62, 262–270.

Woo, M. M., Chu, S. K. W., & Li, X. (2013). Peer-feedback and revision process in a wiki mediated collaborative writing. Educational Technology Research and Development,61(2), 279–309.

Woo, Y., & Reeves, T. C. (2007). Meaningful interaction in web-based learning: a social constructivist interpretation. The Internet and Higher Education,10(1), 15–25.

Xing, W., Kim, S. M., & Goggins, S. (2015). Modeling performance in asynchronous CSCL: an exploration of social ability, collective efficacy and social interaction. International Society of the Learning Sciences, Inc. [ISLS].

Xu, J., Du, J., & Fan, X. (2013). Individual and group-level factors for students' emotion management in online collaborative group work. The Internet and Higher Education,19, 1–9.

Yerkes, R. M., & Dodson, J. D. (1908). The relation of strength of stimulus to rapidity of habit-formation. Journal of comparative neurology,18(5), 459–482.

Yoo, J., & Kim, J. (2012, June). Predicting learner's project performance with dialogue features in online Q&A discussions. In International conference on intelligent tutoring systems (pp. 570–575). Berlin, Heidelberg: Springer.

Zhao, X., & Bishop, M. J. (2011). Understanding and supporting online communities of practice: lessons learned from Wikipedia. Educational Technology Research and Development,59(5), 711–735.
Ethics declarations
Conflict of interest
The authors declare that they have no conflict of interest.
Ethical approval
All procedures performed in studies involving human participants were in accordance with the ethical standards of the institutional and/or national research committee.
Additional information
Publisher's Note
Springer Nature remains neutral with regard to jurisdictional claims in published maps and institutional affiliations.
Appendix A
Appendix A
Schedule of wiki-enhanced writing course
Period
Week
Key activity
Assignment
Place
Data collection
Wiki
F2F
P1
WK1
Orientation to the Wiki
 
 
〇
Pre-Survey
 
WK2
Create professional profiles on the Wiki
 
〇
 
 
 
 
Explore recommended resources (RR)
RR
〇
 
 
 
WK3
Emphasis proposal workshop
 
 
〇
 
 
 
Post RR on the Wiki
RR
〇
 
 
P2
WK4
 
 
 
 
 
 
WK5
Peer feedback on RR postings
RR
〇
 
 
 
 
Instructor's feedback on RR postings
 
〇
 
 
 
WK6
Prepare WP1P1 (ver. 1)
WP1P1
〇
 
 
 
WK7
Post WP1P1 (ver. 1) on the Wiki
WP1P1
〇
 
 
 
 
WP1P1 workshop
WP1P1
 
〇
 
 
 
Peer feedback on the Wiki
 
〇
 
 
P3
WK8
Post WP1P1 (ver. 2) on the Wiki
WP1P1
〇
 
 
 
 
WP1P1 (ver. 2) presentation
WP1P1
 
〇
 
 
WK9
WP1P2 proposal workshop
 
 
〇
 
 
WK10
Spring Break (No class)
 
 
 
 
 
WK11
Post WP2 on the Wiki
WP2
〇
 
 
 
 
Present WP2 in the class
WP2
 
〇
 
 
 
Peer feedback on the Wiki
WP2
〇
 
 
 
WK12
Post WP1P2 (ver. 1) on the Wiki
WP1P2
〇
 
 
 
 
WP1P2 workshop
WP1P2
 
〇
 
 
 
Peer feedback on the Wiki
WP1P2
〇
 
 
 
 
Instructor's feedback on WP2
WP2
〇
 
 
 
 
Grade WP2
WP2
 
 
WP2
P4
WK13
Post WP1P2 (ver. 2) on the Wiki
WP1P2
〇
 
 
 
 
Post WP1P1 (ver. 3) on the Wiki
WP1P1
〇
 
 
 
WK14
Post WP1P1 (ver. 4) on the Wiki
WP1P1
 
 
 
 
 
Grade WP1P1 (ver. 4)
WP1P1
 
 
WP1P1
 
 
Post WP1P2 (ver. 3) on the Wiki
WP1P2
〇
 
 
 
WK15
Post WP1P2 (ver. 4) on the Wiki
WP1P2
〇
 
 
 
 
WP1P2 Conference
WP1P2
 
〇
 
 
 
Grade WP1P2 (ver. 4)
WP1P2
 
 
WP1P2
 
WK16
Prepare writing portfolio
 
 
 
Post-Survey
 
 
Final grade
 
 
 
 
About this article
Cite this article
Kim, M.K., Kim, S.M. Dynamic learner engagement in a wiki-enhanced writing course. J Comput High Educ (2020). https://doi.org/10.1007/s12528-019-09248-5
Keywords
Learner engagement

Behavioral engagement

Learner interaction

Computer-supported collaborative learning

Writing education

Higher education