Abstract
Deep-sea photographs from IFREMER dives in the Clipperton-Clarion Fracture Zone included six cephalopods. These are all cirrate (=finned) octopods in two families, Opisthoteuthidae and Cirroteuthidae.
This is a preview of subscription content, log in to check access.
Access options
Buy single article
Instant access to the full article PDF.
US$ 39.95
Price includes VAT for USA
Subscribe to journal
Immediate online access to all issues from 2019. Subscription will auto renew annually.
US$ 99
This is the net price. Taxes to be calculated in checkout.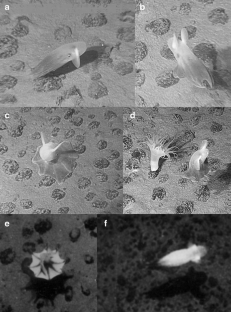 References
Aldred RG, Nixon M, Young JZ (1983) Cirrothauma murrayi Chun, a finned octopod. Phil Trans R Soc B 301:1–54

Collins MA, Villanueva R (2006) Taxonomy, ecology and behaviour of the cirrate octopods. Oceanogr Mar Biol Annu Rev 44:277–322

Hoving HJT, Perez JA, Bolstad KS et al (2014) The study of deep-sea cephalopods. Adv Mar Biol 67:235–359

O'Shea S (1999) The marine fauna of New Zealand: octopoda (Mollusca: Cephalopoda). NIWA Biodivers Mem 112:280

Roper CFE, Brundage WL Jr (1972) Cirrate octopods with associated deep-sea organisms: new biological data based on deep benthic photographs (Cephalopoda). Smithson Contrib Zool 121:1–45

Vecchione M, Roper CFE (1991) Cephalopods observed from submersibles in the western North Atlantic. Bull Mar Sci 49(1–2):433–445

Vecchione M, Young RE (1997) Aspects of the functional morphology of cirrate octopods: locomotion and feeding. Vie Milieu 47:101–110

Vecchione M, Young RE (2006) The squid family Magnapinnidae (Mollusca: Cephalopoda) in the Atlantic Ocean, with a description of a new species. Proc Biol Soc Wash 119(3):365–372

Voss GL (1988) Evolution and phylogenetic relationships of deep-sea octopods (Cirrata and Incirrata). In: Clarke MR, Trueman ER (eds) The Mollusca. Volume 12. Paleontology and neontology of cephalopods. Academic Press, New York, pp 253–276

Voss GL, Pearcy WG (1990) Deep-water octopods (Mollusca: Cephalopoda) of the Northeastern Pacific. Proc Calif Acad Sci 47:47–94
Acknowledgments
I thank Gordon Paterson for inviting me to participate in this project and Louise Allcock for facilitating the connection between Gordon and me. I also thank Stafanie Kaiser for encouraging me to prepare this note for the special issue on biodiversity of the CCFZ and Lenaick Menot for providing information about the source of the images.
Additional information
Communicated by S. S. M. Kaiser
About this article
Cite this article
Vecchione, M. Notes on cephalopods photographed near the bottom in the Clipperton-Clarion Fracture Zone. Mar Biodiv 47, 307–310 (2017). https://doi.org/10.1007/s12526-016-0528-8
Received:

Revised:

Accepted:

Published:

Issue Date:
Keywords
Cephalopoda

Cirrata

Dumbo octopods