This is a preview of subscription content, log in to check access.
We're sorry, something doesn't seem to be working properly.
Please try refreshing the page. If that doesn't work, please contact support so we can address the problem.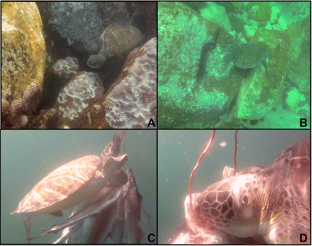 References
Awabdi DR, Siciliano S, Di Beneditto APM (2013) First information about the stomach contents of juvenile green turtles, Chelonia mydas, in Rio de Janeiro, south-eastern Brazil. Mar Biodivers Rec 6:1–6. doi:10.1017/S1755267212001029

Bjorndal KA (1997) Foraging ecology and nutrition of sea turtles. In: Lutz PL, Musick JA (eds) The biology of sea turtles. CRC Press, Boca Raton, pp 199–231

Bolten AB (2003) Variation in sea turtle life history patterns: neritic vs oceanic development stages. In: Lutz PL, Musick JA, Wyneken J (eds) The biology of sea turtles Volume II. CRC Press, Washington, pp 243–257

Guebert-Bartholo FM, Barletta M, Costa MF, Monteiro Filho YELA (2011) Using gut contents to assess foraging patterns of juvenile green turtles Chelonia mydas in the Paranaguá Estuary, Brazil. Endanger Species Res 13:131–143
Acknowledgments
This work was supported by the Coordination for the Improvement of Higher Education Personnel (CAPES, Brazil) through the Graduate Program in Ocean and Coastal Systems at the Center for Marine Studies (CEM), affiliated with the Federal University of Parana (UFPR), Brazil.
Additional information
This article is registered in ZooBank under urn:lsid:zoobank.org:pub:443B4F42-FB13-42A6-B92B-1B0F835698A9
Communicated by R. Serrao Santos
Electronic supplementary material
Below is the link to the electronic supplementary material.
About this article
Cite this article
Spier, D., Gerum, H. First record of predation on the zoanthid Palythoa caribaeorum (Anthozoa, Cnidaria) and the fish Scomberomorus brasiliensis (Scombridae) by the green turtle (Chelonia mydas) in South Brazil. Mar Biodiv 47, 777–778 (2017). https://doi.org/10.1007/s12526-016-0503-4
Received:

Revised:

Accepted:

Published:

Issue Date:
Keywords
Green Turtle

Supplementary Video

Dead Fish

Herbivorous Diet

Spanish Mackerel