This is a preview of subscription content, log in to check access.
Access options
Buy single article
Instant unlimited access to the full article PDF.
US$ 39.95
Price includes VAT for USA
Subscribe to journal
Immediate online access to all issues from 2019. Subscription will auto renew annually.
US$ 99
This is the net price. Taxes to be calculated in checkout.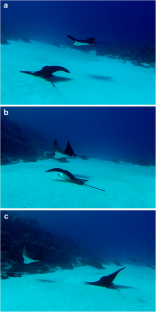 References
Berthe C, Mourier J, Lecchini D, Rummer JL, Sellos DY, Iglesias SP (2016) DNA barcoding supports the presence of the cryptic Ocellated Eagle Ray, Aetobatus ocellatus (Myliobatidae). Cybium, French Polynesia, South Pacific. in press

Losey GS, Grutter A, Rosenquist G, Mahon JL, Zamzow J (1999) Cleaning symbiosis: a review. In: Almada VC, Oliveira RF, Goncalves EJ (eds) Behaviour and conservation of littoral fishes. ISPA, Lisboa, pp 379–395

Marie AD, Justine JL (2006) Thaumatocotyle pseudodasybatis Hargis, 1955 (Monogenea: Monocotylidae) from Aetobatus cf. narinari, with a comparison of specimens from Australia, French Polynesia and new Caledonia. Syst Parasitol 64:47–55

O'Shea OR, Kingsford MJ, Seymour J (2010) Tide-related periodicity of manta rays and sharks to cleaning stations on a coral reef. Mar Freshw Res 61:65–73

Papastamatiou YP, Meyer CG, Maragos JE (2007) Sharks as cleaners for reef fish. Coral Reefs 26:277
Additional information
This article is registered in ZooBank under urn:lsid:zoobank.org:pub:443B4F42-FB13-42A6-B92B-1B0F835698A9
Communicated by R. Serrao Santos
Electronic supplementary material
Below is the link to the electronic supplementary material.
Video of two female eagle rays swimming over sandy bottom, with one of them starting to chafe on the sand at Fakarava Atoll. (MP4 6034 kb)
Video of one female eagle ray swimming over sandy bottom at Moorea Island. (MP4 607 kb)
Video of two female eagle rays swimming over sandy bottom, with one of them starting to chafe on the sand at Fakarava Atoll. (MP4 6034 kb)
About this article
Cite this article
Berthe, C., Lecchini, D. & Mourier, J. Chafing behavior on a patch of sandy bottom by ocellated eagle ray (Aetobatus ocellatus). Mar Biodiv 47, 379–380 (2017) doi:10.1007/s12526-016-0463-8
Received:

Revised:

Accepted:

Published:

Issue Date:
Keywords
Reef Fish

Coral Reef Fish

Sandy Bottom

Cleaning Efficiency

Caribbean Reef