Abstract
We report the first in situ observations of a large Taningia danae Joubin, 1931, close to the seafloor at bathyal depths of 2,157 m. The observation was made in the subtropical northeast Atlantic Seine seamount during daytime on 29 September 2012, over a silt-covered seafloor (33º40.1142′N, 14º22.7301′W). Seawater temperature was 4.2 ºC, salinity 35.40 ppt, oxygen saturation 50.87 Ox%, and pressure 2,178.29 dbar. Mantle length was estimated from imagery to be 65.3 cm (STD = 6.3). A repeated behaviour was observed every time the ROV approached: (1) swimming away from the ROV by flapping the fins twice (moving forward or backward), (2) gliding slightly inclined downward, until colliding against the seafloor, and (3) ascending obliquely or vertically in relation to the seafloor, finally evading the area moving upward using jet propulsion. These observations greatly extend the species depth range and document behaviour patterns. T. danae is able to explore beyond the mesopelagic zone where it has previously been reported.
This is a preview of subscription content, log in to check access.
Access options
Buy single article
Instant unlimited access to the full article PDF.
US$ 39.95
Price includes VAT for USA
Subscribe to journal
Immediate online access to all issues from 2019. Subscription will auto renew annually.
US$ 99
This is the net price. Taxes to be calculated in checkout.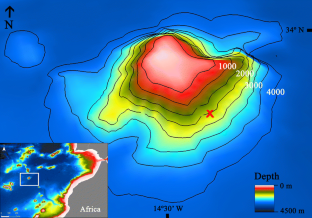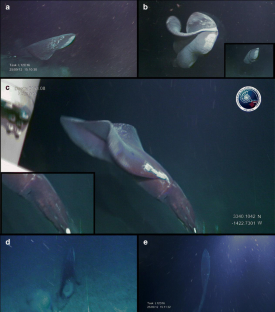 References
Bett B, Watson S, GoodayA, Billett D (2004) Ecology of seamount megabenthos: Seine and Sedlo Seamounts (NE Atlantic). In Data report for the National Oceanography Centre: DEEPSEAS Group, Southampton, UK

Clarke M (1962) Stomach contents of a sperm whale caught off Madeira in 1959. Nor Havlfangsttid 51:173–191

Clarke M (1966) A review of the systematics and ecology of oceanic squids. Adv Mar Biol 4:91–300

Clarke M (1967) A deep-sea squid, Taningia danae Joubin, 1931. Symp Zool Soc Lond 19:127–143

Clarke M (1977) Beaks, nets and numbers. Symp Zool Soc Lond 38:89–126

Clarke M (2006) Oceanic cephalopod distribution and species diversity in the eastern north Atlantic. Arquip. Life Mar Sci 23A:27–46

Clarke M, Lu C (1974) Vertical distribution of cephalopods at 30ºN 23º W in the North Atlantic. J Mar Biol Assoc UK 54:969–984

Clarke M, Merrett N (1972) The significance of squid, whale and other remains from the stomachs of bottom-living deep sea fish. J Mar Biol Assoc UK 52:599–603

Clarke M, Pascoe P (1998) The influence of an electric light on the capture of oceanic cephalopods by a midwater trawl. J Mar Biol Assoc UK 78:561–575

González Á, Guerra Á, Rocha F (2003) New data on the life history and ecology of the deep-sea hooked squid Taningia danae. Sarsia 88:297–301

Hoving H, Lipinski M, Videler J, Bolstad K (2010) Sperm storage and mating in the deep-sea squid Taningia danae Joubin, 1931 (Oegopsida: Octopoteuthidae). Mar Biol 157:393–400

Joubin L (1931) Notes preliminarires sur les cephalopodes de croisieres du Dana. (1921-1922) 3e Partie. Ann Inst Oceanogr 10:169–211, Monaco

Kubodera T, Koyama Y, Mori K (2007) Observations of wild hunting behaviour and bioluminescence of a large deep-sea, eight-armed squid, Taningia danae. Proc R Soc Lond B 274(1613):1029–1034

Lu C, Clarke M (1975a) Vertical distribution of cephalopods at 40º N, 53º N and 60º N at 20ºW in the North Atlantic. J Mar Biol Assoc UK 55:143–163

Lu C, Clarke M (1975b) Vertical distribution of cephalopods at 11º N, 20º W in the North Atlantic. J Mar Biol Assoc UK 55:369–389

Nesis K (1987) Cephalopods of the world: squids, cuttlefishes, and allies.: (English translation). T.F.H. Publications, Neptune City

Okutani T (1974) Epipelagic decapod cephalopods collected by micronekton tows during the EASTROPAC Expedition, 1967–1968. (Systematic part). Bull Tokai Reg Fish Res Lab 80:29–118

Okutani T, Satake Y (1978) Squids in the diet of 38 sperm whales caught in the Pacific off northern Honshu, Japan, February 1977. Bull Tokai Reg Fish Res Lab 93:13–27

Roper C, Vecchione M (1993) A geographic and taxonomic review of Taningia danae Joubin, 1931 (Cephalopoda: Octopoteuthidae), with new records and observations on bioluminescence. In: Okutani T, O'Dor RK, Kubodera T (eds) Recent advances in fisheries biology. Tokai University Press, Kanagawa, pp 441–456

Santos M, Pierce G, González Á, Santos F, Váquez M, Santos M, Collins M (2001) First records of Taningia danae (Cephalopoda: Octopoteuthidae) in Galician waters (northwest Spain) and in Scottish waters (UK). J Mar Biol Assoc UK 81:355–356

Seibel B, Thuesen E, Childress J, Gorodezky L (1997) Decline in pelagic cephalopod metabolism with habitat depth reflects differences in locomotory efficiency. Biol Bull 192:262–278

Sweeney M (2001) Records of Architeuthis specimens from published reports. Avaliable online at: www.mnh.si.edu/cephs/archirec.pdf [Accessed: 03.2013]

UNESCO (1981) The Practical Salinity Scale 1978 and the International Equation of State of Seawater 1980. Tech Pap Mar Sci 36
Acknowledgments
Malcolm Roy Clarke, for keeping our dreams of squid alive. The authors wish to acknowledge the ROV pilots, also Miguel Souto and all the Task Group for the Extension of Continental Shelf (EMEPC). J.N.G.P. was supported by the doctoral grant from the Regional Directorate for Education, Science and Culture, of the Regional Government of the Azores (M3.1.2/F/062/2011). LARSyS-Associated Laboratory no. 9 funded by the Portuguese Foundation for Science and Technology (FCT) through pluriannual and programmatic funding schemes (OE, FEDER, POCI2001, FSE) and by the Azores Directorate for Science and Technology (DRCT).
About this article
Cite this article
Gomes-Pereira, J.N., Tojeira, I. The cephalopod Taningia danae Joubin, 1931 observed near bottom at over 2,000 m depth on Seine seamount. Mar Biodiv 44, 151–155 (2014). https://doi.org/10.1007/s12526-013-0197-9
Received:

Revised:

Accepted:

Published:

Issue Date:
Keywords
Octopoteuthis

Seine seamount

Bathyal

Benthos

ROV

Behaviour