Abstract
Due to tectonic movement, compressed structures, and mountain upliftment process, several sedimentary basins have evolved in the periphery of the Himalayan orogeny. The evolution of sedimentary basins within the Central Himalaya (i.e., Nepal Himalaya) is quite similar in age (i.e., Eocene–Recent). The sedimentary sequences within this basin are marked by large-scale geological structures (e.g., Main Central Thrust, Main Boundary Thrust, and Main Frontal Thrust). The Lesser Himalayan (Eocene-Miocene) foreland basin in far western Nepal contains various hydrocarbon deposits. Similarly, the shallow marine shale, coal seams numerous fossils, and tight sand layers are the important sources of energy resources. The sedimentary basin, Surkhet Group in the western Nepal, is the prospective area for the unconventional hydrocarbon deposit. Due to active geological structures (such as Ranimatta Thrust, Budar Thrust, Mahabharat Thrust, and Nabi Khola Anticline), oil and gas seem to have migrated upward in the Padukasthan, Nabhisthan, and Sristhan. Therefore, the active oil and gas seepage occur locally in this area. Due to lack of scientific engineering research, the utilization of various energy resources of Central Himalaya (Nepal Himalaya) is important but challenging. There is not much work carried out on this section; the present study discussed about the relationship between the sedimentary structures and the formation of unconventional gas and its prospects in the Nepal Himalaya region.
This is a preview of subscription content, log in to check access.
Access options
Buy single article
Instant unlimited access to the full article PDF.
US$ 39.95
Price includes VAT for USA
Subscribe to journal
Immediate online access to all issues from 2019. Subscription will auto renew annually.
US$ 99
This is the net price. Taxes to be calculated in checkout.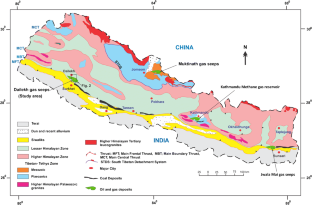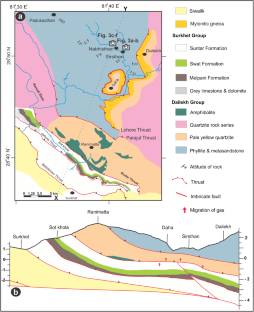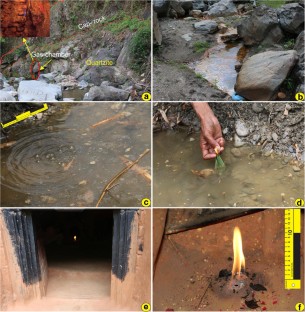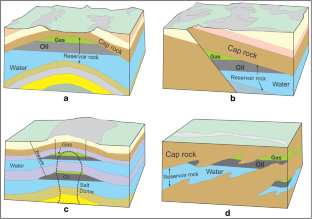 References
Bashyal RP (1986) Geology of Lesser Himalaya, far Western Nepal. In: Le Fort P, Colchen M, Montenat C (eds) Évolution des domaines orogéniques d'Asie méridionale (de la Turquie à l'Indonésie), Livre jubilaire Pierre Bordet, Sciences de la Terre, Mémoire no. 47, Nancy, pp 31–42

Burbank, D, Beck, RA, Mulder, T (1996) The Himalayan foreland basin. World and regional geology , pp 149–190

Bustin MR (2006) Geology report: where are the high-potential regions expected to be in Canada and the US? Capturing opportunities in Canadian shale gas. In the Canadian Institute's 2nd annual shale gas conference, January

Curray JR (1994) Sediment volume and mass beneath the Bay of Bengal. Earth Planet Sci Lett 125:371–383

DeCelles P, Gehrels G, Najman Y, Martin A, Carter A, Garzanti E (2004) Detrital geochronology and geochemistry of Cretaceous–Early Miocene strata of Nepal: implications for timing and diachroneity of initial Himalayan orogenesis. Earth Planet Sci Lett 227:313–330

Dhital MR (2015) Geology of the Nepal Himalaya: regional perspective of the classic collided orogen. Springer

Einsele G, Ratschbacher L, Wetzel A (1996) The Himalaya-Bengal fan denudation-accumulation system during the past 20 ma. Journal of Geology, Volume 104(2):163–184

Gansser A (1964) Geology of the Himalayas. Wiley-Interscience, New York, p 289

Heim A, Gansser A (1939) Central Himalaya: geological observations of the Swiss expedition 1936. Mem Soc Helv Sci Nat 73(1):1–245

Hill DG, Nelson CR (2000) Gas productive fractured shales: an overview and update. Gas Tips, Volume 6(3):4–13

Khadka DR (2001) Geological report of reconnaissance geochemical prospecting of base metals and gold in some parts of Dailekh and Achham districts, Midwestern Nepal, department of mines and geology, Kathmandu, Nepal (Report)

Khadka K (2014) Geological mapping and detailed geological study of inflammable gas seeps area of the parts of Dailekh and Accham districts of mid and far Western Nepal. Department of mines and geology, Kathmandu, Nepal (report)

Kohn MJ, Paul SK, Corrie SL (2010) The lower lesser Himalayan sequence: a Paleoproterozoic arc on the northern margin of the Indian plate. Geol Soc Am Bull 122:323–335

Le Fort P (1975) Himalayas: the collided range. Present knowledge of the continental arc. Am J Sci 275(1):1–44

Liu G, Einsele G (1994) Sedimentary history of the Tethyan basin in the Tibetan Himalayas. Geol Rundsch 8:32–61

Martin AJ, Burgy KD, Kaufman AJ, Gehrels GE (2011) Stratigraphic and tectonic implications of field and isotopic constraints on depositional ages of Proterozoic Lesser Himalayan rocks in central Nepal. Precambrian Res 185:1–17

Martini AM, Nüsslein K, Petsch ST, Siegfried RW (2004) Enhancing microbial gas from unconventional reservoirs: geochemical and microbiological characterization of methane-rich fractured black shales. Final report: RPSEA-0024-04, GRI-05/0023. Gas technology institute, Des Plaines, IL

Meigs AJ, Burbank DW, Beck RA (1995) Middle-late Miocene (> 10 Ma) formation of themain boundary thrust in the western Himalaya. Geology 23:423–426

Najman Y (2006) The detrital record of orogenesis: a review of approaches and techniques used in the Himalayan sedimentary basins. Earth Sci Rev 74:1–72

Najman Y, Johnson K, White N, Oliver G (2004) Evolution of the Himalayan foreland basin, NW India. Basin Research, Volume 16:1–24

Neupane B, Zhao J (2018) Detrital zircon U-Pb age and petrographic composition from foreland sediments of the Tansen Basin, Central Nepal: constraints on sediment provenance and tectonics of the central Himalaya. Archaeology & Anthropology: open access, volume 3 (2), pp. 56-69. DOI: https://doi.org/10.31031/AAOA.2018.03.00055

Neupane B, Ju Y, Silwal BR, Singh PK, Huang C (2017a) Structural investigations of Eocene coals from foreland basin of central Nepal Himalaya. Energy Explor Exploit 35(6):713–733

Neupane B, Ju Y, Tan F, Baral U, Ulak PD, Sun Y (2017b) Cenozoic tectonic evolution of the Tibetan plateau–the Nepal Himalaya and the provenance of their foreland basins. Geological Journal, Volume 52(4):646–666

Neupane B, Ju Y, Allen CM, Ulak PD, Han K (2018) Petrography and provenance of upper Cretaceous–Palaeogene sandstones in the foreland basin system of Central Nepal. International Geology Review, Volume 60(2):135–156

Pandey, B., Pathak, D.B., Mathur, N., Jaitly, A.K., Singh, A. K., and Singh, P.K. (2018) A preliminary evaluation on the prospects of hydrocarbon potential in the carbonaceous shales of Spiti and Chikkim formations, Tethys Himalaya, India, Journal of Geological Society of India, Volume 92, pp. 427–434

Rokosh, C.D., Pawlowicz, J.G., Berhane, H., Anderson, S.D.A. and Beaton, A.P. (2009) What is shale gas? An introduction to shale-gas geology in Alberta. Energy Resources Conservation Board, Alberta Geological Survey. Retrieved October 10, 2013

Rowley DB (1995) A simple geometric model for the syn-kinematic erosional denudation of thrust fronts. Earth Planet Sci Lett 129:203–216

Sakai, H., 1983. Geology of the Tansen group of the Lesser Himalaya in Nepal. Mem. Fac. Sci. Kyushu University 25, 27–74

Sakai H, Takigami Y, Nakamuta Y, Nomura H (1999) Inverted metamorphism in the Pre-Siwalik foreland basin sediments beneath the crystalline nappe, western Nepal Himalaya. J Asian Earth Sci 17(5–6):727–739

Sakai H, Iwano H, Danhara T, Takigami Y, Rai SM, Upreti BN, Hirata T (2013) Rift-related origin of the Paleoproterozoic Kuncha formation, and cooling history of the Kuncha nappe and Taplejung granites, eastern Nepal Lesser Himalaya: a multichronological approach. Island Arc, Volume 22:338–360

Shrestha SB, Shrestha JN, Sharma SR (1987) Geological map of MidWestern Nepal, Scale: 1:250,000. Department of Mines and Geology, Kathmandu (Report)

Singh PK (2012) Petrological and geochemical considerations to predict oil potential of Rajpardi and Vastan lignite deposits of Gujarat, Western India. Journal of Geological Society of India, Springer 80(6):759–770

Singh B (2013) Evolution of the Paleogene succession of the western Himalayan foreland basin. Geosci Front 4:199–212

Singh BP, Andotra DS (2000) Barrier-lagoon and tidal cycles in Palaeocene to middle Eocene Subathu formation. NW Himalaya, India Tertiary Research 20:65–78

Singh PK, Singh MP, Singh AK, Naik AS (2012) Petrographic and geochemical characterization of coals from Tiru valley, Nagaland, NE India. Energy, Exploration and Exploitation 30(2):171–192

Singh AK, Singh MP, Singh PK (2013a) Petrological investigations of oligocene coals from foreland basin of Northeast India. Energy Exploration and Exploitation 31(6):909–936

Singh PK, Singh MP, Singh AK, Mukesh A, Naik AS (2013b) Prediction of liquefaction behavior of East Kalimantan coals of Indonesia: an appraisal through petrography of selected coal samples. Energy Sources Part A: Recovery, Utilization, and Environmental Effects, Taylor & Francis vol 35:1728–1740

Singh VP, Singh BD, Mathews RP, Singh A, Mendhe VA, Singh PK, Mishra S, Dutta S, Mahesh Shivanna M, Singh MP (2017) Investigation on the lignite deposits of Surkha mine (Saurashtra Basin, Gujarat), western India: their depositional history and hydrocarbon generation potential. Int Jour Coal Geology, Vol 183:78–99

Steck A, Spring L, Vannay J, Masson H, Stutz E, Bucher H, Marchant R, Tieche J (1993) Geological transect across the northwestern Himalaya in eastern Ladakh and Lahul (a model for the continental collision of India and Asia). Eclogae Geol Helv 86:219–263

Subedi DN, Mahato SP, KC, S. and Ghimire, J.R. (2012) Oil and gas exploration activities in Nepal. ASEG Extended Abstracts 2012(1):1–4

Wang, H., Jahn, B., & Mei, S. (2018) Geological sciences and UNESCO has shown the vast importance of surface: geochemical mapping to a host of problems from agriculture, to public health, to waste disposal (see [S]). In Origin and History of the Earth CRC Press, pp 14–24
Acknowledgments
We would like to give special thanks to Mr. Kumar Khadka, a senior geologist in the Department of Mines and Geology, for providing the valuable information and Prof. PK Singh for the editing of this manuscript. We are also grateful to Prof. M.R Dhital and Dr. P. D. Ulak, Department of Geology, Tribhuvan University, Nepal. We are grateful to the anonymous reviewers for their insightful reviews.
Funding information
Author Bhupati Neupane is supported by the Chinese Academy of Sciences President's International Fellowship Initiative (Grant No. 2019PT0018). This study was also supported by the Strategic Priority Research Program of Chinese Academy of Sciences (Grant No. XDA20070302). The National Natural Science Foundation of China (Grant No. 41661144026) and the major program of the National Natural Science Foundation of China (Grant No. 41490611) funded this study.
Additional information
Responsible Editor: Santanu Banerjee
About this article
Cite this article
Neupane, B., Zhao, J., Ju, Y. et al. Occurrence of unconventional hydrocarbon deposits and its structural relation in Nepal Himalaya: implication for future exploration. Arab J Geosci 13, 81 (2020). https://doi.org/10.1007/s12517-020-5078-5
Received:

Accepted:

Published:
Keywords
Sedimentary basin

Hydrocarbon deposits

Unconventional gas