Abstract
A recent "micropaleontological" publication on a Lower Cretaceous classical lithostratigraphic unit at its type locality in N Iraq, the Garagu Formation, suggested that, at this exact location, this facies-driven unit could span a "late Valanginian-Barremian" time interval and that its facies were indicative of "shallow marine with normal to hypersaline conditions, shelf lagoonal environment, and open platform" environment. Of the twenty samples originally collected by the authors, eleven thin sections were reexamined. On the basis of this limited material, a second assessment is presented here. Most micropaleontological identifications prove wrong, and they cannot "support an age determination of the late Valanginian-Barremian". Similarly, contrary to the authors' opinion and except for one sample, all microfacies suggest that the sedimentary depositional environments were representative of a lower shoreface to an offshore shelf setting depending on relative sea level changes. More than half a century after the publication of the "Lexique International de Stratigraphie", the Garagu Formation, as do most lithostratigraphic units defined in the Middle East, requires a full reassessment with the support of genuine experts.
This is a preview of subscription content, log in to check access.
Access options
Buy single article
Instant unlimited access to the full article PDF.
US$ 39.95
Price includes VAT for USA
Subscribe to journal
Immediate online access to all issues from 2019. Subscription will auto renew annually.
US$ 99
This is the net price. Taxes to be calculated in checkout.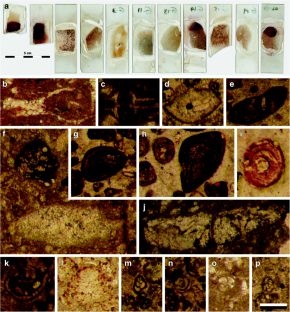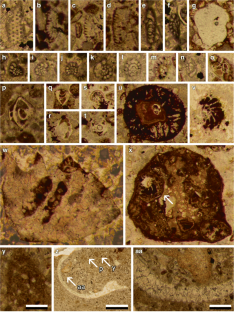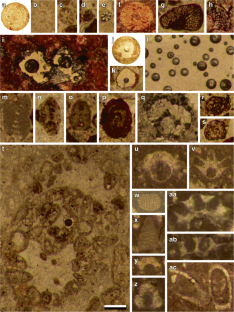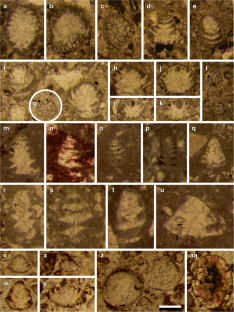 References
Bellen RC van, Dunnington HV, Wetzel R, Morton DM (1959, 2011) Iraq. Lexique Stratigraphique International, III Asie (10a), 333 p. Lexique Stratigraphique International (NS), electronic edition, http://paleopolis.rediris.es/LEXICON/IRAQ/

Bucur II, Conrad MA, Radoičić R (1995) Foraminifers and calcareous algae from Valanginian limestones in the Jerma River canyon, eastern Serbia. Revue de Paléobiologie 14(2):349–377

Dias-Brito D (ed.), Granier B, Mettraux M, Brito H (2017) Guia petrográfico dos Carbonatos do Brasil. Obra 4, UNESPetro. Rio Claro: 232 p

Dubertret L (1963) Liban et Syrie. Chaîne des grands massifs côtiers et confins à l'Est. Lexique Stratigraphique International, III Asie (10c1):7–155

Flügel E (1982) Microfacies Analysis of Limestones. Springer-Verlag, Berlin, 633 p

Flügel E (2004) Microfacies of carbonate rocks: analysis, interpretation and application. Springer-Verlag, Berlin, 1006 p

Ghafor IM, Mohialdeen IMJ (2018) Early cretaceous microfossils associations (foraminifera, ostracoda, calcareous algae, and coral) from the Garagu Formation, Duhok Area, Kurdistan Region, Northern Iraq. Arabian Journal of Geosciences 11:407

Granier B (1987) Le Crétacé inférieur de la Costa Blanca entre Busot et Altea, Alicante (Espagne): Biostratigraphie, sédimentologie, évolution tectono-sédimentaire. PhD Thesis, Université Pierre et Marie Curie, Paris; Mémoires des Sciences de la Terre 87–49, 281 p (54 pls)

Granier B (1995) A sedimentological model of the Callovian oolite reservoir of the Villeperdue oilfield, Paris Basin (France). Petroleum Geoscience 1(2):145–150

Granier B (2002) New or little known Dasyclad algae from Upper Jurassic and Lower Cretaceous series of the Middle East. In: Bucur II, Filipescu S (eds) Research Advances in Calcareous Algae and Microbial Carbonates. Presa Universitara Clujeana, Cluj-Napoca, pp 103–113

Granier B (2008) Holostratigraphy of the Kahmah regional Series in Oman, Qatar, and the United Arab Emirates. Carnets Geol CG2008_A07 8(A07):1–33

Granier B (2019a) Discussion of the paper by Vincent et al., 2018, entitled "Age constraints on intra-formational unconformities in Upper Jurassic-Lower Cretaceous carbonates in northeast Turkey; geodynamic and hydrocarbon implications" (Marine and Petroleum Geology, 91, 639–657). Mar Petrol Geol 112:103795. https://doi.org/10.1016/j.marpetgeo.2019.04.016

Granier B (2019b) Dual biozonation scheme (benthic foraminifera and "calcareous" green algae) over the Jurassic–Cretaceous transition. Another plea to revert the system boundary to its historical Orbigny's and Oppel's definition. Cretac Res 93:245–274

Granier B (2019c) Observations on some Actinoporellas (Chlorophyta, Polyphysaceae). Revision of the Jacques Emberger Collection. Part 1. Carnets Geol 19(7):113–139

Granier B, Feist M, Hennessey E, Bucur II, Senowbari-Daryan B (2009) The Imam case. Additional investigation of a micropaleontological fraud. Carnets Geol (CG2009_A04) 9(A04):1–14

Granier B, Toland C, Gèze R, Azar D, Maksoud S (2016) Some steps toward a new story for the Jurassic–Cretaceous transition in Mount Lebanon. Carnets Geol 16(8):247–269

Horowitz AS, Potter PE (1971) Introductory petrography of fossils. Springer-Verlag, Berlin, 302 p

Majewske OP (1969) Recognition of invertebrate fossil fragments in rocks and thin sections. International sedimentary petrographical Series, Leiden, vol XIII, 101 p

Maksoud S, Granier B, Azar D, Gèze R, Paicheler JC, Moreno-Bedmar JA (2014) Revision of "Falaise de Blanche" (Lower Cretaceous) in Lebanon, with the definition of a Jezzinian Regional Stage. Carnets Geol 14(18):401–427

Mišík M (1966) Microfacies of the Mesozoic and Tertiary limestones of the West Carpathians. Slovenská Akadémia Vied, Bratislava, 280 p

Powers RW (1968, 2010) Saudi Arabia (excluding the Arabian Shield). Lexique Stratigraphique International, III Asie (10b1), 177 p. Lexique Stratigraphique International (NS), electronic edition, http://paleopolis.rediris.es/LEXICON/KSA/

Samuel O, Borza K, Köhler E (1972) Microfauna and lithostratigraphy of the Paleogene and adjacent Cretaceous of the Middle Váh Valley (West Carpathian). Geologický ústav Dionýza Štúra, Bratislava, 246 p (CLXXX pls)

Sugden W, Standring AJ (1975, 2020) Stratigraphic lexicon: Qatar Peninsula. Lexique Stratigraphique International, III Asie (10b3):7–88. Lexique Stratigraphique International (NS), electronic edition, http://paleopolis.rediris.es/LEXICON/QATAR/
Acknowledgments
The present author thanks Beatriz Bádenas, topical chief editor at the "Arabian Journal of Geosciences," who organized a loan of the material, and Imad M. Ghafor, one of the two authors of the manuscript discussed above, who kindly sent us 11 regular thin sections (out of 21). He also acknowledges the support of Phil Salvador who carefully revised the English text. Felix Schlagintweit drew the attention of the present author to the original manuscript. The manuscript also benefited from the constructive comments of two anonymous reviewers.
About this article
Cite this article
Granier, B. Discussion of the paper by Imad M. Ghafor and Ibrahim M.J. Mohialdeen, 2018, entitled "Early cretaceous microfossils associations (foraminifera, ostracoda, calcareous algae, and coral) from the Garagu formation, Duhok area, Kurdistan region, northern Iraq" (Arabian Journal of Geosciences, 11:407). Arab J Geosci 13, 60 (2020). https://doi.org/10.1007/s12517-019-5032-6
Received:

Accepted:

Published:
Keywords
Lower Cretaceous

Stratigraphy

Micropaleontology

Carbonate sedimentology

Iraq