Abstract
Wet deposition in the Monastir region (Eastern Tunisia) was studied during the period from September 19th, 2013 to March 10th, 2014. Two types of rainy events (West to Northwest and East to Southeast) were recorded during the study period. The geochemical investigation of soluble (Cl−, NO3−, SO42−, Na+, K+, Ca2+ and Mg2+) and insoluble (Pb, Cu, Cd and Zn) phases of wet deposits at two selected rural-agricultural (S1) and coastal-urban (S2) sites showed a significant impact of the anthropogenic components attributed to metals (Pb, Cu, Cd and Zn) and to ions (NO3− and SO42−). It was associated to the simultaneous effect of urban activity (mainly traffic) at the coastal-urban site (S2) and the brick factories, the highway and the railroads' traffic at the rural-agricultural site (S1). The significant contributions of wet deposition, in terms of chlorine and sodium fluxes at the coastal-urban site (S2), could be attributed to the maritime influence. The importance of the Ca2+, Mg2+ and K+ fluxes in rural-agricultural site (S1) could be explained by the impact of both agricultural soils' resuspension and the activity of the clay quarries (generating dust) located not far from this site. It was demonstrated that measured "soluble and insoluble" concentrations were not evidently correlated to rain amounts. They varied from a rainy event to another and from one site to another. This is possibly due to the load period of the regional atmosphere in terms of particulate matter which was highly variable between two successive rains. It was also probably due to the effect of Saharan dust advection which was significantly pronounced in the spring wet deposition. Furthermore, one cannot exclude the airflow characteristics effect (especially during the convective clouds) and the nature of activities in each site.
This is a preview of subscription content, log in to check access.
Access options
Buy single article
Instant unlimited access to the full article PDF.
US$ 39.95
Price includes VAT for USA
Subscribe to journal
Immediate online access to all issues from 2019. Subscription will auto renew annually.
US$ 99
This is the net price. Taxes to be calculated in checkout.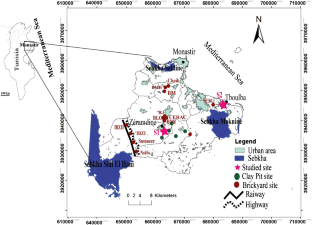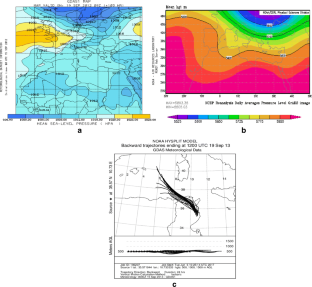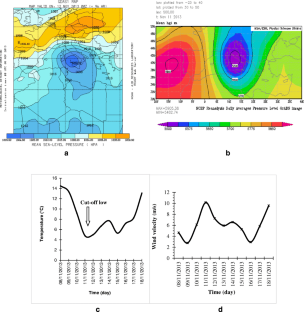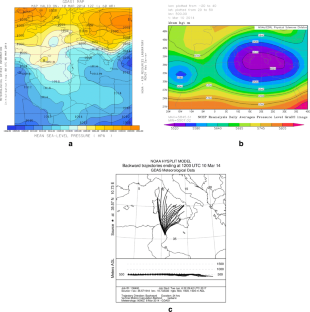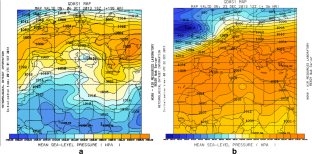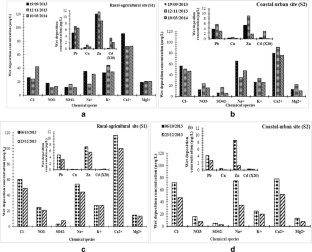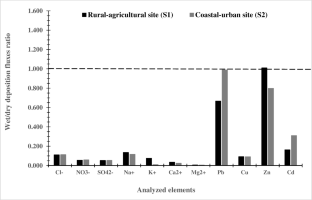 References
Abdus-Salam N, Adekola FA, Otuyo-Ibrahim M (2014) Chemical composition of wet precipitation in ambient environment of Ilorin, north Central Nigeria. J Saudi Chem Soc 18:528–534

Ahmadi M, Vahabzadeh F, Bonakdarpour B, Mofarrah E, Mehranian M (2005) Application of the central composite design and response surface methodology to the advanced treatment of olive oil processing wastewater using Fenton's peroxidation. J Hazard Mater 123(1–3):187–195

Akkoyunlu BO, Tayanc M (2003) Analyses of wet and bulk deposition in four different regions of Istanbul, Turkey. Atmos Environ 37:3571–3579

Al-Khashman OA (2005) Study of chemical composition in wet atmospheric precipitation in Eshidiya area, Jordan. Atmos Environ 39:6175–6183

Al-Momani IF (2008) Wet and dry deposition fluxes of inorganic chemical species at a rural site in northern Jordan. Arch Environ Contam Toxicol 55:558–565

Al-Momani IF, Aygun S, Tuncel G (1998) Wet deposition of major ions and trace elements in the eastern Mediterranean basin. J Geophys Res 103:8287–8299

Al-Momani IF, Tuncel S, Eler U, Ortel E, Sirin G, Tuncel G (1995a) Major ion composition of wet and dry deposition in eastern Mediterranean basin. Sci Total Environ 164:75–85

Al-Momani IF, Ataman OY, Anwari AM, Tuncel S, Köse C, Tuncel G (1995b) Chemical composition of precipitation near an industrial area at Izmir, Turkey. Atmos Environ 29:1131–1143

Azri C, Abida H, Medhioub K (2009) Geochemical behaviour of the Tunisian background aerosols in sirocco wind circulations. Adv Atmos Sci 26(3):390–402

Báez A, Belmont R, García R, Padilla H, Torres MC (2007) Chemical composition of rainwater collected at a southwest site of Mexico City, Mexico. Atmos Res 86:61–75

Bahloul M, Chabbi I, Amdouni R, Medhioub K, Azri C (2015) Spatiotemporal variation of particulate fallout instances in Sfax City, southern Tunisia: influence of sources and meteorology. Adv Meteorol 471396:11. https://doi.org/10.1155/2015/471396

Bargaoui Z, Tramblay Y, Lawin EA, Servat E (2014) Seasonal precipitation variability in regional climate simulations over northern basins of Tunisia. Int J Climatol 34:235–248

Bayraktar H, Sezer Turalioglu F (2005) Composition of wet and bulk deposition in Erzurum, Turkey. Chemosphere 59(11):1537–1546

Berndtsson R, Larson M (1987) Spatial variability of infiltration in a semi-arid environment. J Hydrol 90:117–133

Boubaker HB (2016) Apports pluviométriques et types de flux de surface en Tunisie du Nord. Eau et Environnement-Apports pluviométriques et types de flux de surface en Tunisie du Nord- ENS Editions, pp 79-89

Brewer PG (1975) Minor elements in seawater, chemical oceanography. In: JPO R, Skirrow G (eds) , vol 80, 2nd edn. Academic Press, London, pp 415–495

Calvo AI, Olmo FJ, Lyamani H, Alados-Arboledas L, Fernández-Raga M, Fraile R (2010) Chemical composition of wet precipitation at the background EMEP station in Víznar (Granada, Spain) (2002–2006). Atmos Res 96:408–420

Cao YZ, Wang S, Zhang G, Luo J, Lu S (2009) Chemical characteristics of wet precipitation at an urban site of Guangzhou, South China. Atmos Res 94:462–469

Celle-Jeanton H, Travi Y, Loÿe-Pilot MD, Huneau F, Bertrand G (2009) Rainwater chemistry at a Mediterranean inland station (Avignon, France): local contribution versus long-range supply. Atmos Res 91:118–126

Cerón RM, Cerón JG, Córdova AV, Zavala J, Mauriel M (2005) Chemical composition of precepitation at coastal and marine sampling sites in Mexico. Global Nest J 7(2):212–221

Chabbi I (2012) Etude de la variabilité spatio-temporelle des retombées atmosphériques au dessus d'une zone rurale-cas de la région de Zéramdine (Monastir). Mastère en sciences géologiques de la Faculté des Sciences de Sfax

Chabbi I (2018) Etude qualitative des retombées atmosphériques sèches dans la région de Monastir : influences des sources d'apports et des facteurs météorologiques. Thèse de Doctorat, Université de Sfax

Chabbi I, Bahloul M, Dammak R, Azri C (2018) Dust particle deposition quality assessment in rural areas close to an intense fluidity highway and several sebkhas: case of Monastir region, Eastern Tunisia. J Environ Eng Landsc Manag 26(2):141–157. https://doi.org/10.3846/16486897.2017.1378221

Charlson RJ, Rhode J (1982) Factors controlling the acidity of natural rainwater. Nature 295:683–685

Cong Z, Kang S, Zhang Y, Li X (2010) Atmospheric wet deposition of trace elements to central Tibetan Plateau. Appl Geochem 25:1415–1421

Connan O, Maro D, Hébert D, Roupsard P, Goujon R, Letellier B, Le Cavelier S (2013) Wet and dry deposition of particles associated metals (Cd, Pb, Zn, Ni, Hg) in a rural wetland site, Marais Vernier, France. Atmos Environ 67:394–403

Conradie EH, Van Zyl PG, Pienaar JJ, Beukes JP, Galy-Lacaux C, Venter AD, Mkhatshwa GV (2016) The chemical composition and fluxes of atmospheric wet deposition at four sites in South Africa. Atmos Environ 146:113–131

Dammak R, Bahloul M, Chabbi I, Azri C (2016) Spatial and temporal variations of dust particle deposition at three "urban/suburban" areas in Sfaxcity (Tunisia). Environmental Monitoring and Assessment, (188), 1-14. https://doi.org/10.1007/s10661-016-5341-0

Das R, Das SN, Misra VN (2005) Chemical composition of rainwater and dustfall at Bhubaneswar in the east coast of India. Atmos Environ 39:5908–5916

Deusdará KRI, Forti MC, Borma IS, Menezes RSC, Lima JRS, Ometto JPHB (2017) Rainwater chemistry and bulk atmospheric deposition in a tropical semiarid ecosystem: the Brazilian Caatinga. J Atmos Chem 74:71–85

Duce RA, Galloway JN, Liss PS (2009) The impacts of atmospheric deposition to the ocean on marine ecosystems and climate. WMO Bull 58:61–66

Duce RA, Hoffman EJ (1976) Chemical fractionation at the air/sea Interface. Annu Rev Earth Planet Sci 4:187–228

Ellouze M, Azri C, Abida H (2009) Spatial variability of monthly and annual rainfall data over southern Tunisia. Atmos Res 93:832–839

Galloway JN, Likens GE, Keene WC, Miller J (1982) The composition of precipitation in remote areas of the world. J Geophys Res 87:8771–8786

Galy-Lacaux C, DelonC, Solmon F, Adon M, Yoboué V, Mphepya J, Pienaar J J, Diop B, Sigha L, Dungall L, Akpo A, Mougin E, Gardrat E,Castera P (2014) Chapter 10: dry and wet atmospheric nitrogen deposition in West Central Africa. In: Sutton, M.A., Mason, K.E., Sheppard, L.J., Sverdrup,H., Haeuber, R., Hicks, W.K. (Eds.), Nitrogen Deposition, Critical Loads and Biodiversity. Springer, ISBN 978-94-007-7938-9, p. 539.

Henia L (1980) Les précipitations pluvieuses dans la Tunisie tellienne. Publications de L'Université de Tunis, 262

Huang K, Zhuang G, Xu C, Wang Y, Tang A (2008a) The chemistry of the severe acidic precipitation in Shanghai, China. Atmos Res 89:149–160

Huang Y, Yanglin W, Zhang L (2008b) Long-term trend of chemical composition of wet atmospheric precipitation during 1986e2006 at Shenzhen City, China. Atmos Environ 42:3740–3750

Hu GP, Balasubramanian R (2003) Wet deposition of trace metals in Singapore. Water Air Soil Pollut 144:285–300

Jambers W, Dekov V, Grieken RV (2000) Single particle and inorganic characterization of rainwater collected above the North Sea. Sci Total Environ 256:133–150

Kamani H, Hoseini M, Safari GH, Jaafari J, Mahvi AH (2014) Study of trace elements in wet atmospheric precipitation in Tehran, Iran. Environ Monit Assess 295:683–685

Khodzher H, Mahowald T, Nickovic MN, Rao SP (2014) A global assessment of precipitation chemistry and deposition of sulfur, nitrogen, sea salt, base cations, organic acids, acidity and pH and phosphorus. Atmos Environ 93:3–100

Kulshrestha UC, Kulshrestha MJ, Sekar R, Sastry GSR, Vairamani M (2003) Chemical characteristics of rainwater at an urban site of south-central India. Atmos Environ 37:3019–3069

Mason BH (1966) Principles of geochemistry, 3rd edn. Wiley and Sons, New York

Migliavacca D, Teixeira EC, Wiegand F, Machado ACM, Sanchez J (2005) Atmospheric precipitation and chemical composition of an urban site, Guaiba hydrographic basin, Brazil. Atmos Environ 39:1829–1844

Mkoma SL, Da Rocha GO, Domingos JSS, Santos JVS, Cardoso MP, Da Silva RL, De Andrade JB (2014) Atmospheric particle dry deposition of major ions to the South Atlantic coastal area observed at Baía de Todos os Santos, Brazil. An Acad Bras Cienc 86:37–55

Mouri H, Okada K, Shigehara K (1993) Variation of Mg, S, K and Ca contents in individual sea-salt particles. Tellus 45:80–85

Mphepya JN, Galy-Lacaux C, Lacaux JP, Held G, Pienaar JJ (2006) Precipitation chemistry and wet deposition in Kruger national park, South Africa. J Atmos Chem 53:169–183

Nouaceur Z, Murărescu O (2016) Rainfall variability and trend analysis of annual rainfall in North Africa. Int J Atmos Sci 7230450. https://doi.org/10.1155/2016/7230450

Özsoy T, Örnektekin S (2009) Trace elements in urban and suburban rainfall, Mersin, northeastern Mediterranean. Atmos Res 94:203–219

Pongkiatkul P, Oanh NTK (2007) Assessment of potential long-range transport of particulate air pollution using trajectory modelling and monitoring data. Atmos Res 85:3–17

Reid NW (2014) Addendum to: "a global assessment of precipitation chemistry and deposition of sulfur, nitrogen, sea salt, base cations, organic acids, acidity and pH, and phosphorus". Atmos Environ 93:101–116

Reimann C, De Caritat P (2005) Distinguishing between natural and anthropogenic sources for elements in the environment: regional geochemical surveys versus enrichment factors. Sci Total Environ 337:91–107

Ridame C, Guieu C, Loye-Pilot MD (1999) Trend in total atmospheric deposition fluxes of aluminium, iron, and trace metals in the northwestern Mediterranean over the past decade (1985–1997). J Geophys Res 104:127–138

Safai PD, Rao PSP, Momin GA, Ali K, Chate DM, Praveen PS (2004) Chemical composition of precipitation during 1984-2002 at Pune, India. Atmos Environ 38:1705–1717

Soni VK, Kannan PS, Ghanekar SG, Ravindran U, Gaikwad AN, Lohogaonkar SM, Deshmukh ARK (2006) Long-term variation in chemical composition of precipitation and wet deposition of major ions at Minicoy and Portblair: islands in Arabian Sea and Bay of Bengal. Mausam 57(3):489–498

Souza D Z, Vasconcellos P C, Lee H, Aurela M, Saarnio K, Teinilä K, Hillamo R (2014) Composition of PM2.5 and PM10 Collected at Urban Sites in Brazil. Aerosol and Air Quality Research 14:168–176.

Tagorti MA, Essefi E, Touir J, Guellala R, Yaich C (2013) Geochemical controls of groundwaters upwelling in saline environments: case study the discharge playa of Sidi El Hani (Sahel, Tunisia). J Afr Earth Sci 86:1–9

Takahashi A, Fujita SI (2000) Long-term trends in nitrate to non-sea-salt sulfate ratio in precipitation collected in western Japan. Atmos Environ 34:4551–4555

Teixeira EC, Migliavacca D, Filho SP, Machado ACM, Dallarosa JB (2008) Study of wet precipitation and its chemical composition in south of Brazil. An Acad Bras Cienc 80:381–395

Tramblay Y, El Adlouni S, Servat E (2013) Trends and variability in extreme precipitation indices over Maghreb countries. Nat Hazard Earth Sys 13:3235–3248

US EPA (1999) SW-846 reference methodology: method 3050 B. Standard operating procedure for the digestion of soil/sediment samples using a hotplate/beaker digestion technique, Chicago

Uygur N, Karaca F, Alagha O (2010) Prediction of sources of metal pollution in rainwater in Istanbul, Turkey using factor analysis and long-range transport models. Atmos Res 95:55–64

Vert R, Artz RS, Carou S, Shaw M, Ro C, Aas W, Baker A, Bowersox VC, Dentener F, Galy-Lacaux C, Hou A, Pienaar JJ, Gillett R, Forti CM, Gromov S, Hara H, Khodzher T, Mahowald NM, Nickovic S, Rao PSP, Reid NW (2014) A global assessment of precipitation chemistry and deposition of sulfur, nitrogen, sea salt, base cations, organic acids, acidity and pH, and phosphorus. Atmos Environ 93:3–100. https://doi.org/10.1016/j.atmosenv.2013.10.060

Zhang M, Wang S, Wu F, Yuan X, Zhang Y (2007) Chemical compositions of wet precipitation and anthropogenic influences at a developing urban site in southeastern China. Atmos Res 84:311–322

Zhang N, He Y, Cao J, Ho K, Shen Z (2012) Long-term trends in the chemical composition of precipitation at Lijiang, southeast Tibetan plateau, southwestern China. Atmos Res 106:50–60

Zhuang M Z, Yang H B, Wang J, Huang S, Cao C, Zhang X M (2006) Characterization of chemical species in aerosols in Xiamen. Xiamen Science 3:42–44.
Acknowledgements
The authors of this paper would like to express their thanks to Doctor Fathi Bourmech, Ph.D. from University of Sfax, Faculty of Letters and Humanities for proofreading the current version of this study.
Ethics declarations
Conflict of interest
The authors declare that they have no conflict of interest.
Additional information
Responsible Editor: Broder J. Merkel
About this article
Cite this article
Chabbi, I., Bahloul, M., Dammak, R. et al. Wet deposition of major ions and trace elements in rural and coastal-urban sites in Monastir Region, Eastern Tunisia. Arab J Geosci 13, 51 (2020) doi:10.1007/s12517-019-5014-8
Received:

Accepted:

Published:
Keywords
Monastir (Tunisia)

Wet deposition

Anthropogenic sources

Rainy events type

Regional meteorology