Samenvatting
Een meisje van 8 jaar wordt verwezen naar de afdeling Radiologie van ACTA. De verwijzende collega had palatinaal van de 11 en 21 een tandstructuur opgemerkt (afbeelding 1). Er is geen sprake van een medisch belastende anamnese
Een meisje van 8 jaar wordt verwezen naar de afdeling Radiologie van ACTA. De verwijzende collega had palatinaal van de 11 en 21 een tandstructuur opgemerkt
(afbeelding
1
)
. Er is geen sprake van een medisch belastende anamnese. Het meisje heeft last van dit extra tandje omdat het occlusiestoornissen veroorzaakt. De meest voor de hand liggende behandeloptie was extractie, maar de vraag is of het hier om een losliggend boventallig element (een mesiodens) gaat of dat er een verbinding (fusie) bestaat met de 21. Op het verwijsformulier werd gevraagd of het hier verantwoord is om een Conebeam CT-opname te maken. Er zijn van dit gebied in de mond van het meisje niet eerder röntgenopnamen gemaakt.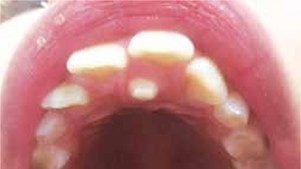 Onze vraag aan u is
Welke diagnose stelt u op basis van het intraorale beeld?

Is hier aanvullende (röntgen)diagnostiek nodig, en zo ja wat voor opname(n) zou u willen maken?
Zie voor onze conclusies pagina 52 van dit nummer.
Copyright information
© Bohn Stafleu van Loghum is een imprint van Springer Media B.V., onderdeel van Springer Nature 2018