A comparison of privacy issues in collaborative workspaces and social networks
Abstract
With the advent of Web 2.0, numerous social software applications allow people to publish and share information on the Internet. Two of these types of applications – collaborative workspaces and social network sites – have a number of features in common, which are explored to provide a basis for comparative analysis. This basis is extended with a suitable definition of privacy, a sociological perspective and an applicable adversary model in order to facilitate an investigation of similarities and differences with regard to privacy threats. Practical examples are derived from the use of Wikipedia and Facebook. Analysis suggests that a combination of technical, legal, and normative solutions should be considered to counter privacy issues. A number of potential solutions that may mitigate these issues are proposed.
Keywords
Collaborative workspaces 
Comparison 
Facebook 
Privacy 
Privacy issues 
Social network sites 
Social software 
Wikipedia 
Introduction
With the advent of the so-called Web 2.0 social software applications gain more and more users. People actively participate in discussions and the creation of content on the Internet. They create profiles with personal data and manage their relationships on the Web. This offers a variety of possibilities to make new friends and business connections, to share knowledge and to get support from an online community. In the process, users leave more and more information traces online, which may cause privacy issues. This insight is not new, and much research is carried out investigating this topic (e.g. Grimmelmann 2009, Gross et al. 2005, Hogben 2007, Wong 2008).
As part of the European Community's Seventh Framework Programme (FP7/2007–2013), one of the topics of the PrimeLife project is the investigation of privacy issues of collaborative workspaces and social network sites (PrimeLife 2008). Both types of platform have a number of elements in common. People participating in these platforms provide and adapt content, and divulge personally identifiable information in the process, thus leading to (potential) privacy issues. This paper investigates whether and to what extent social networks and collaborative workspaces can be treated equally when trying to solve privacy threats, and suggests a number of potential solutions that may mitigate these issues. The scope of the analysis is relatively general, as it is not the objective to solve one particular privacy problem with one specific solution. Rather, the goal is to outline possible types of solutions that may be considered based on the particular features of collective workspaces and social network sites.
The structure of the paper is as follows. After a brief introduction of social software, we focus on the similarities and differences between collaborative workspaces and social network sites. This description of general features is supplemented with a suitable definition of privacy, a sociological perspective and an applicable adversary model in order to have a theoretical basis for the comparison of both types of social software. The mainstay of the paper is formed by an analysis of the privacy issues arising in collective workspaces and social network sites, and it concludes with a number of suggested improvements.
Social software
The term social software characterises infrastructures, platforms and applications that enable users to communicate, collaborate and coordinate themselves via networks, to establish and maintain relationships and thus in some way map social aspects of real life to an online environment. Schmidt defines social software as web-based applications that support management of information, relationships and representation of one's self to (a part of) the public in hypertextual and social networks (Schmidt
2006
). Therefore three primary functions of social software can be identified (Richter and Koch
2007
) and are indicated in Fig. 
1
:
Information Management: finding, evaluating and administration of information

Self Management: present aspects of yourself on the Internet

Relationship Management: represent and maintain contacts to others via Internet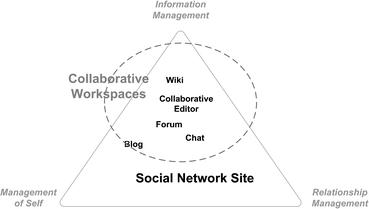 Considering these functional differences, we distinguish between different types of social software applications. On the one hand we consider collaborative workspaces, which encompass applications that are primarily focused on documents that are created in a collaborative manner (Panoke-Babatz and Syri 1997), and that aim to support information management (cf. top corner of the triangle in Fig. 1). Technical systems that can be used for establishing collaborative workspaces are wikis, collaborative real-time editors, forums, chats, weblogs, or further groupware systems. A well-known example of collaborative workspaces realised by a wiki system is Wikipedia (Wikipedia 2008a). On the other hand we find social network sites (e.g. Facebook (Facebook 2008a), LinkedIn (LinkedIn 2009), Hyves (Hyves 2009), MySpace (MySpace 2009)), which stress the self-portayal of social network site members, and the management of the relations between them (boyd and Ellison 2007). Social network applications are therefore positioned in the middle between the lefthand and the righthand corner towards the bottom of the triangle (cf. Fig. 1).
Differences and similarities between collaborative workspaces and social network sites
Social network sites and collaborative workspaces both aim at supporting users in online collaborations; however they follow two different approaches.
The essential feature of a social network site is the provision of user profiles and connections between them (c.f. relationship management in Fig. 1). It is focused on the individual, and users can create additional content—usually related to their profiles (private messages, listed groups, wall)—to present themselves within a group of connections. Collaborative workspaces work the other way around. The key functionality in this case is the collaborative editing and creating of contents (c.f. information management in Fig. 1). The co-authors in a collaborative workspace form a social network, but this social network is not the essence of the collaborative workspace: the focal point is the jointly created content, whereas the value of a social network site lies in the network itself.
Table 
1
provides an overview about features that both types of applications have in common and points out differences and similarities in realisation.
Table 1
Comparison of features for collaborative workspaces and social network sites
 

Collaborative workspaces

Social network sites

"Content is important."

"The network, supported by user information and relationships, is important."

Content Creation and Management

Collaborative creation and editing of content is the key feature.

Subordinate feature.

User Administration

Subordinate feature.

Management of user profiles and their connections is the key feature.

Access Control

If restricted, AC to documents is identity-based, depending on the goal of the document and the knowledge of the user.

If restricted, AC to profiles is relationship-based, depending on the connection between the user and the profile owner.

History Service

User gets newest version per default, all former versions of content may also be available.

User gets only current version of others profiles and connections. Providers may have former versions stored in databases.

Event Service

Users can be informed, in case of changes on certain contents or when new content is available.

Users can be informed, in case of changes on certain contents or when new content is available.
The first two features—Content Creation and Management and User Administration—are inversely important for the particular applications. Theoretically, collaborative workspaces can be realised only with features for creating and managing content and without any user administration. For example, a wiki system can allow everybody to read and modify all articles without any restriction. Vice versa an application that allows people to create profiles and indicate connections fulfils all mandatory requirements of a social network site without providing additional features for communication and producing content in addition. Access Control, History Services and Event Services are realised slightly differently in current applications from both types. In any case, these features are subordinate functionalities.
Collaborative workspaces and social network sites are both automated tools to support interactions between participants. The underlying goals of these interactions may vary considerably. Members who have an account on a social software application aim to maintain social connections or to share information with others. In order to become part of such a community, it is necessary to disclose at least some personal data that shows who you are, what skills you have and what you are interested in. This disclosure is facilitated directly by profile pages that contain basic information, such as name and age, but also other identity related data, like hobbies and interests, images, and personal opinions as expressed in blogs. Further, personal data is indirectly disclosed when content is provided by the user. This encompasses semantically included information, e.g. someone who writes his real name or place of residence in a forum, as well as writing style, habits of technology usage and other information. The digital availability of this data leads to potential privacy risks, since copying of data and tracing of users is simple and data, once disclosed, is out of control of the data supplier.
Investigating informational privacy in social software
When discussing the privacy aspects of collaborative workspaces and social network sites, an appropriate definition of privacy is indispensable. We limit ourselves to informational privacy, which can be defined as the freedom from unreasonable constraints on the construction of one's own identity (Agre and Rotenberg 1997). The availability of personal information in the hands of unintended others may cause such constraints, which calls for equipping the user with control over his personal data in order to minimise misuse of information. The ability of the user to actively influence the access to and the use of his personal information is key.
This can be interpreted with a strictly technical focus, which would imply that all privacy issues would be solved when the necessary technical requirements have been met and implemented. The observed disparity between expressed data protection attitudes and actual behaviour (e.g. Norberg et al. 2007, Oomen and Leenes 2007) already limits the potential of technical solutions to absolve all privacy issues. In practice, there are other matters that have to be considered if privacy is to be respected. The first of these are applicable legal rules, such as the Terms of Use of a particular platform, or relevant data protection legislation. Another essential type of rules are social norms that apply to social software implementations. The sociological perspective is discussed below.
Sociological perspective
When interacting with other people or organisations, every individual plays a role that is appropriate in a particular situation. The behaviour of someone who is surrounded by close family members may differ substantially from the one displayed at work when interacting with colleagues or management. According to Goffman it depends on the context what part of one's identity someone is prepared to show to the environment, where it is essential to keep these contexts separate: the term 'audience segregation' is coined for this phenomenon. Audience segregation can be defined as the ability of the user to have different partial identities to play different roles and portray the self to others in a way he chooses (Goffman 1959). Thanks to the careful segregation of the different audiences, the partial identities can be allowed to co-exist. Rachels states that this audience segregation "is an essential characteristic of modern (western) societies and allows for different kinds of social relationships to be established and maintained" (Rachels 1975).
The sociological theory concisely introduced above was drafted long before the advent of social network sites or collaborative workspaces, but the concepts hold up well online. On social network sites, the user profile is the image someone presents to his environment, and it forms the basis for his interactions with the other members of the social network site. However, the image someone presents is often only directed at a certain audience (e.g. someone's closest friends), and may cause embarrassment when accessed by others. The theory behind context segregation and the risk of collapsing contexts form a powerful means to analyse the privacy issues in both social network sites and collaborative workspaces.
Another sociological perspective deals with the specific norms users of social software bring to the table. It was theorised that every social network comes with its own set of social norms (Tönnies 1965). Actions of members of these networks are based on assumptions about the norms that regulate the interactions. The mismatch between the user's expectation of social norms and the existing practices in a particular network or workspace could be another source of arising privacy issues. The extent to which stakeholders in a network or workspace act in accordance with the normative expectations of other stakeholders forms a useful basis for analysis.
Adversaries
To structurally assess potential privacy threats, we have to establish what entities are exactly threatening the privacy of the users of social network sites and collaborative workspaces. Knowledge about the application and the available options to observe and control data flows differs depending on the type of adversary (Evans et al. 2004). Another aspect that needs consideration is whether it can be assumed that all parties 'play by the rules', i.e. only perform actions that they are allowed to do according to the technical protocols, social norms or legal rules. It is necessary to distinguish between privacy issues arising from authorised access to personal data (i.e. in compliance with the law, with social norms and/or with technical protocols) and access against these conditions (Schultz 2002). Examples of the latter are hacks of personal profiles, or use of offered services contrary to the conditions set out in the Terms of Use. In order to circumvent technical protocols, adversaries will need some computing expertise, whereas legal rules and social norms do not require any special knowledge or skills. Quite the opposite is the case, since violations of the law or social norms can also be unintentional and simply due to ignorance.
To structure our work, we define three types of adversaries which may infringe user privacy. These adversaries are:
Third parties are people and organisations who have no user account and therefore have no or only minimal access to the system. They can legitimately only access publicly available data and are therefore considered to have only minimal knowledge about the application and its members.
Other users in the role of an adversary have an account for the collaborative workspaces or the social network site and a similar or higher level of legitimate knowledge about the application as third parties.
Providers of the collaborative workspaces/social network site application
Providers of the collaborative workspaces or social network site are insiders with the most comprehensive insight in the application since they are the ones who are responsible for implementation, delivery and maintenance of the software.
Privacy issues in collaborative workspaces and social network sites
Since it is not possible to take into consideration all available social network sites and collaborative workspaces, we have done a detailed analysis of potential privacy issues in Wikipedia (Wikipedia 2008a) as a popular example of collaborative workspaces and Facebook (Facebook 2008a) as well known instance of a social network site. The following sections discuss similarities and differences with regard to privacy issues that we found for both applications, viewed from the perspective of the three different adversary types.
Suggested improvements
Because of the high degree of similarity between the privacy issues originating from the use of both collaborative workspaces and social network sites, it is likely that a number of potential improvements will be applicable to both platforms. This section discusses a number of potential improvements that help to mitigate a number of privacy issues in collaborative workspaces and social network sites.
Technical improvements
Technical instruments are the only means that cannot be simply ignored or violated accidentally as may happen with social norms and legal rules. The improvements suggested below aim to limit the possibilities adversaries have to gain access to information without compromising technical security measures. Possible solutions include—but are not limited to—the following mechanisms and protocols.
Social improvements
Although technical and cryptographic measures can serve to form a security baseline, they come along with constraints for primary functions and convenience of use. In social network sites and collaborative workspaces many privacy issues have non-technical causes, i.e. adversaries disregard social norms—by accident or intentionally. Especially since there is growing evidence that users will not use technical security measures if these hamper the full social use of the applications (Grimmelmann
2009
), we also have to look at social improvements, which are outlined in short in the following.
Often users are not aware of the pervasiveness of information entrusted to social network sites and collaborative workspaces. Increasing users' awareness of these issues is an option to be considered. Numerous methods may be employed here, ranging from classroom based education efforts to online tools visually presenting the unabridged flow of information through online networks and workspaces.
As we have seen one of the main causes for privacy issues is that personal information from one context is shifted to a new context without the consent of the user. On top of that, the user has lost control of the use of her personal information in this new context, quite often because she is not even aware of the information shift. There is a distinct lack of shared social norms concerning the acceptability of the use of personal information in new contexts. It will be a challenge to facilitate the forming and the acceptance of social norms in collaborative workspaces and social network sites. The Wikipedia community denotes a good example for the development of social norms in collaborative workspaces. Having no rules before 2001, the community since then discussed and introduced a set of policies and guidelines that serve as standards or advisory, respectively (Wikipedia 2009).
Legal improvements
Until today, legal instruments have been at the core of privacy protection measures that govern social network sites and collaborative workspaces. The user has to agree with the Terms of Use at the moment of initial registration. In practice, however, these legal provisions are incomprehensible to the average user.
Instead of only focusing on the legal framework presented by the platform provider for improvements, it may be worthwhile to explore the wider legal landscape in addition. Intellectual property legislation, portrait rights or general privacy protection legislation may serve as alternative bases to prevent privacy issues in the future.
Conclusions and future work
This paper compared Wikipedia as an example of a collaborative workspace and Facebook as an example of a social network site. Similarities and differences concerning privacy issues of both social software applications have been identified. In general, the issues we have found arise mainly due to collapsing contexts, i.e. users' personal data used in contexts other than the original and intended one. The finding that social software lacks fine-grained and user-determined access control options aggravates this source of privacy issues.
Serious privacy issues are not only the result of the breach of technical implementations, but may also be brought about through the disregard of social norms and legal provisions. Therefore we conclude that solutions to address privacy issues in social software can neither be only technical, nor only legal, nor only based on upholding certain social norms: it is necessary to find a comprehensive approach. A combination of all three areas is needed in order to improve privacy protection on the one hand without losing important functionalities on the other hand, whilst safeguarding the social usability of the application for the average user. These aspects are considered by the PrimeLife project (PrimeLife 2008) and will be topic of our future research.
Notes
Acknowledgements
The research leading to these results has received funding from the European Community's Seventh Framework Programme (FP7/2007–2013) under grant agreement no. 216483(PrimeLife 2008).
Open Access
This article is distributed under the terms of the Creative Commons Attribution Noncommercial License which permits any noncommercial use, distribution, and reproduction in any medium, provided the original author(s) and source are credited.