Abstract
We explore the human affective state of the familiar during a new or unknown situation as it relates to interacting with a robot. In a real unannounced interaction, we measure the familiar experienced by two humans interacting with a robot and the intensity and adequacy of their response to its proactive social (greetings) and practical (task to fulfill) actions. We investigate the participants' response to three non-verbal actions performed by the robot NAO: greeting hello (social), handing a questionnaire to the participant (practical), and greeting goodbye (social). We analyze the participants' reactions to the robot's actions, the motion of their arms, and their answers to some parts of a questionnaire designed to measure their experience of the familiar and the robot's sociability. We show that (1) the higher the familiar is experienced while interacting with the robot, the more participants responded to its practical action; no similar interdependency was found regarding its social actions; (2) the change of behavior of the robot between participants had no significant effect on the familiar experienced nor on the readiness to respond to the robot; (3) the higher the appreciation of the robot's sociability, the more intense was the human movement when responding to the social actions; no similar interdependency was found for the practical action; and (4) the more the participants responded adequately to the robot in a practical action, the more they responded to its social actions.
This is a preview of subscription content, log in to check access.
Access options
Buy single article
Instant unlimited access to the full article PDF.
US$ 39.95
Price includes VAT for USA
Subscribe to journal
Immediate online access to all issues from 2019. Subscription will auto renew annually.
US$ 99
This is the net price. Taxes to be calculated in checkout.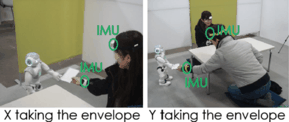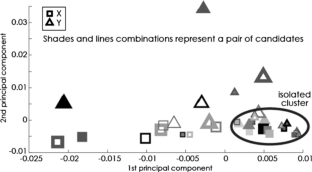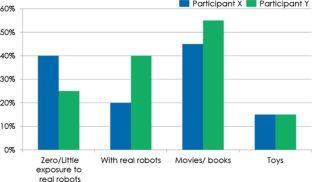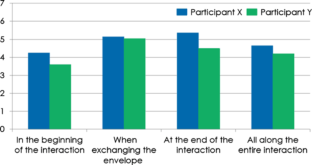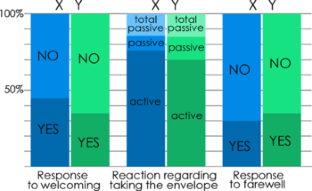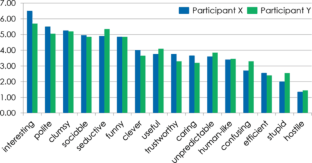 References
1.

Lee EJ (2008) Flattery may get computers somewhere, sometimes: the moderating role of output modality, computer gender, and user gender. Int J Hum-Comput Stud 66:789–800

2.

Turkle S (2006) A nascent robotics culture: new complicities for companionship. AAAI technical report series, July 2006

3.

Lee N, Shin H, Shyam Sundar S (2011) Utilitarian vs hedonic robots, role of parasocial tendency and anthropomorphism in shaping user attitudes. In: Int conf on human-robot interaction, pp 183–184

4.

Fischer K (2011) Interpersonal variation in understanding robots as social actors. In: Proc int conf human-robot interaction, pp 53–60

5.

Walters ML, Syrdal DS, Koay KL, Dautenhahn K, Boekhorst R (2008) Human approach distances to a mechanical-looking robot with different robot voice styles. In: Proceedings of the 17th IEEE int symp on robot and human interactive communication, pp 707–712

6.

Fanaswala I, Browning B, Skar M (2011) Interactional disparities in English and Arabic native speakers with a bi-lingual robot receptionist. In: Int conf on human-robot interaction

7.

Takano E, Chikaraishi T, Matsumoto Y, Nakamura Y, Ishiguro H, Sugamoto K (2009) Psychological effects on interpersonal communication by bystander android using motions based on human-like needs. In: IEEE/RSJ int conf on intelligent robots and systems, pp 3721–3726

8.

Zitzewitz J, Boesch P, Wolf P, Riener R (2013) Quantifying the human likeness of a humanoid robot. Int J Soc Robot 5:263–276

9.

Mori M (1970) Bukimi No Tani (The Uncanny Valley). Energy 7(4):33–35

10.

Hall L, Woods S, Sobral D, Paiva A, Dautenhahn K, Paiva A, Wolke D (2004) Designing empathic agents: adults vs kids. In: Int conf on intelligent tutoring systems, pp 125–126

11.

MacDorman K, Ishiguro H (2006) The uncanny advantage of using androids in cognitive and social science research. Interact Stud 7(3):297–337

12.

Bethel CL, Murphy RR (2006) Affective expression in appearance-constrained robots. In: Proc of ACM SIGCHI/SIGART conf on human robot interaction, pp 327–328

13.

Hanson D, Olney A, Pereira IA, Zielke M (2005) Upending the uncanny valley. In: Proc of the American association for artificial intelligence (WS-05-11)

14.

Bartneck C, Kanda T, Ishiguro H, Hagita N (2009) My robotic doppelganger—a critical look at the uncanny valley theory. In: Proceedings of the 18th IEEE international symposium on robot and human interactive communication (RO-MAN2009), Toyama, pp 269–276

15.

Canamero L (2002) Playing the emotion game with Feelix: what can a LEGO robot tell us about emotion? In: Edmonds B (ed) Socially intelligent agents: creating relationships with computers and robots, pp 69–76

16.

Brenton H, Gillies M, Ballin D, Chattin D (2005) The uncanny valley: does it exist? In: Proceedings of conference of human computer interaction, workshop on human animated character interaction

17.

Salvini P, Laschi C, Dario P (2010) Design for acceptability: improving robot's coexistence in human society. Int J Soc Robot 2:451–460

18.

Enz S, Diruf M, Spielhagen C, Zoll C, Vargas A (2011) The social role of robots in the future-explorative measurement of hopes and fears. Int J Soc Robot 3:263–271

19.

Baddoura R, Matuskata R, Venture G (2012) The familiar as a key-concept in regulating the social and affective dimensions of HRI. In: Proc IEEE/RAS int conf on humanoid robots, pp 234–241

20.

Joy B (2000) Why the future doesn't need us. Wired 804 Mag

21.

Sabelli AM, Kanta T, Hagita N (2011) A conversational robot in an elderly care center, an ethnographic study. In: Int conf on human-robot interaction, pp 37–44

22.

Freud S (2005) The uncanny (das Unheimliche, 1919). Penguin Books, London

23.

Jentsch E (1906) On the psychology of the uncanny (zur Psychologie des Unheimlichen). Psychiatr-Neurol Wochenschr, 195–198

24.

Baddoura R, Zhang T, Venture G (2013) Experiencing the familiar, understanding the interaction and responding to a robot proactive partner. In: Proc ACM/IEEE Int Conf on Human-Robot Interaction, Tokyo, Japan, pp 247–248

25.

Hess E (1958) "Imprinting" in animals. In: Psychobiology: the biological basis of behavior, pp 107–112

26.

Zajonc R (1968) Attitudinal effects of mere exposure. J Pers Soc Psychol 9(2):1–27

27.

Miller R (1976) Mere exposure, psychological reactance and attitude change. J Abnorm Soc Psychol 59:1–9

28.

Weiss A, Bernhaupt R, Tscheligi M, Wollherr D, Kuhnlenz K, Buss M (2008) A methodological variation for acceptance evaluation of human-robot interaction in public places. In: IEEE int symp on robot and human interactive communication, pp 713–718

29.

Gillespie DL, Leffler A (1983) Theories of non-verbal behavior: a critical review of proxemics research. Sociol Theory 1983(1):120–154

30.

Powers A, Kiesler S (2006) The advisor robot: tracing people's mental model from a robot's physical attributes. In: Conference on human-robot interaction, pp 218–225

31.

Powers A, Kramer A, Lim S, Kuo J, Lee S, Kiesler S (2005) Eliciting information from people with a gendered humanoid robot. In: Proc IEEE int workshop robot and human interactive communication, pp 158–163

32.

Eyssel F, Hegel F, Horstmann G, Wagner C (2010) Anthropomorphic inferences from emotional nonverbal cues: a case study. In: Proc IEEE int symp in robot and human interactive communication, pp 681–686

33.

Park E, Kong H, Lim H-T, Lee H, You S, del Pobil A (2011) The effect of robot's behavior vs appearance on communication with humans. In: Int conf on human-robot interaction, pp 219–220

34.

Epley N, Waytz A, Cacioppo JT (2007) On seeing human: a three-factor theory of anthropomorphism. Psychol Rev 114:864–886

35.

Luczak H, Rötting M, Schmidt L (2003) Let's talk: anthropomorphization as means to cope with stress of interacting with technical devices. Ergonomics 46:1361–1374

36.

Eyssel F, Kuchenbrandt D, Bobinger S (2011) Effects of anticipated human-robot interaction and predictability of robot behavior on perceptions of anthropomorphism. In: Int conf on human-robot interaction, pp 61–67

37.

Hirschman EC, Holbrook MB (1982) Hedonic consumption: emerging concepts, methods and propositions. J Mark 46:92–101

38.

Weiss A, Bernhaupt R, Tscheligi M, Yoshida E (2009) Addressing user experience and societal impact in a user study with a humanoid robot. In: Proc symp new frontiers in human-robot interaction, pp 150–157

39.

Zhang T, Venture G (2012) Individual recognition from gait using feature value method. Cybern Inf Technol 12:86–95

40.

Hinds PJ, Roberts TL, Jones H (2004) Whose job is it anyway? A study of human-robot interaction in a collaborative task. Hum-Comput Interact 19:151–181

41.

Cowley S, Kanda T (2005) Friendly machines: interaction-oriented robots today and tomorrow. Alternation 12:76–106
Acknowledgements
We mostly wish to thank Dr. Marie Krempf for her enthusiastic and valuable help as well as all the GV lab students, Tokyo Univ. of Agriculture and Technology, Japan.
Electronic Supplementary Material
Below is the link to the electronic supplementary material.
About this article
Cite this article
Baddoura, R., Venture, G. Social vs. Useful HRI: Experiencing the Familiar, Perceiving the Robot as a Sociable Partner and Responding to Its Actions. Int J of Soc Robotics 5, 529–547 (2013). https://doi.org/10.1007/s12369-013-0207-x
Accepted:

Published:

Issue Date:
Keywords
Social human robot interaction

Affective state

Assistive robot

Domestic robot

Mathematical modeling