Abstract
Background
99mTc-HMDP scintigraphy has proved its efficacy in non-invasive diagnosis of cardiac amyloidosis (CA) and is currently interpreted according to the Perugini qualitative assessment. Several semi-quantitative indices have been proposed to overcome inherent possible limitations of visual grading. Our aim was to comparatively evaluate six different indices and their diagnostic performance.
Methods
We retrospectively reviewed scintigraphy of 76 patients (53 ATTR, 12 AL, 11 LVH) who underwent diagnostic evaluation at our centre. ROC-curve analysis was performed to identify optimal cut-off and relative diagnostic accuracy of six different indices (of which one was proposed for the first time), both in identifying CA patients and in discriminating patients according to their Perugini score.
Results
Heart/Whole-body ratios proved to be the most accurate (100%) in identifying CA patients. Heart/Pelvis ratio (with soft tissue background correction) offered acceptable accuracy (98%), with the largest area under the curve (AUC) (0.98) in discriminating patients with Perugini ≥ 2. Heart/Contralateral Lung ratio confirmed to be exposed to confounding background noise in case of simultaneous lung uptake. Heart/Skull ratio had the worst performance, with six false-negative patients in ATTR identification.
Conclusion
Heart/Whole-body ratios may be robust and effective semi-quantitative indices for the evaluation of CA by means of scintigraphy
This is a preview of subscription content, log in to check access.
Access options
Buy single article
Instant unlimited access to the full article PDF.
US$ 39.95
Price includes VAT for USA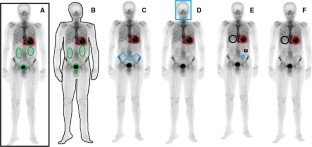 Abbreviations
H/WBr:

Heart/whole-body rectangular ROI ratio

H/WBp:

Heart/whole-body profile ROI ratio

H/P:

Heart/Pelvis Index

H/S:

Heart/Skull Index

H/P-bkg:

Heart/pelvis ratio with tissue background correction

H/CL:

Heart/contralateral lung ratio

99mTc-HMDP:

99mTc-Hydroxymethylene diphosphonate

99mTc-DPD:

99mTc-3,3-diphosphono-1,2-propanodicarboxylic acid

99mTc-PYP:

99mTc-Pyrophosphate
References
1.

Perfetto F, Cappelli F, Bergesio F, Ciuti G, Porciani MC, Padeletti L. Moggi pignone a cardiac amyloidosis: The heart of the matter. Intern Emerg Med 2013;8:191-203.

2.

Perugini E, Guidalotti PL, Salvi F, Cooke RM, Pettinato C, Riva L, et al. Noninvasive etiologic diagnosis of cardiac amyloidosis using 99 mTc-3,3-diphosphono-1,2-propanodicarboxylic acid scintigraphy. J Am Coll Cardiol 2005;46:1076-84.

3.

Rapezzi C, Quarta CC, Guidalotti PL, Pettinato C, Fanti S, Leone O, et al. Role of (99m)Tc-DPD scintigraphy in diagnosis and prognosis of hereditary transthyretin related cardiac amyloidosis. JACC Cardiovasc Imaging 2011;4:659-70.

4.

Longhi S, Guidalotti PL, Quarta CC, Gagliardi C, Milandri A, Lorenzini M, Potena L, et al. Identification of TTR related subclinical amyloidosis with 99mTc-DPD scintigraphy. JACC Cardiovasc Imaging 2014;7:531-2.

5.

Hutt DF, Quigley AM, Page J, Hall ML, Burniston M, Gopaul D, et al. Utility and limitations of 3,3-diphosphono-1,2-propanodicarboxylic acid scintigraphy in systemic amyloidosis. Eur Heart J Cardiovasc Imaging. 2014;15:1289-98.

6.

Bokhari S, Castano A, Pozniakoff T, Deslisle S, Latif F, Maurer MS. (99m)Tc-pyrophosphate scintigraphy for differentiating light-chain cardiac amyloidosis from the transthyretin-related familial and senile cardiac amyloidoses. CircCardiovasc Imaging 2013;6:195-201.

7.

Hongo M, Hirayama J, Fujii T, Kinoshita O, Tanaka M, Okubo S. Early identification of amyloid heart disease by technetium-99m-pyrophosphate scintigraphy: a study with familial amyloid polyneuropathy. Am Heart J 1987;113:654-62.

8.

Wizenberg TA, Muz J, Sohn YH, Samlowski W, Weissler AM. Value of positive myocardial technetium-99m-pyrophosphate scintigraphy in the noninvasive diagnosis of cardiac amyloidosis. Am Heart J 1982;103:468-73.

9.

Glaudemans AW, van Rheenen RW, van den Berg MP, Noordzij W, Koole M, Blokzijl H, et al. Bone scintigraphy with (99m)technetium-hydroxymethylene diphosphonate allows early diagnosis of cardiac involvement in patients with transthyretin-derived systemic amyloidosis. Amyloid 2014;21:35-44.

10.

Galat A, Rosso J, Guellich A, Van Der Gucht A, Rappeneau S, Bodez D, Guendouz S, et al. Usefulness of (99m)Tc-HMDP scintigraphy for the etiologic diagnosis and prognosis of cardiac amyloidosis. Amyloid 2015;22:210-20.

11.

Cappelli F, Gallini C, Di Mario C, Costanzo EN, Vaggelli L, Tutino F, Ciaccio A, Bartolini S, Angelotti P, Frusconi S, Farsetti S, Vergaro G, Giorgetti A, Marzullo P, Genovesi D, Emdin M, Perfetto F. Accuracy of 99mTc-Hydroxymethylene diphosphonate scintigraphy for diagnosis of transthyretin cardiac amyloidosis. J Nucl Cardiol 2017.

12.

Pradel S, Brun S, Victor G, Pascal P, Fournier P, Ribes D, Lavie-Badie Y, Galinier M, Carrià D, Berry I, Lairez O; Toulouse Amyloidosis Research Network collaborators. Pattern of myocardial (99m)Tc-HMDP uptake and impact on myocardial function in patients with transthyretin cardiac amyloidosis. J Nucl Cardiol 2018. https://doi.org/10.1007/s12350-018-1316-6.

13.

Harb SC, Haq M, Flood K, Guerrieri A, Passerell W, Jaber WA, Miller EJ. National patterns in imaging utilization for diagnosis of cardiac amyloidosis: A focus on Tc99m-pyrophosphate scintigraphy. J Nucl Cardiol. 2017;24:1094-7. https://doi.org/10.1007/s12350-016-0478-3.

14.

Gillmore JD, Maurer MS, Falk RH, Merlini G, Damy T, Dispenzieri A, et al. Nonbiopsy diagnosis of cardiac transthyretin amyloidosis. Circulation 2016;133:2404-12.

15.

Gertz M, Merlini G. Definition of organ involvement and response to treatment in AL amyloidosis: an updated consensus opinion. Amyloid 2010;17:48-9.

16.

R.M. Lang, L.P. Badano, V. Mor-Avi, J. Afilalo, A. Armstrong, L. Ernande, et al., Recommendations for cardiac chamber quantification by echocardiography in adults: an update from the American Society of Echocardiography and the European Association of Cardiovascular Imaging, J Am Soc Echocardiogr 2015;1:39.e14.

17.

Cappelli F, Gallini C, Costanzo EN, Tutino F, Ciaccio A, Vaggelli L, Bartolini S, Morini S, Martone R, Angelotti P, Frusconi S, Di Mario C, Perfetto F. Lung uptake during 99mTc-hydroxymethylene diphosphonate scintigraphy in patient with TTR cardiac amyloidosis: An underestimated phenomenon. Int J Cardiol 2018;1:346-50. https://doi.org/10.1016/j.ijcard.2017.10.027.

18.

Rapezzi C, Gagliardi C, Milandri A. Analogies and disparities among scintigraphic bone tracers in the diagnosis of cardiac and non-cardiac ATTR amyloidosis. J Nucl Cardiol 2018. https://doi.org/10.1007/s12350-018-1235-6.

19.

Hutt DF, Fontana M, Burniston M, Quigley AM, Petrie A, Ross JC, et al. Prognostic utility of the Perugini grading of 99mTc- DPD scintigraphy in transthyretin (ATTR) amyloidosis and its relationship with skeletal muscle and soft tissue amyloid. Eur Heart J Cardiovasc Imaging 2017;18:1344-50.

20.

Sperry BW, Gonzalez MH, Brunken R, Cerqueira MD, Hanna M, Jaber WA. Non-cardiac uptake of technetium-99m pyrophosphate in transthyretin cardiac amyloidosis. J Nucl Cardiol 2018. https://doi.org/10.1007/s12350-017-1166-7.
Disclosure
The authors have no conflict of interest in this manuscript preparation.
Additional information
Publisher's Note
Springer Nature remains neutral with regard to jurisdictional claims in published maps and institutional affiliations.
The authors of this article have provided a PowerPoint file, available for download at SpringerLink, which summarises the contents of the paper and is free for re-use at meetings and presentations. Search for the article DOI on SpringerLink.com.
Electronic supplementary material
Below is the link to the electronic supplementary material.
About this article
Cite this article
Gallini, C., Tutino, F., Martone, R. et al. Semi-quantitative indices of cardiac uptake in patients with suspected cardiac amyloidosis undergoing 99mTc-HMDP scintigraphy. J. Nucl. Cardiol. (2019) doi:10.1007/s12350-019-01643-w
Received:

Accepted:

Published:
Keywords
Amyloid heart disease

SPECT

molecular imaging agents