What is this image? 2018: Image 3 result
Extramedullary hematopoiesis at unusual site detected with 99mTc-labeled RBC imaging and 18F-FLT PET/CT
Clinical History
A 29-year-old beta-thalassemic major woman on almost three weekly blood transfusions since her childhood presented with features of bicytopenia suggested by reduced RBC (3.3 million/µL), platelet (127,000/µL), and normal total leucocyte counts (5400/µL). T2* MRI performed in this patient showed iron deposition in myocardium (0.6 mg/g of dry myocardium) and liver (10.5 mg/g of dry liver).
Imaging
99m
Tc-labeled RBC equilibrium radionuclide angiocardiography (ERNA) for left ventricular function followed by whole-body imaging was done as part of departmental protocol. ERNA showed normal function (left ventricular ejection fraction of 58% and normal wall motion) with splenomegaly.
99m
Tc-labeled RBC whole-body imaging showed hypercellular marrow within the skeletal system and incidental finding of an ill-defined focus of tracer activity in the pelvis adjacent to urinary bladder (Figure
1
).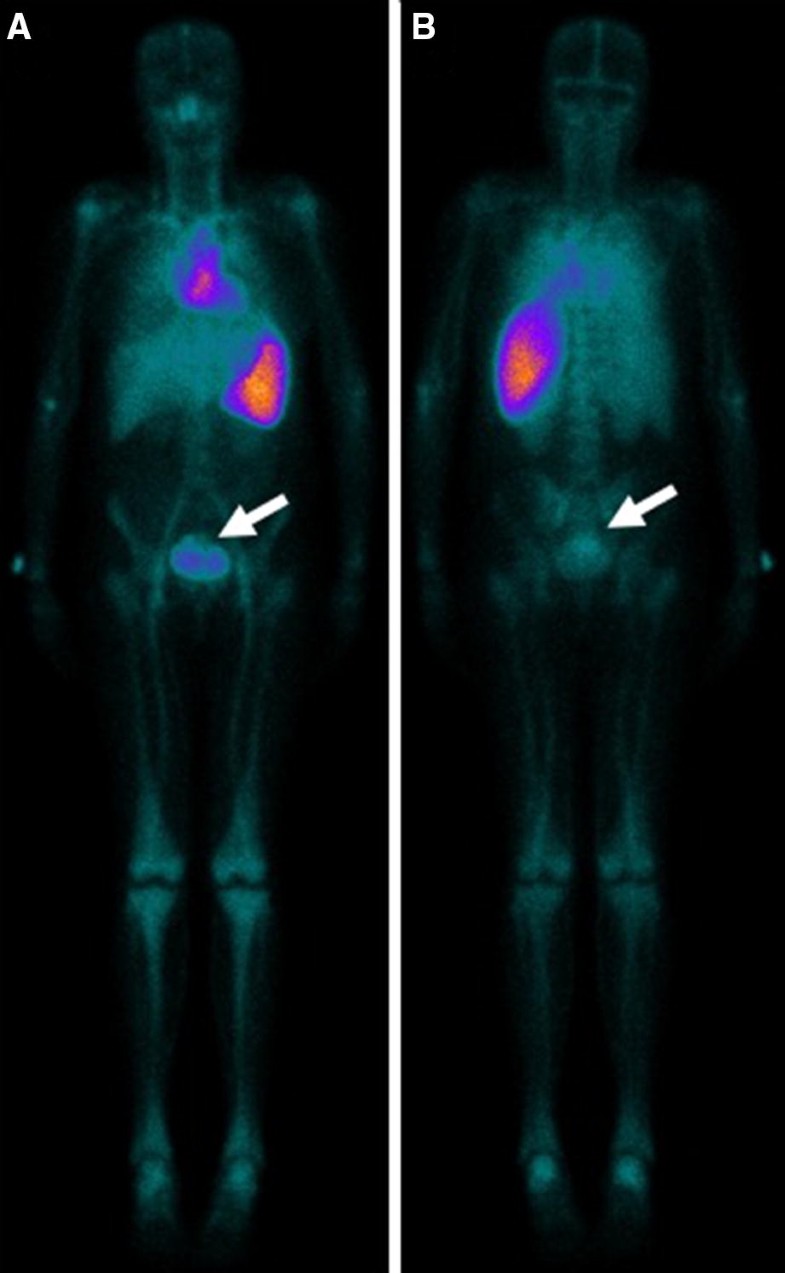 Notes
Disclosure
Drs Ashwani Sood, BR Mittal, Ganesh Kumar, Alka Khadwal, Sonia Kashyap, Harmandeep Singh, Vaishnavi Dasagrandhi have nothing to disclose. No financial support was received for the publication of this manuscript.
References
1.

van der Bruggen W, Glaudemans AWJM, Vellenga E, Slart RHJA. PET in benign bone marrow disorders. Semin Nucl Med 2017;47:397-407.

CrossRef

Google Scholar

2.

Zade A, Purandare N, Rangarajan V, Shah S, Agrawal A, Ashish J, et al. Noninvasive approaches to diagnose intrathoracic extramedullary hematopoiesis:

18

F-FLT PET/CT and

99m

Tc-SC SPECT/CT scintigraphy. Clin Nucl Med 2012;37:788-9.

CrossRef

Google Scholar

3.

Agool A, Dierckx RA, de Wolf JT, Vellenga E, Slart RH. Extramedullary haematopoiesis imaging with

18

F-FLT PET. Eur J Nucl Med Mol Imaging 2010;37:1620.

CrossRef

Google Scholar
Copyright information
© American Society of Nuclear Cardiology 2018