Abstract
An 80-year-old man was admitted to our hospital for repeated tarry stools and hemorrhage. He was taking aspirin and warfarin for atrial fibrillation and obstruction of the central retinal artery. Upper gastrointestinal endoscope revealed a large blood clot at the distal duodenum; however, further insertion was difficult. Insertion of a colonoscope attached with a transparent hood from the mouth enabled the visualization of the third portion of the duodenum. It revealed a large clot, which completely blocked the diverticulum and prevented visualization of the bleeding point. It was extremely difficult to remove the clot through the use of grasping forceps due to poor vision and maneuverability. Finally, the large clot was broken off and removed completely using a snare. The diverticulum was over 20 mm, and a large volume of fresh blood was continuously gushing out from an erosion of the diverticulum. Replacing the tip of the endoscope with a short ST hood and keeping an insulating distance from the bleeding point enabled maneuvering around the steep angles, achieving hemostasis using clips. We report a case of duodenal diverticular bleeding treated endoscopically with great effort in maneuvering to remove a blood clot using snare in a difficult position.
This is a preview of subscription content, log in to check access.
Access options
Buy single article
Instant access to the full article PDF.
US$ 39.95
Price includes VAT for USA
Subscribe to journal
Immediate online access to all issues from 2019. Subscription will auto renew annually.
US$ 99
This is the net price. Taxes to be calculated in checkout.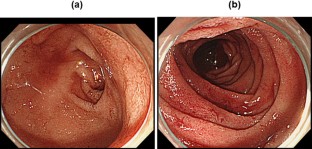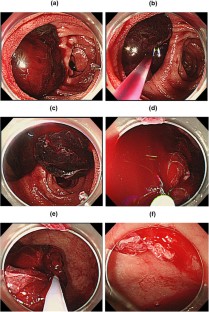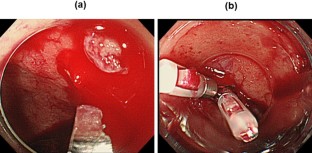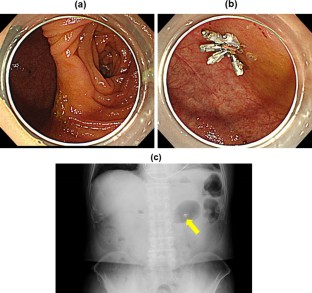 References
1.

Afridi SA, Fichtenbaum CJ, Taubin H. Review of duodenal diverticula. Am J Gastroenterol. 1991;86:935–8.

2.

Chen YY, Yen HH, Soon MS. Impact of endoscopy in the management of duodenal diverticular bleeding: experience of a single medical center and a review of recent literature. Gastrointest Endosc. 2007;66:831–5.

3.

Dalal AA, Rogers SJ, Cello JP. Endoscopic management of hemorrhage from a duodenal diverticulum. Gastrointest Endosc. 1998;48:418–20.

4.

Yin WY, Chen HT, Huang SM, et al. Clinical analysis and literature review of massive duodenal diverticular bleeding. World J Surg. 2001;25:848–55.

5.

Tomita T, Mizuno S, Moriyama M, et al. A case of the hemorrhagic duodenal diverticula successfully treated by endoscopic clipping. Prog Dig Endosc. 2012;81:116–7 (Japanese).

6.

Lapin R, Kamath ML, Engler J, et al. Massive gastrointestinal hemorrhage from duodenal diverticula. Am J Gastroenterol. 1974;610:185.

7.

Abdel-Hafiz AA, Birkett DH, Ahmed MS. Congenital duodenal diverticula: a report of three cases and a review of the literature. Surgery. 1988;104:74–8.

8.

Khandelwal M, Akerman PA, Jones WF, et al. Endoscopic therapy of a bleeding duodenal diverticulum. Am J Gastroenterol. 1995;90:1328–9.

9.

Osnes M, Lotveit T, Larsen S, et al. Duodenal diverticula and their relationship to age, sex and biliary calculi. Scand J Gastroenterol. 1981;16:103–7.

10.

Rowtands BC, King PA. Duodenal diverticulum perforating into abdominal aorta causing fatal hemorrhage. Br J Surg. 1954;41:415.

11.

Patterson RH, Bromberg B. Surgical significance of duodenal diverticula. Ann Surg. 1951;134:834.

12.

Ryan ME, Hamilton JW, Morrissey JF. Gastrointestinal hemorrhage from a duodenal diverticulum. Gastrointest Endosc. 1984;30:84.

13.

Ghahremani GG, Hietala SO. Arteriography of a bleeding duodenal diverticulum. Dig Dis. 1977;22:445.

14.

Bradham GB, Martin JB. Massive bleeding from a polyp in a duodenal diverticulum. Ann Surg. 1962;156:81.

15.

Balkissoon J, Balkissoon B, Leffall LD, et al. Massive upper gastrointestinal bleeding in a patient with a duodenal diverticulum: a case report and review of the literature. Nat Med Assoc. 1992;84:365.

16.

Callery MP, Aliperti G, Soper NJ. Laparoscopic duodenal diverticutectomy following hemorrhage. Surg Laparosc Endosc. 1994;4:134.

17.

Mosimann F, Bronnimann B. The duodenal diverticulum: an exceptional site of massive bleeding. Hepatogastroenterology. 1998;45:603.

18.

Wilhelmsen M, Andersen JF, Lauritsen ML. Severe upper gastrointestinal bleeding in extraluminal diverticula in the third part of the duodenum. BMJ Case Rep. 2014;2014:bcr2013202516.

19.

Kita H, Yamamoto H, Yano T, et al. Double balloon endoscopy in two hundred fifty cases for the diagnosis and treatment of small intestinal disorders. Inflammopharmacology. 2007;15:74–7.

20.

Manabe N, Tanaka S, Chayama K, et al. Double-balloon enteroscopy in patients with GI bleeding of obscure origin. Gastrointest Endosc. 2006;64:135–40.

21.

Muscarella LF. Endoscopic shuffling, infection control, and the clinical practice of push enteroscopy. Gastroenterol Nurs. 2007;30:109–15.

22.

de Perrot T, Poletti PA, Becker CD, et al. The complicated duodenal diverticulum: retrospective analysis of 11 cases. Clin Imaging. 2012;36:287–94.

23.

Umezawa S, Nagata N, Arimoto J, et al. Contrast-enhanced CT for colonic diverticular bleeding before colonoscopy: a prospective multicenter study. Radiology. 2018;288:755–61.

24.

Corleto VD, Di Giulio E, Delle FG. Gastrointestinal bleeding caused by giant duodenal diverticula. Clin Gastroenterol Hepatol. 2007;5:29.

25.

Ter Horst M, Boer MC, Raber MH, Klaase JM. Giant diverticulum of the duodenum. Gastroenterology Res. 2011;4:289–93.
Ethics declarations
Conflict of interest
Nobuhiko Ogasawara, Daisuke Kikuchi, Masami Tanaka, Akira Matsui, Toshiro Iizuka, and Shu Hoteya declare that they have no conflict of interest.
Human rights
All procedures followed have been performed in accordance with the ethical standards laid down in the 1964 Declaration of Helsinki and its later amendments.
Informed consent
Informed consent was obtained from the patient for being included in this case report.
Additional information
Publisher's Note
Springer Nature remains neutral with regard to jurisdictional claims in published maps and institutional affiliations.
About this article
Cite this article
Ogasawara, N., Kikuchi, D., Tanaka, M. et al. Hemostasis achieved endoscopically for duodenal diverticular bleeding by removing a large blood clot using a snare. Clin J Gastroenterol (2020). https://doi.org/10.1007/s12328-020-01100-z
Received:

Accepted:

Published:
Keywords
Hemostasis

Duodenum

Diverticulum

Hemorrhage