Abstract
Endoscopic tattooing is often used to facilitate the identification of colorectal lesions before endoscopic treatments. However, tattooing under the lesion can result in technical difficulties because of the dark endoscopic field and submucosal fibrosis. A 65-year-old man with a non-granular-type laterally spreading tumor was referred to our hospital after tattooing with India ink for surgery. However, endoscopic submucosal dissection (ESD) was selected for the resection of this lesion because the findings of magnifying endoscopy suggested an intramucosal cancer. Dissection around a dense section was difficult because of the dark endoscopic field and non-lifting as a result of severe fibrosis. We performed ESD using the following strategy: (1) injection with a smaller amount of indigo carmine and (2) cut and dissection from the side of the thinly tattooed area. The lesion was curatively resected en bloc without any complications. This finding suggests that endoscopic tattooing before endoscopic treatment should be performed one or two folds away from the lesion.
This is a preview of subscription content, log in to check access.
Access options
Buy single article
Instant unlimited access to the full article PDF.
US$ 39.95
Price includes VAT for USA
Subscribe to journal
Immediate online access to all issues from 2019. Subscription will auto renew annually.
US$ 99
This is the net price. Taxes to be calculated in checkout.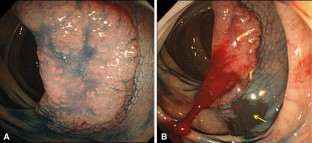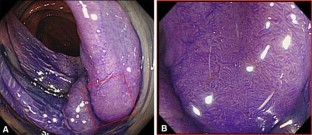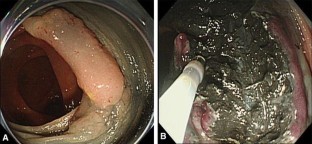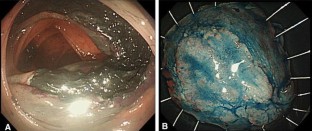 Abbreviations
ESD:

Endoscopic submocosal dissection

LST:

Laterally spreading tumor
References
1.

Kudo S, Lambert R, Allen JI, et al. Nonpolypoid neoplastic lesions of the colorectal mucosa. Gastrointest Endosc. 2008;68:S3–47.

2.

Lane KL, Vallera R, Washington K, et al. Endoscopic tattoo agents in the colon. Tissue responses and clinical implications. Am J Surg Pathol. 1996;20:1266–70.

3.

Ono S, Fujishiro M, Goto O, et al. Endoscopic submucosal dissection for colonic laterally spreading tumors is difficult after target tattooing. Gastrointest Endosc. 2009;69:763–6.

4.

Kudo S, Tamura S, Nakajima T, et al. Diagnosis of colorectal tumorous lesions by magnifying endoscopy. Gastrointest Endosc. 1996;44:8–14.

5.

Ponsky JL, King JF. Endoscopic marking of colonic lesions. Gastrointest Endosc. 1975;22:42–3.

6.

Cho YB, Lee WY, Yun HR, et al. Tumor localization for laparoscopic colorectal surgery. World J Surg. 2007;31:1491–5.

7.

Vignati P, Welch JP, Cohen JL. Endoscopic localization of colon cancers. Surg Endosc. 1994;8:1085–7.

8.

Kethu SR, Banerjee S, Desilets D, et al. Endoscopic tattooing. Gastrointest Endosc. 2010;72:681–5.

9.

Nizam R, Siddiqi N, Landas SK, et al. Colonic tattooing with India ink: benefits, risks, and alternatives. Am J Gastroenterol. 1996;91:1804–8.

10.

Fu KI, Fujii T, Kato S, et al. A new endoscopic tattooing technique for identifying the location of colonic lesions during laparoscopic surgery: a comparison with the conventional technique. Endoscopy. 2001;33:687–91.

11.

Sawaki A, Nakamura T, Suzuki T, et al. A two-step method for marking polypectomy sites in the colon and rectum. Gastrointest Endosc. 2003;57:735–7.

12.

Matsumoto A, Tanaka S, Oba S, et al. Outcome of endoscopic submucosal dissection for colorectal tumors accompanied by fibrosis. Scand J Gastroenterol. 2010;45:1329–37.
Ethics declarations
Conflict of interest:
Hideyuki Chiba, Jun Tachikawa, Daisuke Kurihara, Keiichi Ashikari, Akihiro Takahashi, Hiroki Kuwabara, Michiko Nakaoka, Taiki Morohashi, Toru Goto, Ken Ohata, Atsushi Nakajima declare that they have no conflict of interest.
Human/animal rights:
All procedures followed were in accordance with the ethical standards of the responsible committee on human experimentation (institutional and national) and with the Helsinki Declaration of 1975, as revised in 2008(5).
Informed consent:
Informed consent was obtained from all patients for being included in the study.
Electronic supplementary material
Below is the link to the electronic supplementary material.
Supplementary material 1 (MP4 9326 kb)
About this article
Cite this article
Chiba, H., Tachikawa, J., Kurihara, D. et al. Successful endoscopic submucosal dissection of colon cancer with severe fibrosis after tattooing. Clin J Gastroenterol 10, 426–430 (2017). https://doi.org/10.1007/s12328-017-0770-z
Received:

Accepted:

Published:

Issue Date:
Keywords
Endoscopic tattoo

Fibrosis

India ink

Endoscopic submucosal dissection

Complication

Colorectal cancer

Laterally spreading tumor