Abstract
Introduction
The CoQun® study is a multicenter, controlled trial aimed to evaluate the neuroprotective effects of Coqun®, an ophthalmic solution of Coenzyme q10 (CoQ10) and Vitamin E (VitE), in patients affected by primary open-angle glaucoma (POAG). Pre-clinical studies and small non-controlled clinical trials have previously shown a potential role of CoQ10 and VitE in glaucoma neuroprotection, both in vitro and in vivo.
Methods
Randomized, parallel arm, multicenter, double-blind study. POAG patients with an IOP ranging from 17 to 21 mm Hg on monotherapy with a prostaglandin analogue (PGA) will be considered for study enrollment. Inclusion criteria will be visual field (VF) mean deviation between − 4 and − 10 dB and VF Pattern Standard Deviation between 4 and 10 dB. Eligible patients will be randomized to receive CoQun® (Arm A) or placebo (Arm B), in addition to PGA monotherapy.
Planned Outcomes
Primary outcome will be time to progression, defined as the time between the baseline visit and the visit with confirmed VF progression. A total of 612 patients are planned to be enrolled, to detect a hazard ratio of 0.65, with a power of 80% and an alpha error of 0.05 (two-sided). For study power calculation, 10% non-evaluable patients are assumed. This is the first study investigating, in a randomized, double-blind and controlled fashion, the neuroprotective effects of CoQ10 and VitE in POAG patients.
Trial Registration
ClinicalTrials.gov identifier, NCT03611530.
This is a preview of subscription content, log in to check access.
Access options
Buy single article
Instant access to the full article PDF.
US$ 39.95
Price includes VAT for USA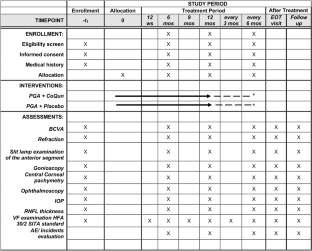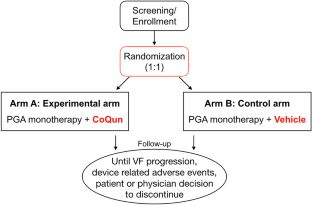 References
1.

Goldberg I. Optic disc and visual field changes in primary open angle glaucoma. Aust J Ophthalmol. 1981;9(3):223–9.

2.

Tham YC, Li X, Wong TY, Quigley HA, Aung T, Cheng CY. Global prevalence of glaucoma and projections of glaucoma burden through 2040: a systematic review and meta-analysis. Ophthalmology. 2014;121(11):2081–90.

3.

Giangiacomo A, Coleman A. The epidemiology of glaucoma. In: Grehn F, Stamper R, editors. Glaucoma. Berlin: Springer; 2009.

4.

Quigley HA, Broman AT. The number of people with glaucoma worldwide in 2010 and 2020. Br J Ophthalmol. 2006;90(3):262–7.

5.

Sommer A. Intraocular pressure and glaucoma. Am J Ophthalmol. 1989;107(2):186–8.

6.

Weinreb RN, Aung T, Medeiros FA. The pathophysiology and treatment of glaucoma: a review. JAMA. 2014;311(18):1901–11.

7.

Heijl A, Leske MC, Bengtsson B, Hyman L, Bengtsson B, Hussein M, et al. Reduction of intraocular pressure and glaucoma progression: results from the early manifest glaucoma trial. Arch Ophthalmol. 2002;120(10):1268–79.

8.

The AGIS Investigators. The Advanced Glaucoma Intervention Study (AGIS): 7. The relationship between control of intraocular pressure and visual field deterioration. The AGIS Investigators. Am J Ophthalmol. 2000;130(4):429–40.

9.

Musch DC, Gillespie BW, Lichter PR, Niziol LM, Janz NK, Investigators CS. Visual field progression in the Collaborative initial glaucoma treatment study the impact of treatment and other baseline factors. Ophthalmology. 2009;116(2):200–7.

10.

Collaborative Normal Tension Glaucoma Study Group. The effectiveness of intraocular pressure reduction in the treatment of normal-tension glaucoma. Am J Ophthalmol. 1998;126(4):498–505.

11.

Chang EE, Goldberg JL. Glaucoma 2.0: neuroprotection, neuroregeneration, neuroenhancement. Ophthalmology. 2012;119(5):979–86.

12.

Sena DF, Lindsley K. Neuroprotection for treatment of glaucoma in adults. Cochrane Database Syst Rev. 2017;1:CD006539.

13.

Beal MF. Coenzyme Q10 administration and its potential for treatment of neurodegenerative diseases. BioFactors. 1999;9(2–4):261–6.

14.

Negida A, Menshawy A, El Ashal G, Elfouly Y, Hani Y, Hegazy Y, et al. Coenzyme Q10 for patients with Parkinson's disease: a systematic review and meta-analysis. CNS Neurol Disord Drug Targets. 2016;15(1):45–53.

15.

Gil-Mohapel J, Brocardo PS, Christie BR. The role of oxidative stress in Huntington's disease: are antioxidants good therapeutic candidates? Curr Drug Targets. 2014;15(4):454–68.

16.

Nucci C, Tartaglione R, Cerulli A, Mancino R, Spano A, Cavaliere F, et al. Retinal damage caused by high intraocular pressure-induced transient ischemia is prevented by coenzyme Q10 in rat. Int Rev Neurobiol. 2007;82:397–406.

17.

Nakajima Y, Inokuchi Y, Nishi M, Shimazawa M, Otsubo K, Hara H. Coenzyme Q10 protects retinal cells against oxidative stress in vitro and in vivo. Brain Res. 2008;1226:226–33.

18.

Tian K, Shibata-Germanos S, Pahlitzsch M, Cordeiro MF. Current perspective of neuroprotection and glaucoma. Clin Ophthalmol. 2015;9:2109–18.

19.

Cellini M, Caramazza N, Mangiafico P, Possati GL, Caramazza R. Fatty acid use in glaucomatous optic neuropathy treatment. Acta Ophthalmol Scand Suppl. 1998;227:41–2.

20.

Birich TV, Birich TA, Marchenko LN, Remizonova DN, Fedylov AS. Vitamin E in the complex treatment of patients with primary glaucoma. Vestn Oftalmol. 1986;102(2):10–3.

21.

Ko ML, Peng PH, Hsu SY, Chen CF. Dietary deficiency of vitamin E aggravates retinal ganglion cell death in experimental glaucoma of rats. Curr Eye Res. 2010;35(9):842–9.

22.

Parisi V, Centofanti M, Gandolfi S, Marangoni D, Rossetti L, Tanga L, et al. Effects of coenzyme Q10 in conjunction with vitamin E on retinal-evoked and cortical-evoked responses in patients with open-angle glaucoma. J Glaucoma. 2014;23(6):391–404.

23.

Brusini P, Filacorda S. Enhanced glaucoma staging system (GSS 2) for classifying functional damage in glaucoma. J Glaucoma. 2006;15(1):40–6.

24.

Boland MV, Ervin AM, Friedman DS, Jampel HD, Hawkins BS, Vollenweider D, et al. Comparative effectiveness of treatments for open-angle glaucoma: a systematic review for the US Preventive Services Task Force. Ann Intern Med. 2013;158(4):271–9.

25.

Nucci C, Martucci A, Giannini C, Morrone LA, Bagetta G, Mancino R. Neuroprotective agents in the management of glaucoma. Eye (Lond). 2018;32(5):938–45.

26.

Krupin T, Liebmann JM, Greenfield DS, Ritch R, Gardiner S. Low-Pressure Glaucoma Study G. A randomized trial of brimonidine versus timolol in preserving visual function: results from the low-pressure glaucoma treatment Study. Am J Ophthalmol. 2011;151(4):671–81.

27.

Quaranta L, Floriani I. The rate of progression and ocular perfusion pressure in the low-pressure glaucoma treatment Study. Am J Ophthalmol. 2011;152(5):880.

28.

Weinreb RN, Liebmann JM, Cioffi GA, Goldberg I, Brandt JD, Johnson CA, et al. Oral Memantine for the treatment of glaucoma: design and results of 2 randomized, placebo-controlled, phase 3 studies. Ophthalmology. 2018;125(12):1874–85.

29.

Knight R, Khondoker M, Magill N, Stewart R, Landau S. A systematic review and meta-analysis of the effectiveness of acetylcholinesterase inhibitors and memantine in treating the cognitive symptoms of dementia. Dement Geriatr Cogn Disord. 2018;45(3–4):131–51.

30.

Szeto JY, Lewis SJ. Current treatment options for Alzheimer's disease and parkinson's disease dementia. Curr Neuropharmacol. 2016;14(4):326–38.

31.

Lee D, Shim MS, Kim KY, Noh YH, Kim H, Kim SY, et al. Coenzyme Q10 inhibits glutamate excitotoxicity and oxidative stress-mediated mitochondrial alteration in a mouse model of glaucoma. Invest Ophthalmol Vis Sci. 2014;55(2):993–1005.

32.

Davis BM, Tian K, Pahlitzsch M, Brenton J, Ravindran N, Butt G, et al. Topical Coenzyme Q10 demonstrates mitochondrial-mediated neuroprotection in a rodent model of ocular hypertension. Mitochondrion. 2017;36:114–23.
Acknowledgements
Funding
The CoQun study is unconditionally supported by Visufarma (Rome, Italy), providing CoQun® to experimental sites and giving economical support for study management. No funding or sponsorship was received for publication of this article.
Authorship
All named authors meet the International Committee of Medical Journal Editors (ICMJE) criteria for authorship for this article, take responsibility for the integrity of the work as a whole, and have given their approval for this version to be published. The contribution of Fondazione Bietti in this study was supported by Fondazione Roma and by the Italian Ministry of Health. The CoQun® Study Group includes the following coauthors: Maurizio Fossarello4; Maurizio Uva5; Luciana Carmassi6; Stefano Gandolfi7; Gemma C Rossi8; Luigi Fontana9; Teresa Rolle10; Daniele Tognetto11; Leonardo Mastropasqua12; Emilio Campos13; Carlo Nucci14; Gianluca Scuderi15; Giorgio Marchini16. 4Ospedale San Giovanni di Dio, Cagliari, Italy. 5Azienda Ospedaliera Universitaria Policlinico Vittorio Emanuele, Catania, Italy. 6Istituto Auxologico Italiano, Milan, Italy. 7Università degli Studi di Parma, Parma, Italy. 8Fondazione IRCCS Policlinico San Matteo, Pavia, Italy. 9Azienda Ospedaliera Arcispedale S. Maria Nuova, Reggio Emilia, Italy. 10Azienda Ospedaliera Universitaria Città della Salute e della Scienza, Torino, Italy. 11Ospedale Maggiore di Trieste, Trieste, Italy. 12Ospedale Clinicizzato SS Annunziata, Chieti, Italy. 13Policlinico Sant'Orsola Malpighi, Bologna, Italy. 14Fondazione Policlinico Tor Vergata, Rome, Italy. 15Ospedale Sant'Andrea, Rome, Italy. 16Azienda Ospedaliera Universitaria Integrata (AOUI), Verona, Italy.
Disclosures
Luciano Quaranta, Ivano Riva, Elena Biagioli, Erica Rulli, Eliana Rulli, Davide Poli and Lorenzo Legramandi have nothing to disclose.
Compliance with Ethics Guidelines
All the procedures performed in studies involving human participants are in accordance with the ethical standards of the institutional and/or national research committee and with the 1964 Helsinki declaration and its later amendments or comparable ethical standards. Informed consent will be obtained from all individual participants included in the study. The Ethics Committee of the coordinating center (Comitato Etico di Brescia, ASST degli Spedali Civili di Brescia, Italy) and of each involved centers approved the study protocol (see supplementary material). The study has been registered at clinicaltrials.gov (NCT03611530).
Data Availability
Data sharing is not applicable to this article as no datasets were generated or analyzed during the current study.
Electronic supplementary material
Below is the link to the electronic supplementary material.
About this article
Cite this article
Quaranta, L., Riva, I., Biagioli, E. et al. Evaluating the Effects of an Ophthalmic Solution of Coenzyme Q10 and Vitamin E in Open-Angle Glaucoma Patients: A Study Protocol. Adv Ther 36, 2506–2514 (2019). https://doi.org/10.1007/s12325-019-01023-3
Received:

Published:

Issue Date:
Keywords
Coenzyme Q10

Open-angle glaucoma

Ophthalmology

Prostaglandin analogue

Randomized clinical trial

Vitamin E