Weight Loss: A Patient and Physician's Perspective
Part of the following topical collections:
Abstract
This article, co-authored by a patient affected by obesity and an obesity medicine specialist, discusses the patient's experience of living with the disease and using many different weight loss approaches until finding a lifestyle program that was appropriate for her metabolism. The physician discusses the scientific basis of insulin resistance, and why the chosen lifestyle program worked so well for this individual.
Keywords
Low-carbohydrate lifestyle 
Metabolism 
Obesity 
Weight loss 
Patient's Experience
I remember starting my first "diet" and attending my first Weight Watchers meeting at age 10, and for almost 40 years, I battled constantly with my weight. I was an expert at losing the weight, but could never keep it completely off for long, and like many, found myself caught in a vicious "yo–yo" weight loss cycle. I was always at odds with the scale; always at war with food, and always hungry.
For almost 40 years, I tried every diet that came along in search of the magic bullet that would make me thin, keep me thin, and satisfy my constant hunger. I restricted food, weighed my food, and counted calories. I attended meetings, weighed in, and kept food diaries. I popped diet pills, drank weight loss formulas, and ate protein bars to curb hunger. Over the years, I would go for weeks at a time eating nothing but cottage cheese, or grapefruit, or rice cakes, or low-fat yogurt, or Special K cereal with skim milk, or Diet Coke and gummie bears (they are low fat, right?). In a final act of desperation, I signed onto a very expensive, hospital-based, medically supervised weight loss program, which required that I drink nothing but protein shakes (taking in under 800 calories a day) for six months. I did that twice. It "worked"—both times. I spent a lot of money—both times. I lost a lot of weight—both times. But consuming only protein shakes for the rest of my life was not a sustainable solution for me.
The diet gimmicks worked for a while—especially during my high school years (while in marching band) and college years (as a performer in live shows and parades at Walt Disney World for four summers). In my 20s and 30s, I fluctuated between 124 lbs and 150 lbs. But as I reached my 40s, things started to change. I could not keep the weight off, and by the time I reached my late 40s, I had gained 200 lbs. I reached my highest weight … at 5 feet 4 inches, I weighed 324 lbs and I was afraid.
I continued to struggle with food and went through periods of "all or nothing" … starving myself ("nothing"), and when that was not working, I would eat whatever ("all"), because it just did not seem to matter. I could not lose the weight when I was starving. I could not lose it when I was eating a low-fat diet and exercising like my physicians prescribed. I was beyond discouraged. I was exhausted from extremely stressful situations in my work environment and at home, and I was struggling to balance the challenges of being the primary caregiver for my mother (who had been diagnosed with type 2 diabetes) for 8 years prior to her death in 2010.
I knew that I had to do something, but had no idea what that "something" was. Eating a low-fat diet and exercising more—as my doctors prescribed—were doing nothing more than making me hungrier, sicker, and fatter. I was exhausted all the time. I felt like a complete failure.
Until November 5, 2009, when I had the great fortune of finding and coming under the medical care of an obesity medicine specialist, Westman, MD. Before meeting Dr. Westman, I had no idea that everything that I had learned about diet, food, and nutrition was wrong. I had no idea that the "low-fat diet" that the "experts" had been telling me to eat was precisely what was making permanent weight loss virtually impossible for me.
In 6.5 years since implementing a very low sugar/very low starch approach (from November 2009 to current, May 2016), I have lost over 200 lbs. and kept it off. Thanks to Dr. Westman, I have learned to eat a well-formulated very low sugar/very low starch diet. I enjoy beautiful, fresh foods every day—eating right at or under 20 g total carbs a day, comprised of optimal protein (chicken, beef, poultry, pork, seafood), good fats (olive oil, coconut oil), full-fat dairy (butter, heavy whipping cream, cheeses), eggs (yolks and whites), very low sugar fruits (blueberries, blackberries, strawberries, raspberries), and non-starchy vegetables (lettuce, kale, spinach, onion, tomatoes, green beans, squash, zucchini, broccoli, bell peppers).
I am 55 years old, weigh 139 lbs., and have more energy than I did thirty years ago. My arteries are clear and my blood pressure, cholesterol, glucose, and A1C levels are all beautifully normal … all of which are hard to believe for those who do not understand the science behind very low sugar/very low starch eating. But it is true (Fig. 
1
).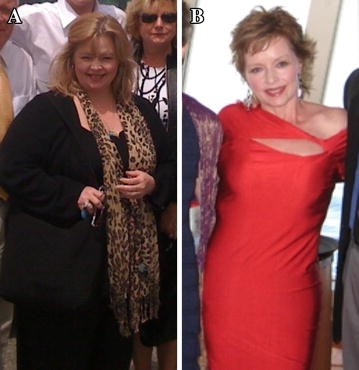 I have the best health of my life and my healthiest years ahead because of the science and understand that very low sugar/very low starch foods are the most powerful medicine we have. We can heal broken metabolisms and prevent and reverse a myriad of health conditions by simply eating beautiful, fresh very low sugar/very low starch foods that truly nourish us on all levels.
We cannot exercise our way out of a bad diet. But we really can heal ourselves with the right one. I am thankful to Dr. Westman and for his work with very low sugar/very low starch nutrition. To say that it changed my life is an understatement. It saved my life, and I am thankful for finally finding a wonderful way of eating that is sustainable, healthy and right for me. I am no longer at war with food. No longer at war with the scales. No longer at war with myself (Fig. 
2
).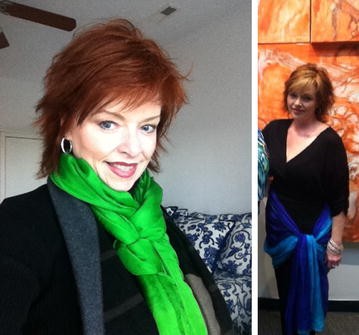 What was the Biggest Challenge to Adopting a Carbohydrate-Restricted or Paleo Diet?
I will never forget the day I went to particular appointment to see my doctor and at that appointment, Dr. Westman told me, "Lynne, you have to eat fat to lose fat" … I could not believe it! Had a hard time wrapping my head around that one … but it is true. From that point on, I made a conscious effort to include more of the good fats in my diet, and the pounds melted away.
What Advice (If Any) Would You Give to Someone Interested in Trying a Carbohydrate-Restricted or Paleo Diet? Were There Any Obstacles that You Overcame that Could Help Future Dieters?
My advice would be to immerse yourself in the real science out there that supports low-carb living. Read books by authors like Westman, MD [1], Drs. Steve Phinney and Jeff Volek [2, 3], and, of course, Gary Taubes [4, 5].
Search the web and enjoy the myriad of low-carb websites and low-carb recipes … there is no reason in the world to be hungry or bored with food when you low-carb … check out some wonderful recipe sites and bloggers, like Linda's Low-Carb recipes, Jamie Van Eaton's Your Lighter Side blog, chef George Stella's site and amazing success story at Stella Style. Real food is delicious! And it has made an over 200 lb weight loss sustainable and permanent for me.
Physician's Perspective
Obesity is defined as a chronic, relapsing disease that leads to adverse metabolic, biomechanical, and psychosocial health consequences [6]. Obesity and the related disease of type 2 diabetes mellitus (T2DM) are now at epidemic proportions in the United States and increasing around the world. Obesity medicine specialists are specially trained in safe and effective approaches that may include nutrition, exercise, medications, and meal replacements to aid in long-term remission of obesity [6]. It is now possible to receive a diplomate status from the American Board of Obesity Medicine [7].
This patient's experience is quite common among people who have been advised to just "eat less and exercise more", or "reduce the calories", both of which have been part of the typical advice that patients affected by obesity receive from the health care providers and popular opinion. It is a common experience among patients who go to an obesity medicine specialist for help in losing weight. I think that the history of difficulty losing weight on typical advice using the high-carbohydrate, low-calorie diets is now understood as a mismatch between the high-carbohydrate approach and the insulin resistance (IR) metabolism of many individuals. While high-carbohydrate, low-calorie diets can work for those who are insulin sensitive, low-carbohydrate diets seem to be more effective for individuals with IR. Because the prevalence of IR is now quite high among people affected by obesity today, it makes sense to increasingly use approaches using lower carbohydrate levels, like the approach used for the patient in this report.
This patient had made multiple attempts to lose weight loss, including the use of products approved for short-term weight loss. People who use products, medications, or even undergo weight loss surgery, still need to learn principles of long-term lifestyle change. Obesity medicine specialists use many techniques for short-term weight loss, but for durable change also understand that teaching a new, effective lifestyle is eventually needed for long-term success.
There have been many recent changes in the science and organizational approaches to obesity. Up until recently, low-carbohydrate, high-fat diets have been regarded as "fad diets", as either ineffective or unsafe. These concerns have been dismissed in recent years by clinical outcome research and meta-analyses, and many experts recommend the use of low-carbohydrate diets for the treatment of obesity and T2DM. Lower carbohydrate diet approaches include popular diets like the Atkins Diet, Mediterranean Diet, South Beach Diet, and the Zone Diet. There has also been a change in concern over eating dietary fat, such that the US Dietary Guidelines for Americans 2015 [8] no longer restricts the total fat or total cholesterol in the dietary guideline. There are four new US Food and Drug Administration-approved medications for the treatment of obesity in conjunction with lifestyle change. People affected by obesity often encounter shaming, bullying, and a lack of empathy as obesity has commonly been attributed to a lack of will power, to "gluttony and sloth." While members of the Obesity Medicine Association have long held the belief that obesity was a disease having a physiological basis, other health care providers and the health care system should note that the American Medical Association has recently designated obesity as a chronic disease. Another organization that works to reduce bias against individuals affected by obesity is the obesity action coalition (OAC).
Obesity and T2DM are both in urgent need of effective therapies. From the dietary standpoint, the increase in prevalence of IR suggests that the lower carbohydrate eating patterns may be a better metabolic match for people with obesity today.
Notes
Acknowledgments
The authors are fully responsible for all content and editorial decisions and received no financial support or other form of compensation related to the development of this manuscript. All named authors meet the International Committee of Medical Journal Editors (ICMJE) criteria for authorship of this manuscript, take responsibility for the integrity of the work as a whole, and have given final approval for the version to be published. The opinions expressed in the manuscript are those of the authors. No funding was received for publication of this article. Permission was granted from Ancestral Weight Loss Registry (http://www.awlr.org/) to reproduce/modify the Patient's Experience and Fig. 1 in this publication.
Disclosures
Eric C. Westman discloses that he is co-founder of Adaptyourlife.com and HEAL Diabetes & Medical Weight Loss Clinics, both of which use low-carbohydrate nutrition in their approaches. Lynne Daniel Ivey has nothing to disclose with regard to the publication of this article.
Compliance with Ethics Guidelines
This article does not contain any new studies with human or animal subjects performed by any of the authors.
Peer Review
Please note, contrary to the journal's standard double-blind peer review process, as a commentary this article underwent review by a member of the journal's Editorial Board.
Copyright information
© Springer Healthcare 2016