The Role of Nuclear Receptors in the Pathophysiology, Natural Course, and Drug Treatment of NAFLD in Humans
Abstract
Nonalcoholic fatty liver disease (NAFLD) describes steatosis, nonalcoholic steatohepatitis with or without fibrosis, and hepatocellular carcinoma, namely the entire alcohol-like spectrum of liver disease though observed in the nonalcoholic, dysmetabolic, individual free of competing causes of liver disease. NAFLD, which is a major public health issue, exhibits intrahepatic triglyceride storage giving rise to lipotoxicity. Nuclear receptors (NRs) are transcriptional factors which, activated by ligands, are master regulators of metabolism and also have intricate connections with circadian control accounting for cyclical patterns in the metabolic fate of nutrients. Several transcription factors, such as peroxisome proliferator-activated receptors, liver X receptors, farnesoid X receptors, and their molecular cascades, finely regulate energetic fluxes and metabolic pathways. Dysregulation of such pathways is heavily implicated in those metabolic derangements characterizing insulin resistance and metabolic syndrome and in the histogenesis of progressive NAFLD forms. We review the role of selected NRs in NAFLD pathogenesis. Secondly, we analyze the role of NRs in the natural history of human NAFLD. Next, we discuss the results observed in humans following administration of drug agonists or antagonists of the NRs pathogenically involved in NAFLD. Finally, general principles of treatment and lines of research in human NAFLD are briefly examined.
Keywords
Cirrhosis 
Farnesoid X receptor 
Fibrosis 
Hepatocellular carcinoma 
Liver X receptor 
Natural history 
Nonalcoholic steatohepatitis 
Pathogenesis 
Peroxisome proliferator-activated receptor 
Steatosis 
Introduction
Nonalcoholic fatty liver disease (NAFLD) designates a heterogenous set of diseases histologically mimicking alcoholic liver disease though observed in insulin-resistant nonalcoholic individuals, in the absence of competing etiologies of liver disease [1, 2]. The NAFLD spectrum and its natural history span simple steatosis through nonalcoholic steatohepatitis (NASH), fibrosis-cirrhosis, and, in a subset of cases, hepatocellular carcinoma (HCC), with or without cirrhosis [3, 4]. On the basis of the epidemic prevalence of disease and its inherent hepatic, metabolic, oncologic, and cardiovascular disease burden, NAFLD is a major public health issue posing heavy costs on health systems [1, 5, 6, 7].
From a pathophysiological point of view, intrahepatic storage of triglycerides (TGs) is an example of an adaptive process becoming maladaptive, given that ectopic fat gives rise to lipotoxicity [8, 9]. Fatty changes will primarily result from excess de novo intrahepatic lipogenesis associated with the liver being overwhelmed by an excess of steatogenic substrates in the setting of insulin resistance (IR), impaired glucose disposal/type 2 diabetes (T2D), hyperlipidemia, visceral obesity, and other features of the metabolic syndrome (MetS) [10]. Steatosis will also derive from the failure of the liver to oxidize and export excess lipids [3, 11, 12, 13]. Therefore, NAFLD can best be conceptualized as an abnormal storage of TGs resulting from an imbalance between intrahepatic synthesis and catabolism/disposal of fatty substrates [14], which is inextricably linked to IR/T2D and atherogenic dyslipidemia [13, 15].
Nuclear receptors (NRs) are transcriptional factors which, activated by ligands, are master regulators of metabolism and also have intricate connections with circadian control accounting for cyclical patterns in the metabolic fate of nutrients [16]. Several transcription factors, such as peroxisome proliferator-activated receptors (PPARs), liver X receptors (LXRs), and farnesoid X receptors (FXRs), finely regulate energetic fluxes and metabolic pathways via the molecular cascades they trigger [17]. Dysregulation of such pathways is heavily implicated in those metabolic derangements typically belonging to the domain of IR and MetS and in the histogenesis of progressive NAFLD forms and their clinical complications in both adults and children [3, 16, 18, 19].
On these grounds, dietary and pharmacological manipulation of NRs has become a major aim in the research concerning NAFLD treatment. The present article critically reviews the role of NRs in the pathogenesis of NAFLD and explores how this information may potentially be exploited in the drug treatment of this condition. All of these pieces of information may be put into perspective on the basis of the analysis of the natural history of NAFLD (Fig. 
1
).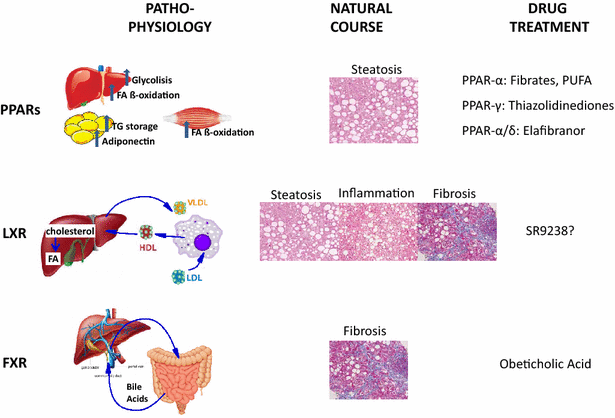 This article is based on previously conducted studies and does not involve any new studies of human or animal subjects performed by any of the authors.
Pathophysiology of PPARs
The PPARs are members of the NR superfamily including PPAR-α, PPAR-β/δ, and PPAR-γ, which play a key role in regulating cellular growth and differentiation, metabolism, and inflammation [20, 21, 22]. PPAR-α (NR1C1) is highly expressed in liver, kidney, and muscle, while PPAR-γ (NR1C3) is mainly present in adipose tissue and PPAR-β/δ appears to be universally expressed. These receptors are classically ligand activated, and the best characterized natural ligands are fatty acids (FA) and their derivatives. Activated PPARs form a heterodimer with retinoid X receptor (RXR) and interact with PPAR response elements in the target genes, regulating their expression. In the liver specifically, PPARs modulate a whole spectrum of physiological processes including cholesterol and bile acid (BA) homeostasis, glucolipidic metabolism, inflammatory response, regenerative mechanisms, and cell differentiation and cycle [20, 21, 22].
Pathophysiology of FXR and its Role in NAFLD
Once deemed to be simple detergents, physicochemically facilitating the digestive processes, BA are instead master regulators of metabolic pathways [72]. FXR, a member of the nuclear hormone receptor superfamily, together with TGR5, a G protein-coupled BA receptor (GPBAR1), acts as a BA sensor regulating their intrahepatocyte levels and mediates the signaling effects exerted by BA on gluco-lipidic metabolism [73, 74]. FXR is mainly expressed in the liver and gut. BA are the natural ligands of FXR, and chenodeoxycholic acid (CDC) shows the highest affinity [74]. Similar to other NRs, activated FXR forms a heterodimer with RXR that binds to the promoter region of the target genes, small heterodimer partner (SHP) and fibroblast growth factor (FGF)-19, increasing their expression and promoting pathways finally leading to reduced expression of genes involved in BA synthesis (mainly CYP7A1) [74, 75]. In particular, FGF-19 is secreted from ileum into the portal circulation and acts as an enterohepatic signal to downregulate CYP7A1 via FGF-4 activation [76]. Moreover, FXR critically regulates lipid and glucose metabolism by multiple mechanisms [77]. Interestingly, a study conducted in 2166 German subjects reported that SNPs in the FXR-encoding gene NR1H4 were strong determinants of fasting glucose and free FA serum levels independent of unhealthy body fat accumulation [78]. In the liver, BA downregulate steatogenesis via the FXR-SHP pathway [79]. A study conducted in 40 biopsy-proven NAFLD cases found that FXR and SHP and BA transporters [sodium-taurocholate cotransporting polypeptide (NTCP) and bile salt export pump (BSEP)] were significantly upregulated in NASH compared to simple steatosis suggesting that FXR may play a major role in NAFLD progression [80].
Normal BA synthesis is essential in maintaining normal liver histology: mice with reduced BA synthesis develop overt steatosis, which is reversed either by BA feeding or administration with obeticholic acid (OCA), an FXR agonist, demonstrating that the hepatoprotection exerted by BA is indeed FXR-dependent [81]. Consistently, the age-dependent decline in FXR activity is a major factor in the development of fatty liver observed in aging mice [82].
Analysis of animal models of alcoholic liver disease has shown that FXR-deficient mice are more exposed to developing steatohepatitis and fibrosis following ethanol feeding [83]. Conversely, the FXR agonist 6ECDCA reverses steatosis and decreases the oxidative stress induced, in rodents, by feeding ethanol with protein-deficient diet [84].
Similarly, once challenged with steatogenic diets, hepatic FXR-deficient mice, or mice in which FXR is acetylated, develop a liver phenotype fully recapitulating human NASH and cholestasis [85, 86, 87]. However, treatments capable of disrupting the intestinal FXR/ceramide axis signaling have led to a reduced grade of steatosis [88].
Either direct pharmacological FXR agonism or drug interventions/surgery eventually leading to FXR upregulation have consistently been reported to improve NAFLD histology. For example, deficiency in the electroneutral Na(+)/H(+) exchanger NHE1 (Slc9a1) leads to FXR upregulation, reduced cellular stress, and preserved insulin signaling even upon HFD feeding [89]. In agreement with these observations, treatment with hepatic FXR agonists has resulted in beneficial effects in NAFLD animal models. Administration of the dual FXR/TGR5 agonist (INT-767) for 6 weeks resulted in significantly improved histological features of NASH associated with an increase in the proportion of intrahepatic monocytes with the anti-inflammatory phenotype [73]. Similarly, WAY-362450, a potent synthetic and orally active FXR agonist, attenuated fatty liver by acting through multiple steatogenic mechanisms [90]. Finally, OCA, a semisynthetic BA-selective ligand for FXR, has been shown to improve liver steatosis, inflammation, and fibrosis in preclinical models and in NAFLD patients (see "Drugs Interacting with FXR" below) [91, 92]. As far as surgical experimental models are concerned, vertical sleeve gastrectomy (VSG) produces weight loss independent of SHP status in mice; SHP molecular ablation induces a pro-inflammatory milieu, which is exacerbated after VSG despite weight loss [79].
FXR systemic expression has led to novel therapeutic strategies targeting cholesterol and TG metabolism, fatty liver, and cholestasis [74, 93, 94]. In contrast to such a systemic therapy, however, postprandial BA release will selectively activate intestinal FXR. By mimicking this tissue-selective effect, the gut-restricted FXR agonist fexaramine significantly induces enteric FGF-15. Fexaramine reduces obesity, systemic low-grade inflammation, and hepatic IR resulting from high-calorie diet by enhancing thermogenesis and browning of white adipose tissue, without activating hepatic FXR [95].
Pathophysiology of LXR and NAFLD
Cholesterol and FA play a key role not only in lipid and energy metabolism but are also involved in multiple and complex biological phenomena such as the gut–liver axis [96], the liver–brown adipose tissue interaction [97], homeostasis of cell membranes, endoplasmic reticulum stress, inflammation [98, 99], atherogenesis [99, 100], T2D, obesity [101, 102], and cancer [103].
LXRs, which comprise LXR-α and LXR-β, belong to the nuclear hormone receptor superfamily of ligand-activated transcription factors which, in the hepatic tissue, serve as lipid sensors and participate in regulating the expression of master genes which modulate the metabolism of cholesterol and FA [104].
Orchestrated collaboration between LXR and SREBP-1 is a main step in the molecular cascade of events characterizing steatogenesis. Steatosis is commonly found either in the setting of NAFLD [105] or associated with hepatitis C virus (HCV) infection [106]. Both these two pathogenically interconnected diseases span steatosis to inflammatory and fibrotic changes in humans [107, 108]. Consistently, inverse agonism of LXR-α and LXR-β obtained through administration of a powerful synthetic compound (SR9238) has been reported to suppress hepatic lipogenesis, inflammation, and steatosis in an experimental NAFLD model in mice [109] and UDCA inhibits LXR-α-mediated hepatic lipogenesis [110].
On these grounds, by investigating the connections of LXR-α with other intrahepatic lipid transporters and histological inflammatory and fibrotic changes in 40 NAFLD patients, a study found a positive correlation with the intrahepatic expression of ABCG5/8, CD36, and SREBP-1c; that the expression of NPC1L1 was negatively correlated with intrahepatic inflammation and LXR-α intensity and, notably, that LXR-α expression was directly correlated with the degree of steatosis, as well as with inflammatory and fibrotic changes [111]. These data identify LXR as a potential target for NAFLD treatment.
Natural History of NAFLD at a Glance and Role of NRs
Although the basic pathological steps of NAFLD [112] and the natural history of disease [6] are closely interconnected and largely overlap one another, for the sake of clarity, they can be dissected into four distinct phases: steatosis, NASH, fibrosis-cirrhosis, and HCC.
NAFLD Treatment Based on NR-Targeted Drugs
On the basis of the pivotal role of NRs in hepatic metabolic pathways and on the promising results observed in animal models of NAFLD, drugs which interfere with some of these NRs are among the strongest candidates for treating human NAFLD [14, 16]. Nevertheless, findings from experimental studies have not been systematically replicated in humans and several clinical trials utilizing pharmacological manipulation of NRs have yielded conflicting results (see Table S1 in the supplementary material).
Conclusions
Our understanding of the role of NRs in NAFLD pathophysiology, natural history, and treatment is preliminary (Fig. 1) and additional studies are required. PPAR-γ agonists seem to improve steatosis and necro-inflammation in NAFLD, but thiazolidinediones are not approved for the treatment of NASH, data in diabetic patients are scarce, and long-term safety and efficacy in NASH patients have not been established [91]. The dual PPAR-α/δ agonist elafibranor exhibits promising results and favorable safety profile, but its efficacy should be further confirmed. The FXR agonist OCA has the potential to prevent progression to cirrhosis by improving all the histological features of NASH, notably including fibrosis. However, additional research is needed to confirm this promise and address concerns about tolerability and side effects. Finally, drugs interacting with several NRs, either discussed here, such as LXR, or not discussed in the present review, such as pregnane X receptor (PXR), constitutive androstane receptor (CAR), liver receptor homolog-1 (LRH-1), estrogen receptor beta (ERβ), thyroid hormone receptor beta (TRβ), and VDR, whose importance has been demonstrated in NAFLD animal models, await urgent evaluation in humans [267, 268, 269].
Notes
Acknowledgments
We are indebted to Ms. Jacqueline Mole for English language editing. No funding was received for publication of this article. All named authors meet the International Committee of Medical Journal Editors (ICMJE) criteria for authorship for this manuscript, take responsibility for the integrity of the work as a whole, and have given final approval for the version to be published.
Disclosures
Stefano Ballestri, Fabio Nascimbeni, Enrica Baldelli, and Amedeo Lonardo have nothing to disclose. Dante Romagnoli serves as a consultant for AbbVie.
Compliance with Ethics Guidelines
This article is based on previously conducted studies and does not involve any new studies of human or animal subjects performed by any of the authors.
Copyright information
© Springer Healthcare 2016