Abstract
Purpose
The presence of intra-articular findings that may complement the extra-articular pathology in lateral epicondilytis has been suggested, and a role for minor instability of the elbow as part of the causative process of this disease has been postulated. This study was designed to describe two new clinical tests, aimed at detecting intra-articular pathology in patients affected by recalcitrant lateral epicondylitis and investigate their diagnostic performance.
Methods
Ten patients suffering of atraumatic lateral elbow pain unresponsive to conservative treatment were considered in this study. Two clinical tests were developed and administrated prior to arthroscopy: Supination and Antero-Lateral pain Test (SALT); Posterior Elbow Pain by Palpation-Extension of the Radiocapitellar joint (PEPPER). Sensitivity, specificity, predictive values and accuracy of SALT and PEPPER as diagnostic tests for seven intra-articular findings were calculated.
Results
In 90% of the patients, at least one test was positive. All patients with signs of lateral ligamentous patholaxity or intra-articular abnormal findings had a positive response to at least one of the two tests. SALT proved to have a high sensitivity but a low specificity and is accurate in detecting the presence of intra-articular abnormal findings, especially synovitis. PEPPER test was sensible, specific and accurate in the detection of radial head chondropathy.
Conclusions
Two new diagnostic tests (SALT and PEPPER) were specifically designed to evoke pain from intra-articular structures. These tests could be a valid support in the diagnostic algorithm of recalcitrant lateral elbow pain. Positive findings may be indicative of a minor instability of the lateral elbow condition.
Level of evidence
Diagnostic study, development of diagnostic criteria on basis of consecutive patients, level II.
This is a preview of subscription content, log in to check access.
Access options
Buy single article
Instant unlimited access to the full article PDF.
US$ 39.95
Price includes VAT for USA
Subscribe to journal
Immediate online access to all issues from 2019. Subscription will auto renew annually.
US$ 99
This is the net price. Taxes to be calculated in checkout.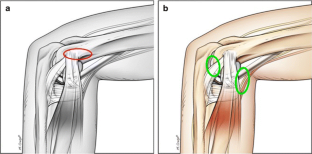 References
1.

Sims SEG, Miller K, Elfar JC, Hammert WC (2014) Non-surgical treatment of lateral epicondylitis: a systematic review of randomized controlled trials. Hand (N Y) 9:419–446. doi:10.1007/s11552-014-9642-x

2.

Dines JS, Bedi A, Williams PN et al (2015) Tennis injuries: epidemiology, pathophysiology, and treatment. J Am Acad Orthop Surg 23:181–189. doi:10.5435/JAAOS-D-13-00148

3.

Kniesel B, Huth J, Bauer G, Mauch F (2014) Systematic diagnosis and therapy of lateral elbow pain with emphasis on elbow instability. Arch Orthop Trauma Surg 134:1641–1647. doi:10.1007/s00402-014-2087-4

4.

Antuna SA, O'Driscoll SW (2001) Snapping plicae associated with radiocapitellar chondromalacia. Arthroscopy 17:491–495. doi:10.1053/jars.2001.20096

5.

Kim DH, Gambardella RA, Elattrache NS et al (2006) Arthroscopic treatment of posterolateral elbow impingement from lateral synovial plicae in throwing athletes and golfers. Am J Sports Med 34:438–444. doi:10.1177/0363546505281917

6.

Wada T, Moriya T, Iba K et al (2009) Functional outcomes after arthroscopic treatment of lateral epicondylitis. J Orthop Sci 14:167–174. doi:10.1007/s00776-008-1304-9

7.

Rajeev A, Pooley J (2015) Arthroscopic resection of humeroradial synovial plica for persistent lateral elbow pain. J Orthop Surg (Hong Kong) 23:11–14. doi:10.1177/230949901502300103

8.

Baker CL, Murphy KP, Gottlob CA, Curd DT (2000) Arthroscopic classification and treatment of lateral epicondylitis: two-year clinical results. J Shoulder Elb Surg 9:475–482. doi:10.1067/mse.2000.108533

9.

Steinert AF, Goebel S, Rucker A, Barthel T (2010) Snapping elbow caused by hypertrophic synovial plica in the radiohumeral joint: a report of three cases and review of literature. Arch Orthop Trauma Surg 130:347–351. doi:10.1007/s00402-008-0798-0

10.

Cerezal L, Rodriguez-Sammartino M, Canga A et al (2013) Elbow synovial fold syndrome. AJR Am J Roentgenol 201:W88–W96. doi:10.2214/AJR.12.8768

11.

Commandre FA, Taillan B, Benezis C et al (1988) Plica synovialis (synovial fold) of the elbow. Report on one case. J Sports Med Phys Fit 28:209–210

12.

Baker CL, Cummings PD (1998) Arthroscopic managementof miscellaneous elbow disorders. Oper Tech Sports Med 6:16–21. doi:10.1016/S1060-1872(98)80033-6

13.

Akagi M, Nakamura T (1998) Snapping elbow caused by the synovial fold in the radiohumeral joint. J Shoulder Elb Surg 7:427–429. doi:10.1016/S1058-2746(98)90037-4

14.

Clarke RP (1988) Symptomatic, lateral synovial fringe (plica) of the elbow joint. Arthroscopy 4:112–116. doi:10.1016/S0749-8063(88)80077-X

15.

Arrigoni P, Cucchi D, D'Ambrosi R et al (2017) Intra-articular findings in symptomatic minor instability of the lateral elbow (SMILE). Knee Surg Sports Traumatol Arthrosc. doi:10.1007/s00167-017-4530-x

16.

Valdes K, LaStayo P (2013) The value of provocative tests for the wrist and elbow: a literature review. J Hand Ther 26:32–42. doi:10.1016/j.jht.2012.08.005

17.

Mills GP (1928) The treatment of "tennis elbow". Br Med J 1:12–13

18.

Buckup K, Buckup J (2016) clinical tests for the musculoskeletal system: examinations-signs-phenomena, 3rd edn. Thieme, Stuttgart

19.

Arrigoni P, Cucchi D, D'Ambrosi R et al (2017) Arthroscopic R-LCL plication for symptomatic minor instability of the lateral elbow (SMILE). Knee Surg Sports Traumatol Arthrosc. doi:10.1007/s00167-017-4531-9
Ethics declarations
Conflict of interest
The authors declare that they have no conflict of interest.
Ethical approval
All procedures performed in studies involving human participants were in accordance with the ethical standards of the institutional and/or national research committee and with the 1964 Helsinki declaration and its later amendments or comparable ethical standards.
Informed consent
Informed consent was obtained from all individual participants included in the study.
Electronic supplementary material
Below is the link to the electronic supplementary material.
Video 1: Supination and Antero-Lateral pain Test (SALT). The examiner positions own thumb at the level of the anterolateral aspect of the radial head. The thumb is progressively slid anteriorly over the radial head combined with supination of the radius. Muscles of the anterolateral compartment are pushed away to keep contact between finger and bone. The test is positive if the patient experiences anterolateral pain with forearm supination (MP4 9875 kb)
Video 2: Posterior Elbow Pain by Palpation-Extension of the Radiocapitellar joint (PEPPER). The examiner positions his own thumb at the level of the posterior aspect of the radiocapitellar joint. The test is positive if the patient experiences pain while extending the elbow (MP4 7956 kb)
About this article
Cite this article
Arrigoni, P., Cucchi, D., Menon, A. et al. It's time to change perspective! New diagnostic tools for lateral elbow pain. Musculoskelet Surg 101, 175–179 (2017) doi:10.1007/s12306-017-0486-8
Received:

Accepted:

Published:

Issue Date:
Keywords
Elbow arthroscopy

Lateral epicondylitis

Tennis elbow

SMILE

Minor instability

Diagnostic test