Abstract
NaCl and PEG stresses have negative impacts on seed germination and early seedling establishment in Oryza sativa. The present study was designed to ascertain the influence of different priming techniques (Hydro priming-HyP, Halo priming-HP, UV-B priming-UP) in enhancing oxidative and anti-oxidative mechanisms during seed germination phase in response to NaCl and PEG stresses tolerance of three rice varieties (Neeraja, Vaisakh and Vyttila 6). NaCl and PEG stresses caused delayed germination rate, enhanced reactive oxygen species content and thereby increased lipid peroxidation rate. Different priming techniques significantly hastened the metabolites/non enzymatic antioxidant contents (total sugars, total phenolics, free amino acids, proline, ascorbate and glutathione) as well as activities of antioxidant enzymes (superoxide dismutase, catalase, ascorbate peroxidase and guaiacol peroxidase), and thus reduced oxidative stress damages caused by NaCl and PEG stresses in rice seedlings. Seed priming techniques imparted abiotic stress tolerance not only to sensitive varieties but also additional tolerance potential to tolerant varieties. All three priming techniques protects the plants from toxicity caused by NaCl and PEG stresses but halo priming had proved to be more successful.
This is a preview of subscription content, log in to check access.
Access options
Buy single article
Instant access to the full article PDF.
US$ 39.95
Price includes VAT for USA
Subscribe to journal
Immediate online access to all issues from 2019. Subscription will auto renew annually.
US$ 99
This is the net price. Taxes to be calculated in checkout.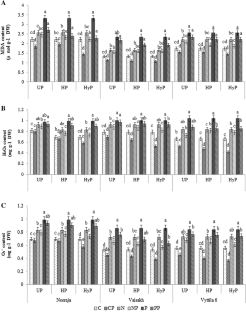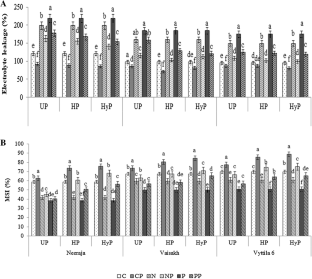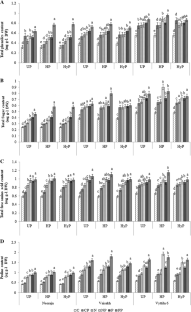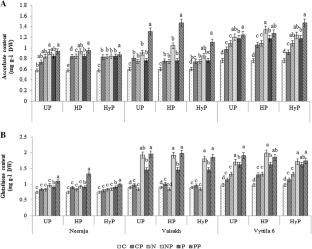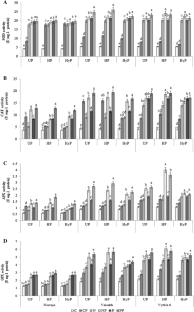 References
Agarie S, Hanaoka N, Kubota F, Agata W, Kaufman PB (1995) Measurement of cell membrane stability evaluated by electrolyte leakage as a drought and heat tolerance test in rice (Oryza sativa L.). J Fat Agr Kyushu Univ 40:233–240

Bailly C, El-Maarouf-Bouteau H, Corbineau F (2008) From intracellular signaling networks to cell death; the dual role of reactive oxygen species in seed physiology. C R Biol 331:806–814

Bates LS, Waldren RP, Teare IK (1973) Rapid determination of free proline for water studies. Plant Soil 39:205–207

Biju S, Fuentes S, Gupta D (2017) Silicon improves seed germination and alleviates drought stress in lentil crops by regulating osmolytes, hydrolytic enzymes and antioxidant defense system. Plant Physiol Biochem 119:250–264

Bolarín MC, Santa-Cruz A, Cayuela E, Pérez-Alfocea F (1995) Short-term solute changes in leaves and roots of cultivated and wild tomato seedlings under salinity. J Plant Physiol 147:463–468

Bradford KJ (1986) Manipulation of seed water relations via osmotic priming to improve germination under stress conditions. Hortic Sci 21:1105–1112

Bussotti F, Ferrini F, Pollastrini M, Fini A (2014) The challenge of Mediterranean sclerophyllous vegetation under climate change: from acclimation to adaptation. Environ Exp Bot 103:80–98

Chen JX, Wang XF (2002) Guide to plant physiological experiments. South China University of Technology Press, Guangzhou, pp 123–127

Cheynier V, Comte G, Davies KM, Lattanzio V, Martens S (2013) Plant phenolics: recent advances on their biosynthesis, genetics, and eco physiology. Plant Physiol Biochem 72:1–20

Coskun D, Britto DT, Huynh WQ, Kronzucker HJ (2016) The role of silicon in higher plants under salinity and drought stress. Front Plant Sci 7:1072

Dai Q, Yan B, Huang S (2006) Response of oxidative stress defense systems in rice (Oryza sativa) leaves with supplemental UV-B radiation. Physiol Plant 101:301–308

Doke N (1983) Involvement of superoxide anion generation in the hypersensitive response of potato tuber tissues to infection with an incompatible race of Phytophtora infestans and the hyphal wall components. Physiol Plant Pathol 23:345–357

Dubois M, Gilles KA, Hamilton JK, Rebers PA, Smith F (1951) Colorimetric method for determination of sugars and related substances. Anal Chem 28:350–356

Dusart N, Thiec D, Collignon C, Jolivet Y, Vaultier M (2019) Integrated analysis of the detoxification responses of two Euramerican poplar genotypes exposed to ozone and water deficit: focus on the ascorbate-glutathione cycle. Sci Total Environ 651:2365–2379

El-Maarouf-Bouteau H, Bailly C (2008) Oxidative signaling in seed germination and dormancy. Plant Signal Behav 3(3):175–182

Farooq M, Irfan M, Aziz T, Ahmad I, Cheema SA (2013) Seed priming with ascorbic acid improves drought resistance of wheat. J Agron Crop Sci 199:12–22

Faseela P, Puthur JT (2019) Intraspecific variation in sensitivity of high yielding rice varieties towards UV-B radiation. Physiol Mol Biol Plant 25(3):727–740

Folin O, Denis W (1915) A colorimetric method for the determination of phenols (and phenols derivaties) in urine. J Biol Chem 22:305–308

Gaspar T, Penel C, Greppin H (1975) Peroxidase and isoperoxidation in relation to root and flower formation. Plant Biochem J 2:33–47

Gharahlar AS, Farhoudi R, Jaime A, Silva T (2010) Influence of snake melon (Cucumis melo Var. flexuosus) seed priming on seedling emergence and seedling electrolyte leakage under salinity. Seed Sci Biotech 4(1):15–18

Giannopolitis CN, Ries SK (1977) Superoxide dismutase-occurrence in higher plants. Plant Physiol 59:309–314

Hasanuzzaman M, Nahar K, Rahman A, Inafuku M, Oku H, Fujita M (2018) Exogenous nitric oxide donor and arginine provide protection against short-term drought stress in wheat seedlings. Physiol Mol Biol Plants 24(6):993–1004

Heath RL, Packer L (1968) Phytoperoxidation in isolated chloroplasts. I. Kinetics and stoichiometry of fatty acid peroxidation. Arch Biochem Biophys 125:189–198

Ibrahim EA (2016) Seed priming to alleviate salinity stress in germinating seeds. J Plant Physiol 192:38–46

Iseri OD, Sahin F, Hberal M (2014) Sodium chloride priming improves salinity responses of tomato at seedling stage. J Plant Nutr 37:374–392

Junglee S, Urban L, Sallanon H, Lopez-Lauri F (2014) Optimized assay for hydrogen peroxide determination in plant tissue using potassium iodide. Am J Anal Chem 5(11):730

Kar M, Mishra D (1976) Catalase, peroxidase, and polyphenoloxidase activities during rice leaf senescence. Plant Physiol 57:315–319

Kumar SPJ, Prasad S, Kumar M, Singh C, Sinha AK, Pathak A (2016) Seed quality markers: a review. Res Rev 3:13–17

Manafi E, Sanavy SAMM, Aghaalikhan M, Dolatabadian A (2015) Exogenous 5-aminolevulenic acid promotes antioxidative defense system, photosynthesis and growth in soyabean against cold stress. Not Sci Biol 7(4):468–494

Mishra V, Srivastava G, Prasad SM (2009) Antioxidant response of bitter gourd (Momordica charantia L.) seedlings to interactive effect of dimethoate and UV-B irradiation. Sci Hortic 120(3):373–378

Mondal S, Viji P, Bose B (2011) Role of seed hardening in rice variety Swarna (MTU 7029). Res J Seed Sci 4:157–165

Moore S, Stein WH (1948) Photometric ninhydrin method for use in chromatography of aminoacids. J Biol Chem 176:367–388

Nakano Y, Asada K (1981) Hydrogen peroxide is scavenged by ascorbate specific peroxidase in spinach chloroplasts. Plant Cell Physiol 22:867–880

Neelamegam R, Sutha T (2015) UV-C irradiation effect on seed germination, seedling growth and productivity of groundnut (Arachis hypogaea L.). Int J Curr Microbiol App Sci 4(8):430–443

Noctor G, De Paepe R, Foyer CH (2007) Mitochondrial redox biology and homeostasis in plants. Trends Plant Sci 12:125–134

Patade VY, Bhargava S, Suprasanna P (2012) Halopriming mediated salt and iso-osmotic PEG stress tolerance and gene expression profiling in sugarcane (Saccharum officinarum L.). Mol Biol Rep 39:9563–9572

Pedrosa M, Souza Q (2013) Reactive oxygen species and seed germination. Biologia 68(3):351–357

Petrov V, Hille J, Mueller-Roeber B, Gechev TS (2015) ROS-mediated abiotic stress-induced programmed cell death in plants. Front Plant Sci 6:69–77

Rangani J, Panda A, Patel M, Parida AK (2018) Regulation of ROS through proficient modulations of antioxidative defense system maintains the structural and functional integrity of photosynthetic apparatus and confers drought tolerance in the facultative halophyte Salvadora persica L. J Photochem Photobiol B 189:214–233

Rhoads DM, Umbach AL, Subbaiah CC, Siedow JN (2006) Mitochondrial reactive oxygen species. Contribution to oxidative stress and interorganellar signaling. Plant Physiol 141:357–366

Sairam RK, Deshmukh PS, Shukla DS (1997) Tolerance of drought and temperature stress in relation to increased antioxidant enzyme activity in wheat. J Agron Crop Sci 178(3):171–178

Salah Mohamed S, Yajing G, Dongdong C, Jie L, Aamir N, Qijuan H, Weimin H, Mingyu N, Jin H (2015) Seed priming with polyethylene glycol regulating the physiological and molecular mechanism in rice (Oryza sativa L.) under nano-ZnO stress. Sci Rep 5:14278

Srivastava AK, Lokhande VH, Patade VY, Suprasanna P, Sjahril R, Souza SF (2010) Comparative evaluation of hydro-, chemo- and hormonal priming methods for imparting salt and PEG stress tolerance in Indian mustard (Brassica juncea L.). Acta Physiol Plant 32:1135–1144

Takeuchi Y, Murakami M, Nakajima N, Kondo N, Nikaido O (1996) Induction and repair of damage to DNA in cucumber cotyledons irradiated with UV-B. Plant Cell Physiol 37:181–187

Thomas DT, Puthur JT (2019) Amplification of abiotic stress tolerance potential in rice seedlings with a low dose of UV-B seed priming. Funct Plant Biol 46(5):455–466. https://doi.org/10.1071/FP18258_AC

Ullah H, Luc PD, Gautam A, Datta A (2018) Growth, yield and silicon uptake of rice (Oryza sativa) as influenced by dose and timing of silicon application under water-deficit stress. Arch Agron Soil Sci 64(3):318–330

Wojtyla Ł, Lechowska K, Kubala S, Garnczarska M (2016) Molecular processes induced in primed seeds-increasing the potential to stabilize crop yields under drought conditions. J Plant Physiol 203:116–126

Yan M (2016) Hydro-priming increases seed germination and early seedling growth in two cultivars of Napa cabbage (Brassica rapa subsp. pekinensis) grown under salt stress. J Hortic Sci Biotechnol 91:421–426

Yin D, Chen S, Chen F, Guan Z, Fang W (2009) Morphological and physiological responses of two chrysanthemum cultivars differing in their tolerance to waterlogging. Environ Exp Bot 67(1):87–93
Acknowledgements
AS is indebted to the Council of Scientific & Industrial Research (CSIR), New Delhi, for the financial assistance through award of Junior Research Fellowship (JRF). The Regional Agricultural Research Station (RARS) Pattambi and Vyttila, Kerala, India, is gratefully acknowledged for providing seeds of rice varieties. We thank Dinakar Challabathula, Department of Life Sciences, Central University of Tamil Nadu, India for helpful discussion and suggestions related to the manuscript.
Additional information
Publisher's Note
Springer Nature remains neutral with regard to jurisdictional claims in published maps and institutional affiliations.
Electronic supplementary material
Below is the link to the electronic supplementary material.
About this article
Cite this article
Sen, A., Puthur, J.T. Influence of different seed priming techniques on oxidative and antioxidative responses during the germination of Oryza sativa varieties. Physiol Mol Biol Plants (2020). https://doi.org/10.1007/s12298-019-00750-9
Received:

Revised:

Accepted:

Published:
Keywords
Seed priming

NaCl stress

PEG stress

Hydro priming

Halo priming

UV-B priming