Abstract
Background
The burden of breast cancer has grown rapidly in China during recent decades. However, the association between tumor markers (CA15-3, CA125, and CEA) and breast cancer survival among certain molecular subtypes is unclear; we described this association in a large, population-based study.
Methods
We conducted a cohort study including 10,836 women according to the Tianjin Breast Cancer Cases Cohort. Demographic and epidemiologic data were collected by a structured face-to-face questionnaire. Clinico-pathological parameters were abstracted from medical records, and follow-up information was obtained once a year by telephone. The primary endpoints were breast cancer-specific survival (BCSS) and disease-free survival (DFS). We utilized the Cox proportional hazard model to calculate hazard ratios (HRs) and 95% confidence intervals (CI).
Results
Among all patients, elevated CA15-3 and CEA exhibited consistently and statistically significant reduced BCSS compared with normal ones (CA15-3: HR 1.54, 95% CI 1.01–2.34; CEA: HR 2.45, 95% CI 1.40–4.30). Similar patterns of association were observed for DFS (CA15-3: HR 2.09, 95% CI 1.44–3.02; CEA: HR 2.71, 95% CI 1.71–4.27). Moreover, in luminal A subtype, high CA15-3 and CEA levels were associated with decreased BCSS (CA15-3: HR 4.47, 95% CI 2.04–9.81; CEA: HR 3.79, 95% CI 1.68–8.55) and DFS (CA15-3: HR 4.06, 95% CI 2.29–7.18, CEA: HR 3.41, 95% CI 1.75–6.64). In basal-like subtype, elevated CEA conferred reduction for BCSS (HR 5.13, 95% CI 1.65–15.9). However, no association was observed between CA125 and breast cancer outcome.
Conclusions
Preoperative CA15-3 and CEA levels differ in breast cancer molecular subtypes and yield strong prognostic information in Chinese women with breast cancer. Measuring CA15-3 and CEA levels before surgery may have the potential in predicting breast cancer survival and offering patients' personalized treatment strategy among luminal A and basal-like subtypes.
This is a preview of subscription content, log in to check access.
Access options
Buy single article
Instant access to the full article PDF.
US$ 39.95
Price includes VAT for USA
Subscribe to journal
Immediate online access to all issues from 2019. Subscription will auto renew annually.
US$ 99
This is the net price. Taxes to be calculated in checkout.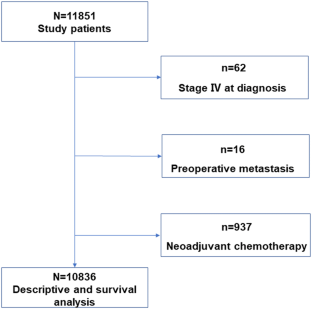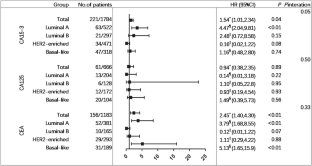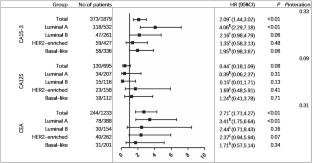 References
1.

Bray F, Ferlay J, Soerjomataram I, Siegel RL, Torre LA, Jemal A. Global cancer statistics 2018: GLOBOCAN estimates of incidence and mortality worldwide for 36 cancers in 185 countries. CA Cancer J Clin. 2018;68(6):394–424.

2.

Li H, Zheng RS, Zhang SW, Zeng HM, Sun KX, Xia CF, et al. Incidence and mortality of female breast cancer in China, 2014. Zhonghua Zhong Liu Za Zhi. 2018;40(3):166–71.

3.

Campbell HE, Gray AM, Harris AL, Briggs AH, Taylor MA. Estimation and external validation of a new prognostic model for predicting recurrence-free survival for early breast cancer patients in the UK. Br J Cancer. 2010;103(6):776–86.

4.

Soerjomataram I, Louwman MW, Ribot JG, Roukema JA, Coebergh JW. An overview of prognostic factors for long-term survivors of breast cancer. Breast Cancer Res Treat. 2008;107(3):309–30.

5.

Perey L, Hayes DF, Maimonis P, Abe M, O'Hara C, Kufe DW. Tumor selective reactivity of a monoclonal antibody prepared against a recombinant peptide derived from the DF3 human breast carcinoma-associated antigen. Cancer Res. 1992;52(9):2563–8.

6.

Falkson HC, Watt JJ, Der V, Portugal MA, Pitout MJ, Falkson G. Carcinoembryonic antigen in patients with breast cancer: an adjunctive tool to monitor response and therapy. Cancer. 1978;42:1308–13.

7.

Mughal AW, Hortobagyi GN, Fritsche HA, Buzdar AU, Yap HY. Blumenschein GR, Serial plasma carcinoembryonic antigen measurements during treatment of metastatic breast cancer. JAMA. 1983;249(14):1881.

8.

Reinartz S, Failer S, Schuell T, Wagner U. CA125 (MUC16) gene silencing suppresses growth properties of ovarian and breast cancer cells. Eur J Cancer. 2012;48(10):1558–699.

9.

Molina R, Barak V, Dalen AV, Duffy MJ, Einarsson R, Gion M, et al. Tumor markers in breast cancer—European group on tumor markers recommendations. Tumour Biol. 2005;26(2):281–93.

10.

Harris L, Fritsche H, Mennel R, Norton L, Ravdin P, Taube S, American Society of Clinical Oncology, et al. 2007 update of recommendations for the use of tumor markers in breast cancer. J Clin Oncol. 2007;25(33):5287–312.

11.

Baskiä D, Ristiä P, Matiä S, Bankoviä D, Popoviä S, Arsenijeviä N. Clinical evaluation of the simultaneous determination of CA 15–3, CA 125 and sHER2 in breast cancer. Biomarkers. 2007;12(6):657–67.

12.

Zhao S, Mei Y, Wang J, Zhang K, Ma R. Different levels of CEA, CA153 and CA125 in milk and benign and malignant nipple discharge. PLoS ONE. 2016;11(6):e0157639.

13.

Marić P, Ozretić P, Levanat S, Oresković S, Antunac K, Beketić-Oresković L. Tumor markers in breast cancer—evaluation of their clinical usefulness. Coll Antropol. 2011;35(1):241–7.

14.

Goldhirsch A, Wood WC, Coates AS, Gelber RD, Thürlimann B, Senn HJ, et al. Strategies for subtypesṣ—dealing with the diversity of breast cancer: highlights of the St. Gallen International Expert Consensus on the Primary Therapy of Early Breast Cancer 2011. Ann Oncol. 2011;22(8):1736–47.

15.

Holm J, Eriksson L, Ploner A, Eriksson M, Rantalainen M, Li J, et al. Assessment of breast cancer risk factors reveals subtype heterogeneity. Cancer Res. 2017;77(13):3708–17.

16.

Zhang L, Huang Y, Feng Z, Wang X, Li H, Song F, et al. Comparison of breast cancer risk factors among molecular subtypes: a case-only study. Cancer Med. 2019;20:20.

17.

Lee JS, Park S, Park JM, Cho JH, Kim SI, Park BW. Elevated levels of preoperative CA 15–3 and CEA serum levels have independently poor prognostic significance in breast cancer. Ann Oncol. 2013;24(5):1225–311.

18.

Gion M, Boracchi P, Dittadi R, Biganzoli E, Peloso L, Mione R, et al. Prognostic role of serum CA15.3 in 362 node-negative breast cancers. An old player for a new game. Eur J Cancer. 2002;38(9):1181–8.

19.

Rafael M, Auge JM, Blanca F, Gabriel Z, Jaume P, Montserrat MO, et al. Prospective evaluation of carcinoembryonic antigen (CEA) and carbohydrate antigen 15.3 (CA 15.3) in patients with primary locoregional breast cancer. Clin Chem. 2010;56(7):1148.

20.

Berruti A, Tampellini M, Torta M, Buniva T, Gorzegno G, Dogliotti L. Prognostic value in predicting overall survival of two mucinous markers: CA 15–3 and CA 125 in breast cancer patients at first relapse of disease. Eur J Cancer. 1994;30(14):2082–4.

21.

Gasparini G, Toi M, Gion M, Verderio P, Dittadi R, Hanatani M, et al. Prognostic significance of vascular endothelial growth factor protein in node-negative breast carcinoma. J Natl Cancer Inst. 1997;89:139–47.

22.

Ebeling FG, Stieber P, Untch M, Nagel D, Konecny GE, Schmitt UM, et al. Serum CEA and CA 15–3 as prognostic factors in primary breast cancer. Br J Cancer. 2002;86(8):1217.

23.

Clinton SR, Beason KL, Bryant S, Johnson JT, Jackson M, Wilson C, et al. A comparative study of four serological tumor markers for the detection of breast cancer. Biomed Sci Instrum. 2003;39:408–14.

24.

Li X, Dai D, Chen B, Tang H, Xie X, Wei W. Determination of the prognostic value of preoperative CA15–3 and CEA in predicting the prognosis of young patients with breast cancer. Oncol Lett. 2018;16(4):4679–88.

25.

Fang C, Cao Y, Liu X, Zeng XT, Li Y. Serum CA125 is a predictive marker for breast cancer outcomes and correlates with molecular subtypes. Oncotarget. 2017;8(38):63963.

26.

San-Gang W, Zhen-Yu H, Juan Z, Jia-Yuan S, Feng-Yan L, Qin L, et al. Serum levels of CEA and CA15-3 in different molecular subtypes and prognostic value in Chinese breast cancer. Breast. 2014;23(1):88–93.

27.

Shao Y, Sun X, He Y, Liu C, Liu H. Elevated levels of serum tumor markers CEA and CA15-3 are prognostic parameters for different molecular subtypes of breast cancer. PLoS ONE. 2015;10(7):e0133830.

28.

Riedinger JM, Goussot V, Desmoulins I, Lorgis V, Coutant C, Beltjens F, et al. CEA and early detection of relapse in breast cancer subtypes: comparison with CA 15–3. Bull Cancer. 2016;103(5):434–43.

29.

Mudduwa LK, Wijayaratne GB, Peiris HH, Gunasekera SN, Abeysiriwardhana D, Liyanage N. Elevated pre-surgical CA15-3: does it predict the short-term disease-free survival of breast cancer patients without distant metastasis? Int J Womens Health. 2018;10:329–35.

30.

Clarke RB. Isolation and characterization of human mammary stem cells. Cell Prolif. 2005;38(6):375–86.

31.

Moldovan L, Mitroi A, Petrescu CM, Aschie M. Classification of breast carcinomas according to gene expression profiles. J Med Life. 2013;6(1):14–7.

32.

Milioli HH, Tishchenko I, Riveros C, Berretta R, Moscato P. Basal-like breast cancer: molecular profiles, clinical features and survival outcomes. BMC Med Genom. 2017;10(1):19.
Funding
This work was funded by National Natural Science Foundation of China [Grants 81473039, 81502476, and 81974488], The National Key Research and Development program of China: The Net construction of human genetic resource Bio-bank in North China (2016YFC1201703), the National Key Research and Development Program of China (2016YFC1302703), National Human Genetic Resources Sharing Service Platform (2005DKA21300), and in part by the Program for Changjiang Scholars and Innovative Research Team in University in China (IRT_14R40) and Tianjin Municipal Key Health Research Program Grant 15KG143 and Tianjin Science and Technology Committee Foundation (17JCYBJC25300).
Ethics declarations
Conflict of interest
The authors declare that they have no competing interests.
Additional information
Publisher's Note
Springer Nature remains neutral with regard to jurisdictional claims in published maps and institutional affiliations.
Electronic supplementary material
Below is the link to the electronic supplementary material.
About this article
Cite this article
Li, J., Liu, L., Feng, Z. et al. Tumor markers CA15-3, CA125, CEA and breast cancer survival by molecular subtype: a cohort study. Breast Cancer (2020). https://doi.org/10.1007/s12282-020-01058-3
Received:

Accepted:

Published:
Keywords
Breast cancer

Survival

Tumor marker

Molecular subtype

TBCCC