Abstract
Background
Late recurrence accounts for nearly half of the recurrences in estrogen receptor (ER)-positive breast cancer and decreases post-recurrence survival in patients with ER-negative breast cancer. Clinicopathological factors and multigene assays have been used for various purposes but their prognostic capacity for late recurrence was limited. This study aimed to determine whether neutrophil to lymphocyte ratio (NLR) taken after primary treatment can be a feasible prognostic factor for late recurrence.
Methods
Patients who were diagnosed with primary breast cancer and completed planned treatment were enrolled; data were retrospectively collected from the Wonju Severance Hospital database of Yonsei University.
Results
496 patients completed planned treatment for their primary breast cancer. 385 were disease free after 5 years of the primary diagnosis and 330 were enrolled for second-look NLR analysis. NLR analysis performed approximately 5 years after the primary diagnosis categorized patients into high and low risk of late recurrence with p < 0.001 and an elevated NLR was found as an independent risk factor for late recurrence (HR 1.448, CI 1.168–1.795, p < 0.001).
Conclusion
A clinically valid biomarker to determine late recurrence is urgently needed to prevent patients from treatment extension with little benefit. Elevated NLR is found as an independent prognostic factor for late recurrence and could be utilized as a reliable, easily accessible, and cost-effective test.
This is a preview of subscription content, log in to check access.
Access options
Buy single article
Instant unlimited access to the full article PDF.
US$ 39.95
Price includes VAT for USA
Subscribe to journal
Immediate online access to all issues from 2019. Subscription will auto renew annually.
US$ 99
This is the net price. Taxes to be calculated in checkout.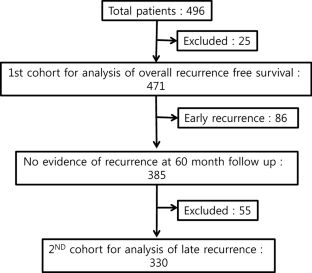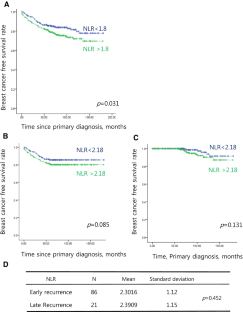 References
1.

Pan H, Gray R, Braybrooke J, Davies C, Taylor C, McGale P, et al. 20-Year risks of breast-cancer recurrence after stopping endocrine therapy at 5 years. N Engl J Med. 2017;377(19):1836–46.

2.

Brewster AM, Hortobagyi GN, Broglio KR, Kau SW, Santa-Maria CA, Arun B, et al. Residual risk of breast cancer recurrence 5 years after adjuvant therapy. J Natl Cancer Inst. 2008;100(16):1179–83.

3.

Early Breast Cancer Trialists' Collaborative Group. Relevance of breast cancer hormone receptors and other factors to the efficacy of adjuvant tamoxifen: patient-level meta-analysis of randomised trials. Lancet. 2011;378(9793):771–84.

4.

Saphner T, Tormey DC, Gray R. Annual hazard rates of recurrence for breast cancer after primary therapy. J Clin Oncol. 1996;14(10):2738–46.

5.

Early Breast Cancer Trialists' Collaborative Group. Effect of radiotherapy after mastectomy and axillary surgery on 10-year recurrence and 20-year breast cancer mortality: meta-analysis of individual patient data for 8135 women in 22 randomised trials. Lancet. 2014;383(9935):2127–35.

6.

Reddy SM, Barcenas CH, Sinha AK, Hsu L, Moulder SL, Tripathy D, et al. Long-term survival outcomes of triple-receptor negative breast cancer survivors who are disease free at 5 years and relationship with low hormone receptor positivity. Br J Cancer. 2018;118(1):17–23.

7.

Davies C, Pan H, Godwin J, Gray R, Arriagada R, Raina V, et al. Long-term effects of continuing adjuvant tamoxifen to 10 years versus stopping at 5 years after diagnosis of oestrogen receptor-positive breast cancer: ATLAS, a randomised trial. Lancet. 2013;381(9869):805–16.

8.

van Hellemond IEG, Geurts SME, Tjan-Heijnen VCG. Current status of extended adjuvant endocrine therapy in early stage breast cancer. Curr Treat Options Oncol. 2018;19(5):19–26.

9.

Burstein HJ, Lacchetti C, Anderson H, Buchholz TA, Davidson NE, Gelmon KA, et al. Adjuvant endocrine therapy for women with hormone receptor-positive breast cancer: ASCO clinical practice guideline focused update. J Clin Oncol. 2019;15(2):106–7.

10.

Early Breast Cancer Trialists' Collaborative Group. Effects of chemotherapy and hormonal therapy for early breast cancer on recurrence and 15-year survival: an overview of the randomized trials. Lancet. 2005;365(9472):1687–717.

11.

Dowsett M, Sestak I, Regan MM, Dodson A, Viale G, Thurlimann B, et al. Integration of clinical variables for the prediction of late distant recurrence in patients with estrogen receptor-positive breast cancer treated with 5 years of endocrine therapy: CTS5. J Clin Oncol. 2018;36(19):1941–8.

12.

Gyorffy B, Hatzis C, Sanft T, Hofstatter E, Aktas B, Pusztai L. Multigene prognostic tests in breast cancer: past, present, future. Breast Cancer Res. 2015;17:11.

13.

Sestak I, Cuzick J. Markers for the identification of late breast cancer recurrence. Breast Cancer Res. 2015;17:10.

14.

Sestak I. Risk stratification in early breast cancer in premenopausal and postmenopausal women: integrating genomic assays with clinicopathological features. Curr Opin Oncol. 2019;31(1):29–34.

15.

Sestak I, Buus R, Cuzick J, Dubsky P, Kronenwett R, Denkert C, et al. Comparison of the performance of six prognostic signatures for estrogen receptor-positive breast cancer: a secondary analysis of a randomized clinical trial. JAMA Oncol. 2018;4(4):545–53.

16.

Esserman LJ, Berry DA, DeMichele A, Carey L, Davis SE, Buxton M, et al. Pathologic complete response predicts recurrence-free survival more effectively by cancer subset: results from the I-SPY 1 TRIAL–CALGB 150007/150012, ACRIN 6657. J Clin Oncol. 2012;30(26):3242–9.

17.

Templeton AJ, McNamara MG, Seruga B, Vera-Badillo FE, Aneja P, Ocana A, et al. Prognostic role of neutrophil-to-lymphocyte ratio in solid tumors: a systematic review and meta-analysis. J Natl Cancer Inst. 2014;106(6):124.

18.

Agrawal D, Sarode R. Complete blood count or complete blood count with differential: what's the difference? Am J Med. 2017;130(8):915–6.

19.

Ellis MJ, Suman VJ, Hoog J, Lin L, Snider J, et al. Randomized phase II neoadjuvant comparison between letrozole, anastrozole, and exemestane for postmenopausal women with estrogen receptor-rich stage 2–3 breast cancer: clinical and biomarker outcomes and predictive value of the baseline PAM50-based intrinsic subtype-ACOSOG Z1031. J Clin Oncol. 2011;29(17):2342–9.

20.

Liedtke C, Mazouni C, Hess KR, Andre F, Tordai A, Mejia J, et al. Response to neoadjuvant therapy and long-term survival in patients with triple-negative breast cancer. J Clin Oncol. 2008;26(8):1275–81.

21.

Carey LA, Dees EC, Sawyer L, Gatti L, Moore DT, Collichio F, et al. The triple negative paradox: primary tumor chemosensitivity of breast cancer subtypes. Clin Cancer Res. 2007;13(8):2329–34.

22.

Sparano J, O'Neill A, Alpaugh K, Wolff AC, Northfelt DW, Dang CT, et al. Association of circulating tumor cells with late recurrence of estrogen receptor-positive breast cancer: a secondary analysis of a randomized clinical trial. JAMA Oncol. 2018;4(12):1700–6.

23.

Shen M, Hu P, Donskov F, Wang G, Liu Q, Du J. Tumor-associated neutrophils as a new prognostic factor in cancer: a systematic review and meta-analysis. PLoS One. 2014;9(6):e98259.

24.

Ethier JL, Desautels D, Templeton A, Shah PS, Amir E. Prognostic role of neutrophil-to-lymphocyte ratio in breast cancer: a systematic review and meta-analysis. Breast Cancer Res. 2017;19(1):2.

25.

Tuting T, de Visser KE. How neutrophils promote metastasis. Science. 2016;352(6282):145–6.

26.

Giese MA, Hind LE, Huttenlocher A. Neutrophil plasticity in the tumor microenvironment. Blood. 2019;133(20):2159–67.

27.

De Larco JE, Wuertz BR, Furcht LT. The potential role of neutrophils in promoting the metastatic phenotype of tumors releasing interleukin-8. Clin Cancer Res. 2004;10(15):4895–900.

28.

Wculek SK, Malanchi I. Neutrophils support lung colonization of metastasis-initiating breast cancer cells. Nature. 2015;528(7582):413–7.

29.

Acharyya S, Massague J. Arresting supporters: targeting neutrophils in metastasis. Cell Res. 2016;26(3):273–4.

30.

Coffelt SB, Kersten K, Doornebal CW, Weiden J, Vrijland K, Hau CS, et al. IL-17-producing gammadelta T cells and neutrophils conspire to promote breast cancer metastasis. Nature. 2015;522(7556):345–8.

31.

Garcia-Mendoza MG, Inman DR, Ponik SM, Jeffery JJ, Sheerar DS, Van Doorn RR, et al. Neutrophils drive accelerated tumor progression in the collagen-dense mammary tumor microenvironment. Breast Cancer Res. 2016;18(1):49.
Acknowledgements
The authors would like to thank all patients who showed courage against breast cancer.
Ethics declarations
Ethical approval
All procedures performed in studies involving human participants were in accordance with the ethical standards of the institutional and/or national research committee and with the 1964 Helsinki declaration and its later amendments or comparable ethical standards and for this type of study formal consent is not required.
Additional information
Publisher's Note
Springer Nature remains neutral with regard to jurisdictional claims in published maps and institutional affiliations.
Electronic supplementary material
Below is the link to the electronic supplementary material.
About this article
Cite this article
Moon, G., Noh, H., Cho, I. et al. Prediction of late recurrence in patients with breast cancer: elevated neutrophil to lymphocyte ratio (NLR) at 5 years after diagnosis and late recurrence. Breast Cancer 27, 54–61 (2020). https://doi.org/10.1007/s12282-019-00994-z
Received:

Accepted:

Published:

Issue Date:
Keywords
Breast cancer

Neutrophils

Lymphocytes

Ratio

Survival