Abstract
Background
The aim was to clarify subjective symptoms and quality of life (QOL) in breast cancer patients receiving hormone therapy.
Methods
After obtaining approval from the research ethics committee, an observational study using a self-administered questionnaire was conducted at outpatient clinical oncology offices in 3 facilities that targeted breast cancer patients under the age of 50 who had been undergoing hormone therapy for less than 1 year. The study examined elements such as the breast cancer patients' basic information, symptoms, pain in daily life, QOL, and depression/anxiety.
Results
There were 214 valid responses. The respondents had an average age of 43.6. Of them, 100% were also treated with Tamoxifen and 30% with LH-RH agonist. There were 75% who were cognizant of side effects. Difficult symptoms that occurred with high frequency were stiff shoulders/back pain, decreased physical strength, hot flashes, and sweating. Over half the respondents were uncertain as to whether the subjective symptoms were side effects. They lost confidence in their physical strength and felt distressed over weight gain. There were 51 with a HADS anxiety score of 8 or higher, and 46 who scored 8 points or higher for depression.
Conclusion
Breast cancer patients undergoing hormone therapy experience a variety of pains, and some also have serious psychological symptoms. Reassessing support systems to examine screening and self-care support is an issue going forward.
This is a preview of subscription content, log in to check access.
Access options
Buy single article
Instant unlimited access to the full article PDF.
US$ 39.95
Price includes VAT for USA
Subscribe to journal
Immediate online access to all issues from 2019. Subscription will auto renew annually.
US$ 99
This is the net price. Taxes to be calculated in checkout.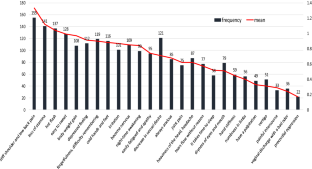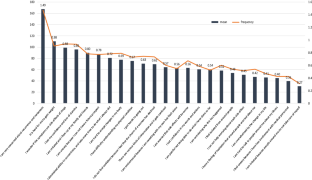 Abbreviations
QOL:

Quality of life

HADS:

Hospital and Depression Scale

FACT-B:

Functional assessment of cancer therapy-breast

SD:

Standard deviation

AYA:

Adolescent and young adult
References
1.

Japanease Breast Cancer Society. Guideline for breast cancer clinical practice based on scientific evidence 1 treatment 2015 edition, Kanahara Publishing Co., Ltd; 2015:17–36.

2.

Bender CM, Gentry AL, Brufsky AM, Casillo FE, Cohen SM, Dailey MM, et al. Influence of patient and treatment factors on adherence to adjuvant endocrine therapy in breast cancer. Oncol Nurs Forum. 2014;41(3):274–85. https://doi.org/10.1188/14.ONF.274-285.

3.

Iioka Y, Umeda M. Structuring the distress and coping strategies of premenopausal women with breast cancer undergoing hormone therapy. J Jpn Soc Cancer Nurs. 2013;27(2):16–26 (in Japanese with English abstract).

4.

Shimizu C. Basic information on drugs hormonal therapy for breast cancer. J Clin Exp Med. 2015;5:384–9.

5.

Shimozuma K, Eguchi N. Working paper of the japan medical association research institute development and clinical application of QOL scale for cancer patients. 2001;1(56):14–9.

6.

Zigmond AS, Snaith RP, Kitamura T. Hospital anxiety and depression scale (HAD Scale). Q Psychiatr Diag. 1993;4(3):371–2.

7.

Taira N, Shimozuma K, Shiroiwa T, Ohsumi S, Kuroi K, Saji S, et al. Associations among baseline variables, treatment-related factors and health related quality of life two years after cancer surgery. Breast Cancer Res Treat. 2011;128(3):735–47. https://doi.org/10.1007/s10549-011-1631-y.

8.

The Japan Society for Menopause and Women's Health.Guidebook of Women's health, Kanahara Publishing Co., Ltd; 2014:32–36.

9.

Walker HE, Rosenberg SM, Stanton AL, Petrie KJ, Partridge AH. Perceptions, attributions, and emotions toward endocrine therapy in young women with breast cancer. J Adolesc Young Adult Oncol. 2016. https://doi.org/10.1089/jayao.2015.0051.

10.

Fenlon D, Poers C, Simmonds P, Clough J, Adding-hall J. The JACS prospective cohort study of newly diagnosed women with breast cancer investigating joint and muscle pain, aches, and stiffness: pain and quality of life after primary surgery and before adjuvant treatment. BMC Cancer. 2014;14(467):1–10.

11.

Kimmick G, Edmond SN, Bosworth HB, Peppercorn J, Marcom PK, Blackwell K, et al. Medication taking behaviors among breast cancer patients on adjuvant endocrine therapy. Breast. 2015;24(5):630–6. https://doi.org/10.1016/j.breast.2015.06.010.

12.

Tan X, Marshall PV, Anderson RT, Anderson MR, Donohoe J, Camacho F, et al. Adjuvant therapy use among Appalachian breast cancer survivors. Medicine. 2015;94(26):1–10.
Acknowledgements
We are extremely grateful to all the breast cancer patients who cooperated in this research and provided valuable opinions. This research was implemented with a Grant-in-Aid for Scientific Research from The Ministry of Education, Culture, Sports, Science and Technology "Development of Self-Treatment System-Focusing on Breast Cancer Patients During Hormone Therapy- (Grant Number 22659403)."
Ethics declarations
Conflict of interest
The authors declare no conflicts of interest associated with this manuscript.
Additional information
Publisher's Note
Springer Nature remains neutral with regard to jurisdictional claims in published maps and institutional affiliations.
About this article
Cite this article
Iioka, Y., Iwata, T. & Yamauchi, H. Symptoms and QOL in breast cancer patients receiving hormone therapy in Japan. Breast Cancer 27, 62–69 (2020). https://doi.org/10.1007/s12282-019-00993-0
Received:

Accepted:

Published:

Issue Date:
Keywords
Breast cancer

Hormone therapy

Symptom

QOL