Excipient-free porphyrin/SN-38 based nanotheranostics for drug delivery and cell imaging
Abstract
Nanotheranostics with comprehensive diagnostic and therapeutic capabilities show exciting cancer treatment potentials. Here, we develop an excipient-free drug delivery system for cancer diagnosis as well as therapy, in which a near infra-red photosensitizer and a chemotherapeutic drug can be self-delivered without any carriers. The building block of the drug delivery system was synthesized by covalently conjugating four anticancer drugs (7-ethyl-10-hydroxy-camptothecin, SN-38) with a photosensitizer (porphyrin) via hydrolyzable ester linkage, which endows the drug delivery system with 100% active pharmaceutical ingredients, excellent imaging, and therapeutic functionalities. The conjugates can readily self-assemble into nanosheets (PS NSs) and remain stable for at least 20 days in aqueous solution. In PS NSs, fluorescence resonance energy transfer (FRET) dominates the fluorescence of SN-38 and enables to monitor the drug release fluorescently. The PS NSs also show excellent anticancer activity in vitro, due to the increased cell uptake with the synergistic effect of photodynamic therapy and chemotherapy.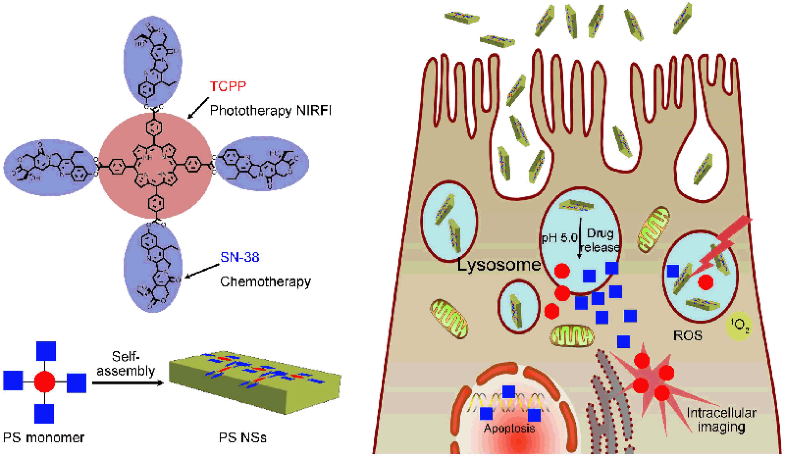 Keywords
porphyrin 
7-ethyl-10-hydroxy-camptothecin (SN-38) 
drug delivery 
self-indication 
nanotheranostics 
photodynamic therapy 
Notes
Acknowledgements
The authors gratefully acknowledge the support from Dr. Li's faculty startup funds at UC Davis and Dr. Xue's National Natural Science Foundation of China (NSFC) (No. 81803002).
Copyright information
© Tsinghua University Press and Springer-Verlag GmbH Germany, part of Springer Nature 2020