Blue emitting CsPbBr3 perovskite quantum dot inks obtained from sustained release tablets
Abstract
Blue emitting perovskite ink obtained from cesium lead halide quantum dots bearing chlorine (CsPbCl
x
Br
3−x
, 0 <
x
≤ 3) suffers from the low photoluminescence quantum yield and poor stability. Cesium lead bromine (CsPbBr
3
) quantum dots free of chlorine have more stable crystal structure and fewer crystal defects. Precise control of crystal sizes and surface passivation components of CsPbBr
3
quantum dots is crucial for the best use of quantum confinement effect and blueshift of emission wavelength to blue region. Here, by polymerizing acrylamide under UV-light irradiation to form polymer gel networks in dimethyl sulfoxide (DMSO) with CsPbBr
3
precursors and passivating agents trapped, we successfully prepared novel sustained release tablets with different shapes and sizes. Thanks to the limitation of the polymer networks on solvent releasing, the resulting CsPbBr
3
quantum dots have the average size of 1.1 ± 0.2 nm. On the basis of the excellent quantum confinement effect and optimized surface passivation, the obtained PQD ink can emit high quality blue light for more than 6 weeks. This work elucidates a new and convenient technique to prepare blue emission perovskite quantum dots ink with high stability and photoluminescence quantum yield and provides a great potential technology for the preparation of perovskite optoelectronic devices.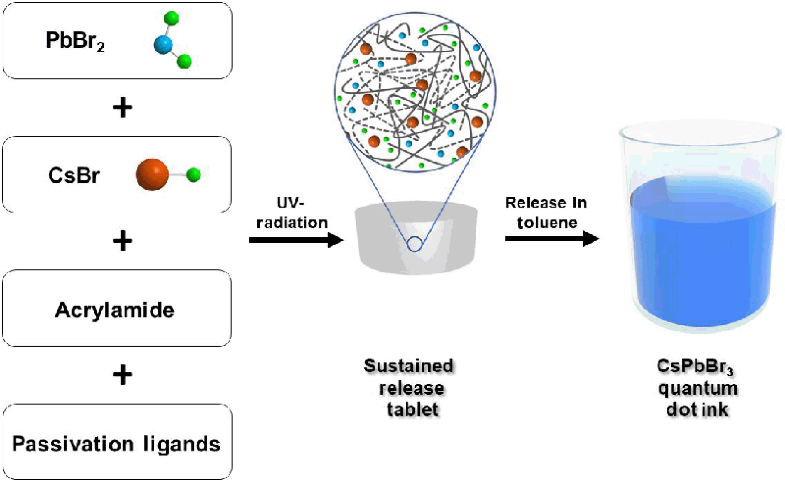 KeyWords
sustained release tablet 
perovskite quantum dot 
blue emitting perovskite ink 
polymer gel 
surface passivation 
Notes
Acknowledgements
The work is supported by the National Natural Science Foundation of China (No. 21761132007) and the National Key R&D Program of China (No. 2016YFE0114900).
Copyright information
© Tsinghua University Press and Springer-Verlag GmbH Germany, part of Springer Nature 2019