Highly stable lithium anode enabled by self-assembled monolayer of dihexadecanoalkyl phosphate
Abstract
Li has been considered as the ultimate anode material for high energy density secondary Li batteries. However, its practical application has been limited due to its low Coulombic efficiency (CE) and the formation of lithium dendrites. Recently, we have developed a microspherical Li-carbon nanotube (Li-CNT) composite material passivated with octadecylphosphonic acid (OPA) self-assembled monolayer (SAM) exhibiting suppressed lithium dendrite formation and improved environmental/electrochemical stability. In this work, we demonstrated the significantly enhanced passivation effects of a SAM using dihexadecanoalkyl phosphate (DHP), a molecule that is comprised of double hydrophobic alkyl chains and forms a denser SAM on surfaces with large curvature. As a result, the DHP SAM delivers superior environmental and electrochemical stability to the OPA passivated Li-CNT material. In specific, the DHP passivated Li-CNT composite (DHP-Li-CNT) delivers a high CE of 99.25% under a 33.3% depth of discharge (DOD) at 1 C, when it is paired with a LiFePO4 cathode. The evolution of the SAM during cycling and the effects of DOD and current density on the CE of the DHP-Li-CNT anode have also been investigated. The improved SAM passivation constitutes an important step in achieving the goal of practically applicable Li anodes.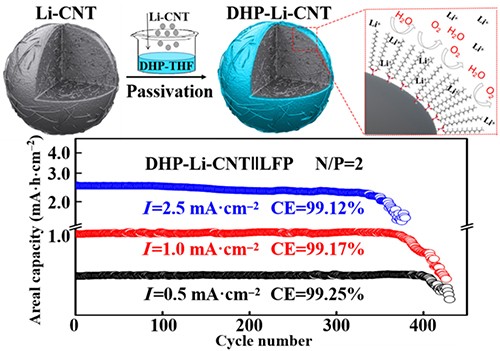 Keywords
Li metal anode 
Li-CNT 
self-assembled monolayer 
depth of discharge 
Coulombic efficiency 
Notes
Acknowledgements
This work was financially supported by the National Natural Science Foundation of China (Nos. 21625304 and 21733012), the "Strategic Priority Research Program" of Chinese Academy of Sciences (No. XDA09010600), and the Ministry of Science and Technology (No. 2016YFA0200703).
Copyright information
© Tsinghua University Press and Springer-Verlag GmbH Germany, part of Springer Nature 2019