Vapor growth of WSe2/WS2 heterostructures with stacking dependent optical properties
Abstract
Two-dimensional (2D) vertically stacked heterostructures based on layered transition-metal dichalcogenides (TMDCs) have remarkable potential in future applications due to their rich interlayer related properties, such as interlayer excitons, tunable interlayer band alignments. However, the controlled growth of TMDC bilayer heterostructures with preferred stacking structure remains challenging. Here, we report a two-step van der Waals epitaxial vapor growth of WSe2/WS2 vertically stacked bilayer heterostructures with controllable commensurate crystallographic alignments (so called AA and AB stacking), by controlling the deposition temperature. Moiré patterns were obtained in both AA and AB stacked WSe2/WS2 heterostructures. The stacking configuration of the vertical heterostructures was verified by the second harmonic generation signals. Photoluminescence and Raman spectroscopy studies further confirm that the heterostructures with different stacking configuration have obviously different optical properties, which is ascribed to the distinct interlayer coupling and resonance excitation between the distinguishing AA and AB stacked heterostructures. The controlled growth of AA and AB stacked heterostructures could provide an importance platform not only for fundamental researches but also for functional electronic and optoelectronic device applications.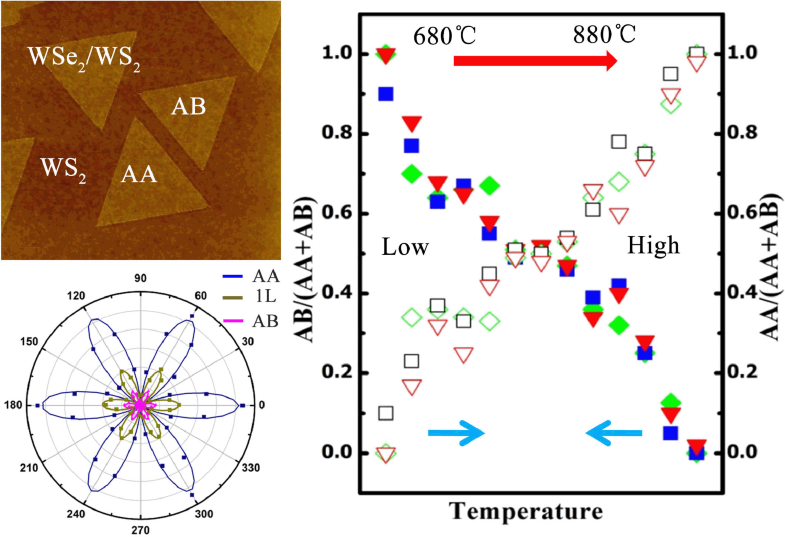 Keywords
two-dimensional 
vertical heterostructure 
stacking 
controllable 
Notes
Acknowledgements
The authors are grateful to the National Natural Science Foundation of China (Nos. 51525202, 51772084, 91850116, 51802089, 61574054, and 61635001), Innovation platform and talent plan of Hunan Province (No. 2017RS3027), the Hunan Province Science and Technology Plan (No. 2019JJ50048), the Program for Youth Leading Talent and Science and Technology Innovation of Ministry of Science and Technology of China, the Fundamental Research Funds for the Central Universities, and the Foundation for Innovative Research Groups of NSFC (No. 21521063).
Copyright information
© Tsinghua University Press and Springer-Verlag GmbH Germany, part of Springer Nature 2019