Amorphous MoS2 confined in nitrogen-doped porous carbon for improved electrocatalytic stability toward hydrogen evolution reaction
Abstract
Developing non-precious metal catalysts with high activity and stability for electrochemical hydrogen evolution reaction (HER) is of great significance in both science and technology. In this work, N-doped CMK-3, which was prepared with a casting method using SBA-15 as the hard template and ammonia as the nitrogen source, has been utilized to hold MoS2 and restrict its growth to form MoS2@N-CMK-3 composite. As a result, MoS2 was found to have poorly crystallized and the limited space of porous N-CMK-3 made its size much small. Then there are more active sites in MoS2. Accordingly, MoS2@N-CMK-3 has exhibited good electrocatalytic performance toward HER in acids with a quite small Tafel slope of 32 mVdec"1. And more importantly, compared to MoS2@CMK-3, its stability has been greatly improved, which can be attributed to the interaction between MoS2 and nitrogen atoms avoiding aggregation and mass loss. This work provides an idea that doping a porous carbon support with nitrogen is an effective way to enhance the stability of the catalyst.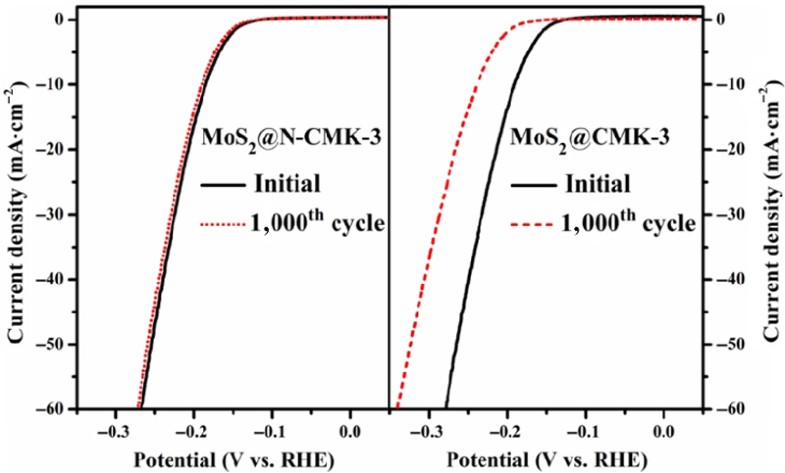 Keywords
MoS2 
amorphous 
N-doped CMK-3 
hydrogen evolution reaction (HER) 
stability 
Notes
Acknowledgements
This work was supported by the Nature Science Foundation of Zhejiang Province (No. LY20B010004) and the National Natural Science Foundation of China (Nos. 21671152, 51672193, 51420105002, and 21671014).
Copyright information
© Tsinghua University Press and Springer-Verlag GmbH Germany, part of Springer Nature 2019