A novel chitosan nanocapsule for enhanced skin penetration of cyclosporin A and effective hair growth in vivo
Abstract
Hair loss due to medical conditions, such as alopecia, male pattern baldness, and cancer chemotherapy treatment, has been a common problem for many individuals. Cyclosporin A (CsA), a fungal metabolite, has been reported to be a hair growth modulatory agent and is a potential drug for hair regeneration. However, the effect of topical application of CsA is limited by its poor water solubility. Several delivery systems developed to enhance its solubility still showed poor skin penetration. To overcome these limitations, in this study, we have developed a novel chitosan nanocapsule platform using Pluronic F127 and chitosan without any chemical crosslinking or complicated preparation steps for the enhanced water solubility and high transdermal penetration of CsA. The chitosan nanocapsules (ChiNCs) optimized in terms of structural stability by using chitosan with various molecular weights ranging from 3 to 100 kDa enhanced the skin permeation of CsA through human cadaver skin in vitro. Topical administration of the CsA loaded ChiNCs increased the hair follicles by c.a. 7 times higher than that of the control group, and effectively induced hair growth in C57BL/6 mice in vivo. These results suggest that ChiNCs could be used as a platform for effective transdermal delivery of various hydrophobic drugs.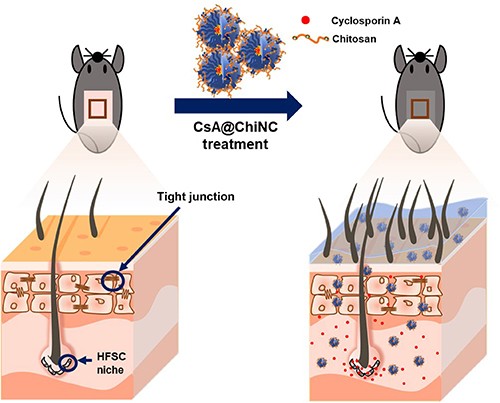 Keywords
chitosan 
nanocapsule 
cyclosporin A 
transdermal delivery 
hair growth 
Notes
Acknowledgements
This research was supported by the National Research Foundation of Korea (NRF) funded by the Korea government (MSIT) (Nos. NRF-2018R1D1A1B07043620 and 2018R1A4A1024963) and the grant of Korea Institute of Ceramic Engineering and Technology (KICET).
Copyright information
© Tsinghua University Press and Springer-Verlag GmbH Germany, part of Springer Nature 2019