Comprehensive study of a versatile polyol synthesis approach for cathode materials for Li-ion batteries
Abstract
This work reports a comprehensive study of a novel polyol method that can successfully synthesize layered LiNi0.4Mn0.4Co0.2O2, spinel LiNi0.5Mn1.5O4, and olivine LiCoPO4 cathode materials. When properly designed, polyol method offers many advantages such as low cost, ease of use, and proven scalability for industrial applications. Most importantly, the unique properties of polyol solvent allow for greater morphology control as shown by all the resulting materials exhibiting monodispersed nanoparticles morphology. This morphology contributes to improved lithium ion transport due to short diffusion lengths. Polyol-synthesized LiNi0.4Mn0.4Co0.2O2 delivers a reversible capacity of 101 and 82 mAh·g−1 using high current rate of 5C and 10C, respectively. It also displays surprisingly high surface structure stability after charge-discharge processes. Each step of the reaction was investigated to understand the underlying polyol synthesis mechanism. A combination of in situ and ex situ studies reveal the structural and chemical transformation of Ni-Co alloy nanocrystals overwrapped by a Mn- and Li-embedded organic matrix to a series of intermediate phases, and then eventually to the desired layered oxide phase with a homogeneous distribution of Ni, Co, and Mn. We envisage that this type of analysis will promote the development of optimized synthesis protocols by establishing links between experimental factors and important structural and chemical properties of the desired product. The insights can open a new direction of research to synthesize high-performance intercalation compounds by allowing unprecedented control of intermediate phases using experimental parameters.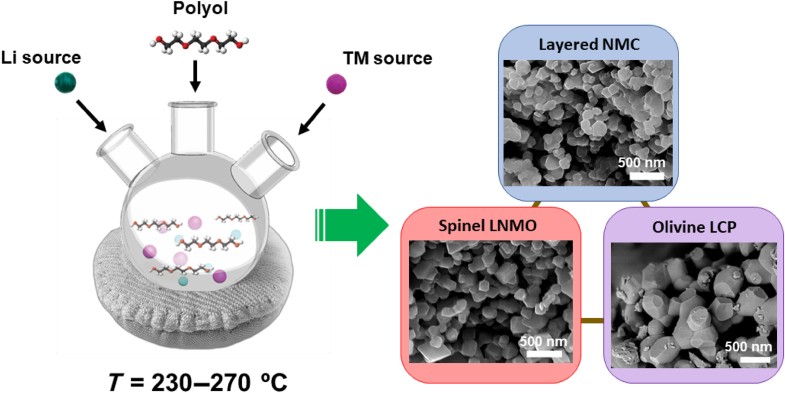 Keywords
polyol 
cathode 
synthesis 
nanoparticle 
LiNi0.4Mn0.4Co0.2O2 (NMC) 
Notes
Acknowledgements
This work is supported by the NorthEast Center for Chemical Energy Storage (NECCES), an Energy Frontier Research Center funded by the U.S. Department of Energy, Office of Science, Basic Energy Sciences under Award no. DE-SC0012583. The double aberration-corrected scanning TEM (TEAM 0.5) was performed under a proposal to the National Center for Electron Microscopy facility of the Molecular Foundry. Work at the Molecular Foundry was supported by the Office of Science, Office of Basic Energy Sciences, of the U.S. Department of Energy under Contract No. DE-AC02-05CH11231. This research used resources of the Advanced Photon Source, a U.S. Department of Energy (DOE) Office of Science User Facility operated for the DOE Office of Science by Argonne National Laboratory under Contract No. DE- AC02-06CH11357. The work at the ALS was supported by the Office of Basic Energy Sciences, of the U.S. Department of Energy under Contract No. DE-AC02-05CH11231. We also thank beamline scientists Wanli Yang for his assistance with measurements at the ALS iRIXS endstation (Beamline 8.0.1).
Copyright information
© Tsinghua University Press and Springer-Verlag GmbH Germany, part of Springer Nature 2019