High-performance Li-ion capacitor based on black-TiO2-x/graphene aerogel anode and biomass-derived microporous carbon cathode
Abstract
Lithium-ion capacitor (LIC) has been regarded as a promising energy storage system with high powder density and high energy density. However, the kinetic mismatch between the anode and the cathode is a major issue to be solved. Here we report a high-performance asymmetric LIC based on oxygen-deficient black-TiO
2-x
/graphene (B-TiO
2-x
/G) aerogel anode and biomass derived microporous carbon cathode. Through a facile one-pot hydrothermal process, graphene nanosheets and oxygen-vacancy-rich porous B-TiO
2
-
x
nanosheets were self-assembled into three-dimensional (3D) interconnected B-TiO
2
-
x
/G aerogel. Owing to the rich active sites, high conductivity and fast kinetics, the B-TiO
2
-
x
/G aerogel exhibits remarkable reversible capacity, high rate capability and long cycle life when used as anode material for lithium ion storage. Moreover, density functional theory (DFT) calculation reveals that the incorporation of graphene nanosheets can reduce the energy barrier of Li
+
diffusion in B-TiO
2
-
x
. The asymmetric LIC based on B-TiO
2
-
x
/G aerogel anode and naturally-abundant pine-needles derived microporous carbon (MPC) cathode work well within a large voltage window (1.0-4.0 V), and can deliver high energy density (166.4 Wh kg-
1
at 200 mA g-
1
), and high power density (7.9 kW kg-
1
at 17.1 Wh kg-
1
). Moreover, the LIC shows a high capacitance retention of 87% after 3,000 cycles at 2,000 mA g-
1
. The outstanding electrochemical performances indicate that the rationally-designed LICs have promising prospect to serve as advanced fast-charging energy storage devices.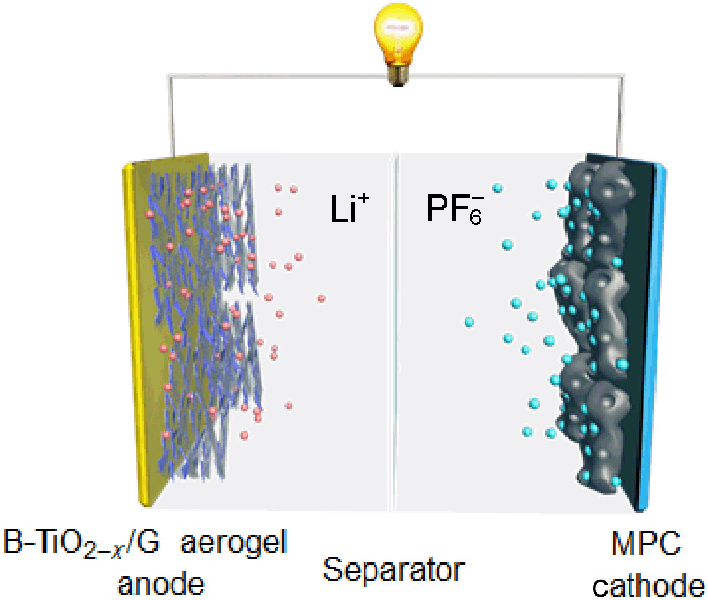 Keywords
lithium-ion capacitors 
oxygen-deficient B-TiO2-x/graphene aerogel anode 
biomass-derived microporous carbon 
high energy density 
Notes
Acknowledgments
This work was supported by the National Key R&D Program of China (Nos. 2017YFA0208200, 2016YFB0700600, and 2015CB659300), the National Natural Science Foundation of China (Nos. 21872069, 51761135104, and 21573108), Natural Science Foundation of Jiangsu Province (Nos. BK20180008 and BK20150583), High-Level Entrepreneurial and Innovative Talents Program of Jiangsu Province, and the Fundamental Research Funds for the Central Universities.
Copyright information
© Tsinghua University Press and Springer-Verlag GmbH Germany, part of Springer Nature 2019