Thickness determination of MoS2, MoSe2, WS2 and WSe2 on transparent stamps used for deterministic transfer of 2D materials
Abstract
Here, we propose a method to determine the thickness of the most common transition metal dichalcogenides (TMDCs) placed on the surface of transparent stamps, used for the deterministic placement of two-dimensional materials, by analyzing the red, green and blue channels of transmission-mode optical microscopy images of the samples. In particular, the blue channel transmittance shows a large and monotonic thickness dependence, making it a very convenient probe of the flake thickness. The method proves to be robust given the small flake-to-flake variation and the insensitivity to doping changes of MoS2. We also tested the method for MoSe2, WS2 and WSe2. These results provide a reference guide to identify the number of layers of this family of materials on transparent substrates only using optical microscopy.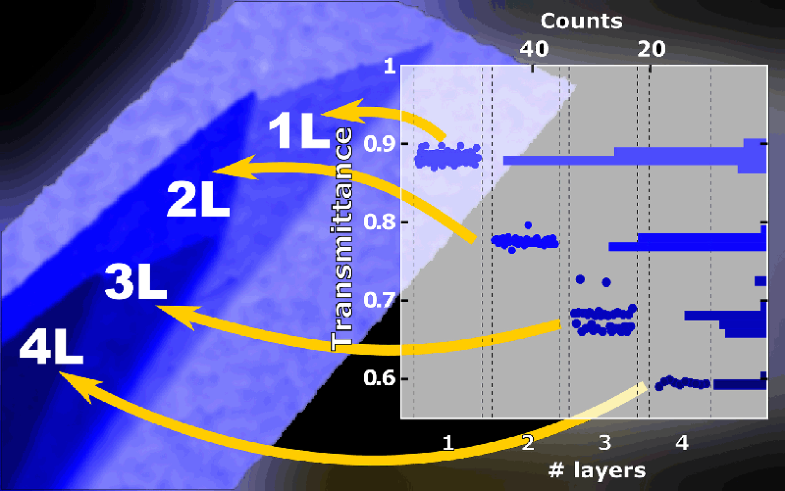 Keywords
transition metal dichalcogenides 
optical identification 
transparent substrate 
trasmittance 
Notes
Acknowledgements
We thank Prof. Der-Yuh Lin and Prof. Tsung-Shine Ko for providing the doped MoS2 samples. N. S. T. acknowledges to the Ministry of Science, Research and Technology of Iran. A. C. G. and P. G. acknowledge funding from the European Commission Graphene Flagship (Grant Graphene Core 2 785219). R. F. acknowledges support from the Netherlands Organization for Scientific Research (NWO) through the research program Rubicon with project number 680-50-1515. A. C. G. acknowledge funding from the European Research Council (ERC) under the European Union's Horizon 2020 research and innovation programme (grant agreement no 755655, ERC-StG 2017 project 2D-TOPSENSE).
Copyright information
© Tsinghua University Press and Springer-Verlag GmbH Germany, part of Springer Nature 2019