A cross-linked polyacrylamide electrolyte with high ionic conductivity for compressible supercapacitors with wide temperature tolerance
Abstract
The development of compressible supercapacitors (SCs) that is tolerant to wide temperature range has been severely hindered due to the poor ionic conductivity and absence of extra functions in conventional polymer electrolytes. Herein, a highly conductive and compressible hydrogel polyelectrolyte has been prepared from polyacrylamide cross-linked by methacrylated graphene oxide (MGO-PAM) and the polyelectrolyte can maintain its excellent elasticity at −30 °C as well as its original shape at 100 °C. As a result, the SC based on the MGO-PAM polyelectrolyte outperformed those fabricated with the conventional poly(vinyl alcohol) (PVA)/H2SO4 electrolyte over a wide temperature window between −30 and 100 °C. Meanwhile, the device shows an excellent cycling stability (capacitance retention of 93.3% after 8,000 cycles at −30 °C and 76.5 % after 4,000 cycles under 100 °C) and a reversible compressibility (a high capacitance retention of 94.1% under 80% compression). Therefore, the MGO-PAM polyelectrolyte enables the fabrication of compressible SCs with a wide operating temperature, rendering new insights for developing next-generation robust and multifunctional energy-storage devices.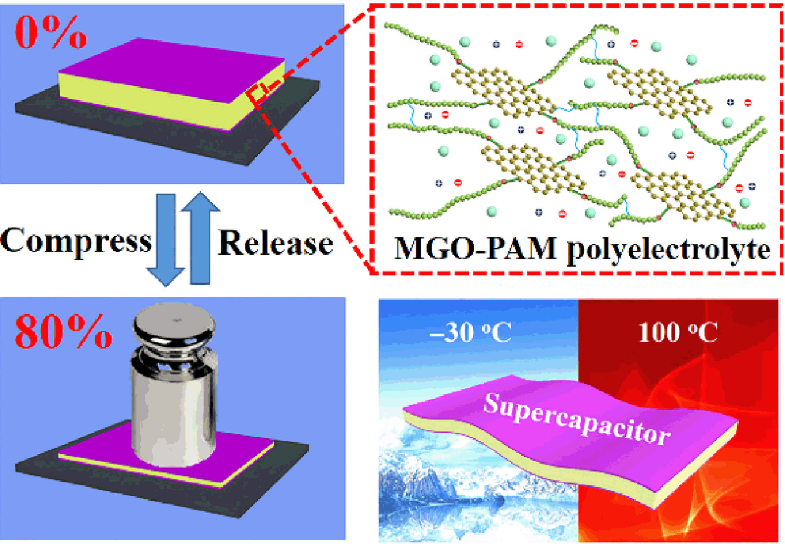 Keywords
ionic conductivity 
compressibility 
wide temperature tolerance 
supercapacitors 
polyacrylamide electrolyte 
Notes
Acknowledgements
We acknowledge the financial support from the National Key R&D Program of China (Nos. 2017YFB1104300 and 2016YFA0200200), the National Natural Science Foundation of China (Nos. 51673026, 51433005, and 21774015), NSFC-MAECI (No. 51861135202), Beijing Municipal Science and Technology Commission (Nos. Z161100002116022 and Z161100002116029).
Supplementary material
Supplementary material, approximately 4.64 MB.
Supplementary material, approximately 5.59 MB.
Supplementary material, approximately 6.92 MB.
Supplementary material, approximately 3.86 MB.
Supplementary material, approximately 6.66 MB.
Copyright information
© Tsinghua University Press and Springer-Verlag GmbH Germany, part of Springer Nature 2019