Compressive surface strained atomic-layer Cu2O on Cu@Ag nanoparticles
Abstract
Control of surface structure at the atomic level can effectively tune catalytic properties of nanomaterials. Tuning surface strain is an effective strategy for enhancing catalytic activity; however, the correlation studies between the surface strain with catalytic performance are scant because such mechanistic studies require the precise control of surface strain on catalysts. In this work, a simple strategy of precisely tuning compressive surface strain of atomic-layer Cu
2
O on Cu@Ag (AL-Cu
2
O/Cu@Ag) nanoparticles (NPs) is demonstrated. The AL-Cu2O is synthesized by structure evolution of Cu@Ag core-shell nanoparticles, and the precise thickness-control of AL-Cu
2
O is achieved by tuning the molar ratio of Cu/Ag of the starting material. Aberration-corrected high-resolution transmission electron microscopy (AC-HRTEM) and EELS elemental mapping characterization showed that the compressive surface strain of AL-Cu
2
O along the [111] and [200] directions can be precisely tuned from 6.5% to 1.6% and 6.6% to 4.7%, respectively, by changing the number of AL-Cu
2
O layer from 3 to 6. The as-prepared AL-Cu
2
O/Cu@Ag NPs exhibited excellent catalytic property in the synthesis of azobenzene from aniline, in which the strained 4-layers Cu
2
O (4.5% along the [111] direction, 6.1% along the [200] direction) exhibits the best catalytic performance. This work may be beneficial for the design and surface engineering of catalysts toward specific applications.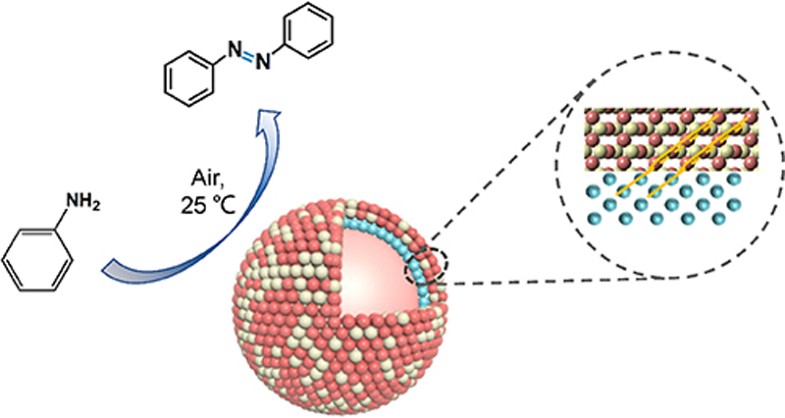 Keywords
compressive surface strain 
atomic-layer Cu2O 
precise thickness-control 
catalytic activity 
Notes
Acknowledgements
This work was supported by the National Natural Science Foundation of China (Nos. 51631001, 21643003, 51872030, 51702016, and 51501010), Fundamental Research Funds for the Central Universities, Beijing Institute of Technology Research Fund Program for Young Scholars and ZDKT18-01 from State Key Laboratory of Explosion Science and Technology (Beijing Institute of Technology). The characterization results were supported by Beijing Zhongkebaice Technology Service Co., Ltd.
Copyright information
© Tsinghua University Press and Springer-Verlag GmbH Germany, part of Springer Nature 2019