Polypyrrole-based hybrid nanostructures grown on textile for wearable supercapacitors
Abstract
In the development of wearable energy devices, polypyrrole (PPy) is considered as a promising electrode material owing to its high capacitance and good mechanical flexibility. Herein, we report a PPy-based hybrid structure consisting of vertical PPy nanotube arrays and carbon nano-onions (CNOs) grown on textile for wearable supercapacitors. In this hybrid nanostructure, the vertical PPy nanotubes provide straight and superhighways for electron and ion transport, boosting the energy storage; while the CNOs mainly act as a conductivity retainer for the underlayered PPy film during stretching. A facile template-degrading method is developed for the large-area growth of the PPy-based hybrid nanostructures on the textile through one-step polymerization process. The fabricated stretchable supercapacitor exhibits superior energy storage capacitance with the specific capacitance of 64 F·g−1. Also, it presents the high capacitance retention of 99% at a strain of 50% after 500 stretching cycles. Furthermore, we demonstrate that the textile-based stretchable supercapacitor device can provide a stable energy storage performance in different wearable situations for practical applications. The use of the PPy-based hybrid nanostructures as the supercapacitor electrode offers a novel structure design and a promising opportunity for wearable power supply in real applications.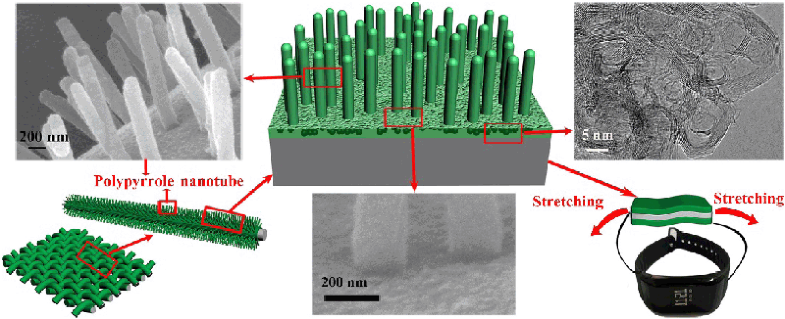 Keywords
wearable supercapacitor 
polypyrrole nanotube 
carbon nano-onion 
template-degrading method 
stretchable electrode 
Notes
Acknowledgements
The authors acknowledge the finance support by the National Natural Science Foundation of China (No. 51702233), the Natural Science Foundation of Tianjin City (No. 16JCYBJC41000) and support by Tianjin Key Subject for Materials Physics and Chemistry.
Copyright information
© Tsinghua University Press and Springer-Verlag GmbH Germany, part of Springer Nature 2019