Fabrication of bilayer Pd-Pt nanocages with sub-nanometer thin shells for enhanced hydrogen evolution reaction
Abstract
The hydrogen evolution reaction (HER), which generates molecular hydrogen through the electrochemical reduction of water, is an important clean-energy technology. Platinum (Pt) is an ideal material for HER electrocatalysts in terms of low overpotential and fast kinetics. An effective method to improve the atom utilization efficiency of Pt is to fabricate Pt-based core-shell or nanocage structures with ultra-thin walls. This paper describes the construction of bilayer palladium (Pd)-Pt alloy nanocages catalyst with enhanced HER catalytic activity. The nanocages were fabricated by etching away the Pd templates of multishelled nanocubes composed of alternate shells of Pd and Pt with well-defined (100) facets. The bilayer Pd-Pt nanocages with sub-nanometer shells have a high dispersion of the active atoms on the outside and inside surfaces of outer layer and inner layer, respectively. Moreover, the Pd-Pt alloy lowers the overpotential for HER and speeds up the reaction rate of HER due to the synergies between Pd and Pt. The rational design of bilayer nanocages provided a novel route for boosting the atom utilization efficiency of Pt catalysts.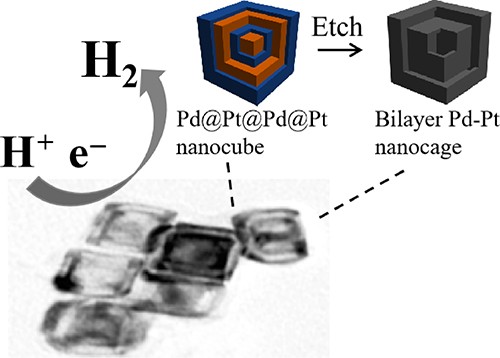 Keywords
Pd-Pt alloy 
multishelled nanocubes 
nanocages 
hydrogen evolution reaction 
electrocatalysis 
Notes
Acknowledgements
We acknowledge the National Key R&D Program of China (No. 2016YFB0600901), the National Natural Science Foundation of China (Nos. U1463205, 21525626, and 21606169) for financial support, and the Program of Introducing Talents of Discipline to Universities (B06006) for financial support.
Copyright information
© Tsinghua University Press and Springer-Verlag GmbH Germany, part of Springer Nature 2019