Solvent-free nanocasting toward universal synthesis of ordered mesoporous transition metal sulfide@N-doped carbon composites for electrochemical applications
Abstract
Transition metal sulfides (TMSs) have a wide range of applications owing to their intriguing properties. Significant efforts have been devoted to nanostructuring TMSs to enhance their properties and performance, still there is a high need in general synthesis of TMS nanostructures. Herein, for the first time, a simple solvent free reactive nanocasting approach that integrates solid precursor loading, in-situ sulfuration and carbonization into a single heating step is developed for the universal synthesis of ordered mesoporous TMS@N-doped carbon composites (denoted as OM-TMS@NCs) with methionine (Met) and metal chlorides as the precursors and the mesoporous silica (SBA-15) as the hard template. A series of OM-TMS@NCs with a hexagonal mesostructure, ultra-high surface areas (430–754 m2·g−1), large pore volumes (0.85–1.32 cm3·g−1), and unique TMS stoichiometries, including MoS2, Fe7S8, Co9S8, NiS, Cu7S4 and ZnS, are obtained. Two distinct structure configurations, namely, highly dispersed ultrathin TMS nanosheets within NCs and TMS@NC co-nanowire arrays, can be obtained depending on different metals. The structure evolution of the OM-TMS@NCs over the solvent-free nanocasting process is studied in detail for a deep understanding of the synthesis. As demonstrations, these materials are promising for electrocatalytic hydrogen evolution reaction and lithium ion storage with high performances.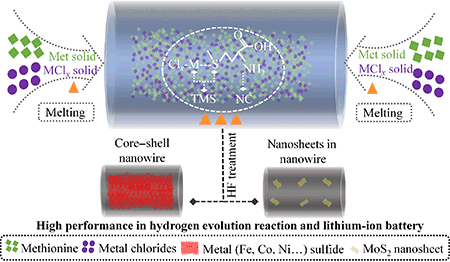 Keywords
transition metal sulfides 
mesoporous materials 
solvent-free nanocasting 
in-situ sulfuration 
carbon-based composites 
electrochemical applications 
Notes
Acknowledgements
Financial supports from the National Natural Science Foundation of China (Nos. 21875153 and 21501125), the Natural Science Foundation of Jiangsu Province (No. BK20150312), the Suzhou Bureau of Science and Technology (No. SYG201637) are much appreciated. We also thank the Young Thousand Talented Program (2015) of China, the Priority Academic Program Development (PAPD) of Jiangsu Higher Education Institutions and the Project of Scientific and Technologic Infrastructure of Suzhou (No. SZS201708) for supports. Z. X. W. acknowledges the start-up fund from Soochow University. Y. G. L. acknowledge the support from the PAPD of Jiangsu Higher Education Institutions, and Collaborative Innovation Center of Suzhou Nano Science and Technology. We greatly appreciate Professor Dongyuan Zhao and Professor Biao Kong in Fudan University for insightful discussions on the manuscript.
Copyright information
© Tsinghua University Press and Springer-Verlag GmbH Germany, part of Springer Nature 2019