Efficient renal clearance of DNA tetrahedron nanoparticles enables quantitative evaluation of kidney function
Abstract
DNA tetrahedron nanostructure (DTN) is one of the simplest DNA nanostructures and has been successfully applied for biosensing, imaging, and treatment of cancer. To facilitate its biomedical applications and potential clinical translation, fundamental understanding of DTN's transportation among major organs in living organisms becomes increasingly important. Here, we describe the efficient renal clearance of DTN in healthy mice by using positron emission tomography (PET) imaging. The kidney elimination of DTN was later applied for renal function evaluation in murine models of unilateral ureteral obstruction (UUO). We further established a mathematical program of DTN to validate its changes of transportation pattern in healthy and UUO mice. We believe the establishment of pharmacokinetic profiles and mathematical model of DTN may provide insight for future optimization of DNA nanostructures for biomedical applications.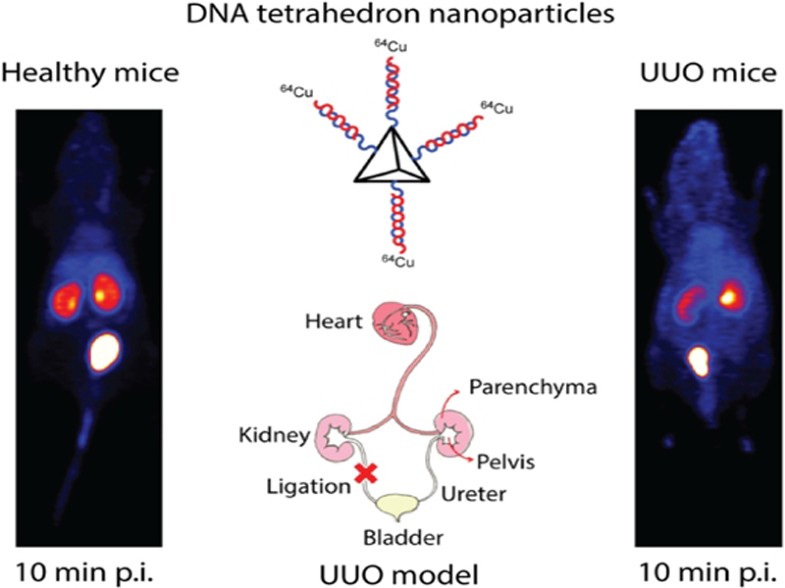 Keywords
positron emission tomography (PET) imaging 
DNA nanotechnology 
DNA tetrahedron nanoparticle 
renal clearance 
kidney dysfunction 
Notes
Acknowledgements
This work was supported by the University of Wisconsin-Madison, the National Institutes of Health (NIBIB/NCI P30CA014520, T32CA009206), the American Cancer Society (125246-RSG-13-099-01-CCE), the National Natural Science Foundation of China (Nos. 51573096, 51703132, 31771036, and 81630049) and the Basic Research Program of Shenzhen (Nos. JCYJ20170412111100742 and JCYJ20160422091238319), the Guangdong Province Natural Science Foundation of Major Basic Research and Cultivation Project (No. 2018B030308003), and Fok Ying-Tong Education Foundation for Young Teachers in the Higher Education Institutions of China (No. 161032).
Copyright information
© Tsinghua University Press and Springer-Verlag GmbH Germany, part of Springer Nature 2018