Boosting the rate capability of multichannel porous TiO2 nanofibers with well-dispersed Cu nanodots and Cu2+-doping derived oxygen vacancies for sodium-ion batteries
Abstract
The use of TiO2 as an anode in rechargeable sodium-ion batteries (NIBs) is hampered by intrinsic low electronic conductivity of TiO2 and inferior electrode kinetics. Here, a high-performance TiO2 electrode for NIBs is presented by designing a multichannel porous TiO2 nanofibers with well-dispersed Cu nanodots and Cu2+-doping derived oxygen vacancies (Cu-MPTO). The in-situ grown well-dispersed copper nanodots of about 3 nm on TiO2 surface could significantly enhance electronic conductivity of the TiO2 fibers. The one-dimensional multichannel porous structure could facilitate the electrolyte to soak in, leading to short transport path of Na+ through carbon toward the TiO2 nanoparticle. The Cu2+-doping induced oxygen vacancies could decrease the bandgap of TiO2, resulting in easy electron trapping. With this strategy, the Cu-MPTO electrodes render an outstanding rate performance for NIBs (120 mAh·g−1 at 20 C) and a superior cycling stability for ultralong cycle life (120 mAh·g−1 at 20 C and 96.5% retention over 2,000 cycles). Density functional theory (DFT) calculations also suggest that Cu2+ doping can enhance the conductivity and electron transfer of TiO2 and lower the sodiation energy barrier. This strategy is confirmed to be a general process and could be extended to improve the performance of other materials with low electronic conductivity applied in energy storage systems.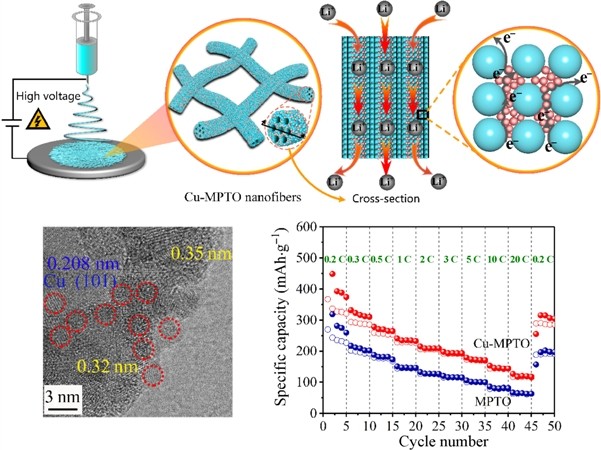 Keywords
multichannel porous TiO2 nanofibers 
Cu nanodots 
Cu2+ doping 
sodium ion batteries 
density functional theory (DFT) calculations 
Notes
Acknowledgements
This work was supported by the National Key R&D Research Program of China (Nos. 2018YFB0905400 and 2016YFB0100305), the National Natural Science Foundation of China (Nos. 51622210 and 51872277), the Fundamental Research Funds for the Central Universities (No. WK3430000004), and the DNL cooperation Fund, CAS (No. DNL180310).
Copyright information
© Tsinghua University Press and Springer-Verlag GmbH Germany, part of Springer Nature 2018